Blog/Market Talk
Posted Jan 7, 2021 by Martin Armstrong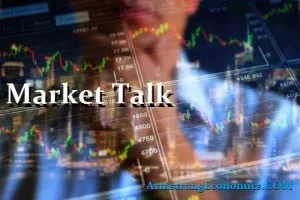 ASIA:
US authorities are now debating whether to ban investments in Alibaba and Tencent, according to people familiar with the matter, in what would be a dramatic blow to two of the companies whose shares are most widely held by global investors. Already on Tuesday, President Donald Trump signed an executive order banning transactions with eight Chinese software applications, including Ant's Alipay, and Tencent's WeChat Pay, citing concerns that Beijing will have access to the data collected by the platforms.
Growth in India's dominant services industry continued to lose momentum in December as a resurgence in coronavirus infections weighed on new business and employment, a private survey showed on Wednesday. Asia's third-largest economy has been gradually recovering from a coronavirus-induced recession but is not expected to return to pre-pandemic levels soon, especially within the service industry — the engine of economic growth and jobs in the country.
The major Asian stock markets had a mixed day today:
NIKKEI 225 increased 434.19 points or 1.60% to 27,490.13
Shanghai increased 25.33 points or 0.71% to 3,576.20
Hang Seng decreased 143.78 points or -0.52% to 27,548.52
ASX 200 increased 104.90 points or 1.59% to 6,712.00
Kospi increased 63.47 points or 2.14% to 3,031.68
SENSEX decreased 80.74 points or -0.17% to 48,093.32
Nifty50 decreased 8.9 points or -0.06% to 14,137.35
The major Asian currency markets had a mixed day today:
AUDUSD decreased 0.00544 or -0.70% to 0.77574
NZDUSD decreased 0.00464 or -0.64% to 0.72536
USDJPY increased 0.8 or 0.77% to 103.83
USDCNY increased 0.02262 or 0.35% to 6.47078
Precious Metals:
Gold decreased 3.44 USD/t oz. or -0.18% to 1,915.37
Silver decreased 0.128 USD/t. oz or -0.47% to 27.172
Some economic news from last night:
Japan:
Average Cash Earnings (YoY) decreased from -0.7% to -2.2%
Overall wage income of employees (Nov) decreased from -0.7% to -2.2%
Overtime Pay (YoY) (Nov) increased from -12.00% to -10.30%
Foreign Bonds Buying increased from -560.7B to -291.6B
Foreign Investments in Japanese Stocks decreased from 37.1B to -85.5B
Australia:
Building Approvals (MoM) (Nov) decreased from 3.8% to 2.6%
Exports (MoM) (Nov) decreased from 5% to 3%
Imports (MoM) (Nov) increased from 1% to 10%
Private House Approvals (Nov) increased from 3.1% to 6.1%
Trade Balance (Nov) decreased from 7.456B to 5.022B
Some economic news from today:
China:
FX Reserves (USD) increased from 3.178T to 3.217T
Hong Kong :
Foreign Reserves (USD) (Dec) increased from 485.70B to 491.60B
Singapore:
Foreign Reserves USD (MoM) (Dec) increased from 352.6B to 362.3B
EUROPE/EMEA:
British Prime Minister Boris Johnson on Thursday denounced erstwhile ally Donald Trump after the president's supporters stormed Congress in response to his incendiary rejection of the US election result. "All my life America has stood for some very important things: an idea of freedom and an idea of democracy," the New York-born Johnson told a news conference devoted to Britain's coronavirus crisis. Johnson was the first European leader to speak to Biden after his November election victory, despite Biden's claim the populist prime minister was a "physical and emotional clone" of Trump.
India may emerge as a net gainer from the Brexit deal signed between the UK and the EU on Thursday as services exports from Asia's third-largest economy are likely to benefit from the curbs on the free movement of professionals between the two markets. According to the Brexit trade and security deal, UK nationals will no longer have unrestricted freedom to work, study, start a business or live in the EU and vice versa, although both sides will have tariff-free and quota-free access to each other's market. The gains for India are, however, more likely in the services sector because bilateral services trade between the UK and EU is substantial.
The major Europe stock markets had a green day:
CAC 40 increased 39.25 points or 0.70% to 5,669.85
FTSE 100 increased 15.10 points or 0.22% to 6,856.96
DAX 30 increased 76.27 points or 0.55% to 13,968.24
The major Europe currency markets had a mixed day today:
EURUSD decreased 0.00721 or -0.58% to 1.22663
GBPUSD decreased 0.00572 or -0.42% to 1.35650
USDCHF increased 0.00701 or 0.80% to 0.88512
Some economic news from Europe today:
Germany:
German Factory Orders (MoM) (Nov) decreased from 3,3% to 2.3%
IHS Markit Construction PMI (Dec) increased from 45.6 to 47.1
Swiss:
Retail Sales (YoY) (Nov) decreased from 4.3% to 1.7%
UK:
Construction PMI (Dec) decreased from 54.7 to 54.6
Housing Equity Withdrawal (QoQ) increased from -9.0B to -7.0B
Italy:
Italian CPI (MoM) (Dec) increased from -0.1% to 0.3%
Italian CPI (YoY) (Dec) increased from -0.2% to -0.1%
Italian HICP (MoM) (Dec) increased from 0.0% to 0.2%
Italian HICP (YoY) (Dec) remain the same at -0.3%
Euro Zone:
Business and Consumer Survey (Dec) increased from 87.7 to 90.4
Business Climate (Dec) increased from -0.63 to -0.41
Consumer Confidence (Dec) increased from -17.6 to -13.9
Consumer Inflation Expectation (Dec) decreased from 15.4 to 14.8
Core CPI (YoY) (Dec) remain the same at 0.2%
CPI (YoY) (Dec) remain the same at -0.3%
CPI, n.s.a (Dec) increased from 104.80 to 105.15
Selling Price Expectations (Dec) increased from 0.2 to 4.1
Services Sentiment (Dec) decreased from -17.1 to -17.4
HICP ex Energy & Food (YoY) (Dec) remain the same at 0.4%
Industrial Sentiment (Dec) increased from -10.1 to -7.2
Retail Sales (MoM) (Nov) decreased from 1.4% to -6.1%
Retail Sales (YoY) (Nov) decreased from 4.2% to -2.9%
US/AMERICAS:
After weeks of intense debate, the US government confirmed Joe Biden as the President-elect. "Even though I totally disagree with the outcome of the election, and the facts bear me out, nevertheless there will be an orderly transition on January 20th," Donald Trump tweeted before his online account was temporarily suspended. However, Trump added that "it's only the beginning of our fight to Make America Great Again!"
Yesterday's attempted coup of the Capitol resulted in four deaths and 52 arrests. There have been rumors circulating that lawmakers may invoke the 25th Amendment to remove Trump from office two weeks before he set to leave the White House.
Federal Reserve Bank of Richmond President Thomas Barkin does not foresee the US needing more economic relief after the most recent round of COVID-19 aid and the release of multiple vaccines. "The spike in government spending is largely behind us," Barkin stated this Thursday.
Facebook and Instagram CEO Mark Zuckerberg announced this Thursday that his companies will prevent Trump from posting for the remainder of his presidential term. While some have stated that this move violates free speech granted by the First Amendment, Zuckerberg claims the prospect of keeping his accounts live are "too great." "Therefore, we are extending the block we have placed on his Facebook and Instagram accounts indefinitely and for at least the next two weeks until the peaceful transition of power is complete," Zuckerberg announced.
Premier François Legault has told Quebec to prepare for another lockdown that will entail closing non-essential businesses, limiting gatherings, and imposing a curfew. Although elementary schools will remain open as of January 11, children in grades 5 and six will be required to wears masks in their classrooms. High schools will reopen on January 18. Restaurants may provide take-out options to patrons but no indoor dining in permitted. A nightly curfew will be imposed at 8 PM but pet owners may walk their dogs within a one-kilometer radius of their residence. All restrictions will remain in place in February 8.
US Market Closings:
Dow advanced 211.73 points or 0.69% to 31,041.13
S&P 500 advanced 55.65 points or 1.48% to 3,803.79
Nasdaq advanced 326.69 points or 2.56% to 13,067.48
Russell 2000 advanced 38.96 points or 1.89% to 2,096.89
Canada Market Closings:
TSX Composite advanced 199.46 points or 1.12% to 18,027.57
TSX 60 advanced 12.12 points or 1.15% to 1,070.4
Brazil Market Closing:
Bovespa advanced 3,285.84 points or 2.76% to 122,385.92
ENERGY:
The oil markets had a green day today:
Crude Oil increased 0.17 USD/BBL or 0.34% to 50.7900
Brent increased 0.03 USD/BBL or 0.06% to 54.3300
Natural gas increased 0.012 USD/MMBtu or 0.44% to 2.7280
Gasoline increased 0.0066 USD/GAL or 0.45 % to 1.4816
Heating oil increased 0.0081 USD/GAL or 0.53% to 1.5367
Top commodity gainers: Rubber (3.33%), Cocoa (1.89%), Bitumen (2.67%) and Coal (4.55%)
Top commodity losers: Coffee (-1.08%), Sugar (-3.63%), Palm Oil (-1.55%), and Cheese (-0.98%)
The above data was collected around 14:35 EST on Thursday.
BONDS:
Japan 0.04%(+2bp), US 2's 0.00%(-0.01%), US 10's 1.07%(+3bps); US 30's 2.00%(+0.03%), Bunds -0.55% (-0bp), France -0.31% (+0bp), Italy 0.54% (+0bp), Turkey 12.72% (-3bp), Greece 0.62% (-1bp), Portugal 0.03% (-1bp); Spain 0.05% (-0bp) and UK Gilts 0.28% (+3bp).
US 4-Week Bill Auction remain the same at 0.080%
US 8-Week Bill Auction remain the same at 0.085%
Spainish 3-Year Bonos Auction decreased from -0.449% to -0.501%
Spanish 30-Year Obligacion Auction decreased from 1.091% to 0.854%
Spanish 5-Year Bonos Auction increased from -0.414% to -0.407%
French 10-Year OAT Auction increased from -0.38% to -0.33%