Blog/Market Talk
Posted Jan 7, 2019 by Martin Armstrong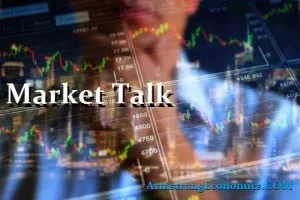 Asia was just playing catch-up this morning from Fridays after hours news. The US/China meeting finally started today, but news is yet to be heard of any breakthrough. Japans Nikkei was the star attraction closing up nearly 2.5%, but see a rather dull day after the opening strength saw narrow trading for the rest of the day. The Yen held its ground as other suffered against the USD, but is starting to suffer in late US trading. Core Shanghai and the Hang Seng returned near 1% on the day, but again volumes have been well below 30day averages. CNY also made a small advance although at 0.35% on the day is not too much of a move. The SENSEX opened well (+near 1%) but then gave back ground throughout the day. Closing up +0.43% is really only a reflection of the INR's equalled decline.
An interesting pattern in todays European markets, where having hit their highs were seen in the morning session then turned negative. Worth mentioning however, is the strength seen in the Euro against the US Dollar, as off-sets much of the -.4% decline seen in the core. The market does expect BREXIT to hot the headlines again this week after the government returns from its Christmas break. Theresa May was positioned with around 200 signatures from PM's seeking assurances that she rules out a no-deal exit. The vote is on for January 15th and late speculation is, she is off to Brussels once again in the hope of securing better terms. Global growth concerns are still weighing on sentiment and todays price action supports that claim. Europe appears stuck in the middle with its own concerns as the US and China attempt to fix each others. Lot of studies reported in weekend press how investment is fleeing the UK in favour of Europe. However, it is looking more like the capital flow is in favour of the US rather than a European destination and that probably supported by the drop seen in Germen industrial orders release.
US cash opened with a rather jittery price action, but then managed to find its feet. Following on from Fridays impressive gains, today we have seen a more confident move with offers being lifted as the day progresses. Volumes too, increased as markets steadied and optimism grew. The energy sector is benefiting from this positivity and that is one of the leading S+P sectors today. Utilities were a drag after rumours that PG&E (-22%) exploring bankruptcy for some of its lines of business. However, the broader market hit their highest levels since early December and again being led by the NASDAQ. Encouraging that the market is seeing fresh money entering again for such names as Netflix which 6% in todays market. This helped lead the NASDAQ to a +1.26% return, with S+P at +0.7% and the DOW losing momentum at the end closing up +0.42%.
Japan -0.01%, US 2's closed 2.53% (+4bp), US 10's closed 2.69% (+3bp), US 30's 2.98% (+1bp), Bunds 0.22% (+2bp), France 0.72% (+3bp), Italy 2.89% (u/c), Turkey 15.92% (-42bp), Greece 4.34% (-3bp), Portugal 1.81% (+1bp), Spain 1.50% (+3bp) and UK Gilts 1.25% (-2bp).