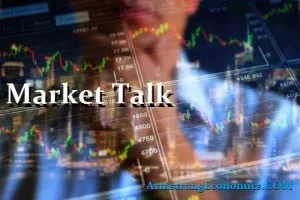 ASIA:
Chinese regulators are reportedly pressing Jack Ma's fintech Ant Group to share consumer data with Beijing, the Wall Street Journal reported Tuesday. Ma, founder of Alibaba and its affiliate Ant Group, hasn't been seen in public in two months. On Monday, CNBC anchor David Faber reported that he was laying low, rather than missing. Regulators believe that Ant Group, founded in 2014, harnesses personal data from its payment app Alipay, giving the fintech a competitive advantage over smaller lenders and big banks, officials and government advisers familiar with the matter told the Journal.
US private equity firm Warburg Pincus has invested about $100 million in India's boAt, the consumer electronics firm said on Wednesday. BoAt, known for its budget-friendly bluetooth speakers and wireless earbuds, was last valued at nearly $283 million after a $59.6 million funding round in December, according to PitchBook data. During the third quarter of 2020, boAt captured a market share of 32.4% in the earwear category in India, according to IDC data.
India's central bank is likely to pare the pandemic-driven emergency response as the non-food component in the price basket will continue to keep inflation at a high level and result in a "long pause" in interest rates, Singaporean lender DBS said in its report. The bank report said over a six-month period, food inflation is likely to ease, but non-food may be sticky on account of rigidity in domestic fuel taxation, marginal hikes in manufacturing costs after months of the shutdown, commodity price rises, telecom price adjustments and return in demand impulses in certain core categories.
The major Asian stock markets had a mixed day today:
NIKKEI 225 decreased 102.69 points or -0.38% to 27,055.94
Shanghai increased 22.20 points or 0.63% to 3,550.88
Hang Seng increased 42.44 points or 0.15% to 27,692.30
ASX 200 decreased 74.80 points or -1.12% to 6,607.10
Kospi decreased 22.36 points or -0.75% to 2,968.21
SENSEX decreased 263.72 points or -0.54% to 48,174.06
Nifty50 decreased 53.25 points or -0.38% to 14,146.25
The major Asian currency markets had a green day today:
AUDUSD increased 0.00334 or 0.43% to 0.77979
NZDUSD increased 0.00323 or 0.45% to 0.72880
USDJPY increased 0.5 or 0.49% to 103.17
USDCNY increased 0.00841 or 0.13% to 6.44451
Precious Metals:
Gold decreased 43.12 USD/t oz. or -2.21% to 1,906.23
Silver decreased 0.628 USD/t. oz or -2.28% to 26.942
Some economic news from last night:
China:
Caixin Services PMI (Dec) decreased from 57.8 to 56.3
Hong Kong:
Manufacturing PMI (Dec) decreased from 50.1 to 43.5
Japan:
Services PMI (Dec) decreased from 47.8 to 47.7
Australia:
Services PMI decreased from 57,1 to 57.0
Some economic news from today:
India:
Nikkei Services PMI (Dec) decreased from 53.7 to 52.3
Japan:
Household Confidence (Dec) decreased from 33.7 to 31.8
EUROPE/EMEA:
British Prime Minister Boris Johnson canceled his visit to India, hours after he announced a fresh lockdown in the United Kingdom over the new strain of coronavirus that has affected thousands of people in the UK. Mr. Johnson was to be the chief guest at this year's Republic Day parade in New Delhi, which was also to be his first bilateral visit after the UK's departure from the European Union in December. He had accepted the invitation last month.
British new car sales fell nearly 30% last year in their biggest annual drop since 1943 as lockdowns to curb the spread of the coronavirus hit the sector, an industry body said on Wednesday. Demand stood at 1.63 million cars in 2020, according to data from the Society of Motor Manufacturers and Traders (SMMT). It was particularly hard hit by a 97% fall in April, the first full month of a national lockdown.
The European Central Bank expanded its massive monetary stimulus program by another 500 billion euros ($605 billion), as a second wave of lockdown measures weighs on the euro area's economic recovery. Markets had largely expected the central bank to add to its bond buying, having vowed in October to "recalibrate its instruments" as a resurgence in coronavirus cases across the Continent led to further national shutdowns. The ECB held interest rates on its main refinancing operations, marginal lending facility and deposit facility at 0.00%, 0.25% and -0.50%, respectively.
The major Europe stock markets had a green day:
CAC 40 increased 66.00 points or 1.19% to 5,630.60
FTSE 100 increased 229.61 points or 3.47% to 6,841.86
DAX 30 increased 240.75 points or 1.76% to 13,891.97
The major Europe currency markets had a mixed day today:
EURUSD increased 0.00114 or 0.09% to 1.23093
GBPUSD decreased 0.00094 or -0.07% to 1.36167
USDCHF increased 0.00195 or 0.22% to 0.88016
Some economic news from Europe today:
Norway:
Credit Indicator (YoY) (Nov) increased from 4.5% to 4.7%
House Price Index (YoY) (Dec) increased from 7.80% to 8.70%
France:
French Consumer Confidence (Dec) increased from 89 to 95
French CPI (YoY) decreased from 0.2% to 0.0%
French CPI (MoM) (Dec) remain the same at 0.2%
French HICP (YoY) (Dec) decreased from 0.2% to 0.0%
French HICP (MoM) (Dec) remain the same at 0.2%
French Markit Composite PMI (Dec) increased from 40.6 to 49.5
French Services PMI (Dec) increased from 38.8 to 49.1
Spain:
Spanish Services PMI (Dec) increased from 39.5 to 48.0
Italy :
Italian Composite PMI (Dec) increased from 42.7 to 43.0
Italian Services PMI (Dec) increased from 39.4 to 39.7
Germany:
German Composite PMI (Dec) increased from 51.7 to 52.0
German Services PMI (Dec) increased from 46.0 to 47.0
German CPI (YoY) (Dec) remain the same at -0.3%
German CPI (MoM) (Dec) increased from -0.8% to 0.5%
German HICP (YoY) (Dec) remain the same at -0.7%
German HICP (MoM) (Dec) increased from -1.0% to 0.6%
UK:
Car Registration (YoY) (Dec) increased from -27.4% to -10.9%
Car Registration (MoM) (Dec) increased from -19.3% to 16.6%
Composite PMI (Dec) increased from 49.0 to 50.4
Services PMI (Dec) increased from 47.6 to 49.4
Euro Zone:
Markit Composite PMI (Dec) increased from 45.3 to 49.1
Services PMI (Dec) increased from 41.7 to 46.4
PPI (YoY) (Nov) increased from -2.0% to -1.9%
PPI (MoM) (Nov) remain the same at 0.4%
US/AMERICAS:
US politics were in complete disarray this Wednesday. Both Senate Majority Leader Mitch McConnell and Vice President Mike Pence denied President Trump's orders to reject the Electoral College vote. "Mike Pence didn't have the courage to do what should have been done to protect our Country and our Constitution," the president Tweeted midday. McConnell stated that overturning the Electoral College vote would "damage our republic forever." As the final votes in Georgia were being counted, which would determine the political fate of the US Senate, thousands of protestors stormed the US Capitol defying officers in riot gear and causing the building to go into a complete lockdown. Despite police and barricades, protestors made their way into the building and were allegedly looking for the US Senators. Capitol police escorted lawmakers out of the building through underground tunnels. The mayor of Washington DC has ordered a 6 PM curfew to stem the violence.
The New York Stock Exchange (NYSE) reversed its decision once again and will delist three state-funded Chinese telecommunications stocks. The NYSE reversed its decision to ban the three companies on Monday and stated they would continue to monitor their activities. However, today the NYSE confirmed it will delist China Mobile, China Telecom, and China Unicom on January 11 to comply with the Trump administration's executive order to ban companies suspected of supporting the Chinese military.
Dr. Fauci estimates that up to one million Americans could be vaccinated for the coronavirus per day in the near future. President-Elect Joe Biden has said that his goal is to provide Americans with 100 million vaccinations in his first 100 days, which is a goal Dr. Fauci says is reasonable. It is estimated that 70% to 85% of the population will need to be vaccinated to achieve "herd immunity." Although the vaccine is not mandatory at the federal level, as of yet, private businesses and states can forcibly implement vaccinations.
Amazon has announced plans to continually expand into 2021 after a very successful year. The company announced this week that they planned to purchase an additional 11 Boeing aircrafts to speed up deliveries. Today, the company announced it has allocated $2 billion to provide affordable homing in three of their main cities. The funding will provide around 20,000 affordable homes for Amazon workers.
According to a story first released by CBC News, Canada's federal government is tightening air travel restrictions. All flyers will be required to produce a negative COVID-19 test that must have been taken either 72 or 96 hours prior to boarding. The rules, which go into effect Thursday, have many worried that Canadians will become stranded abroad when attempting to return home. Major airlines such as Air Canada, Air Transat, and Sunwing are pleading with the National Airlines Council of Canada and the International Transportation Association to push back the date of implementation to January 18.
US Market Closings:
Dow advanced 437.8 points or 1.44% to 30,829.4
S&P 500 advanced 21.28 points or 0.57% to 3,748.14
Nasdaq declined 78.17 points or -0.61% to 12,740.79
Russell 2000 advanced 78.81 points or 3.98% to 2,057.92
Canada Market Closings:
TSX Composite advanced 145.6 points or 0.82% to 17,828.11
TSX 60 advanced 9.5 points or 0.91% to 1,058.28
Brazil Market Closing:
Bovespa declined 276.13 points or -0.23% to 119,100.08
ENERGY:
The oil markets had a green day today:
Crude Oil increased 0.91 USD/BBL or 1.82% to 50.8400
Brent increased 0.96 USD/BBL or 1.79% to 54.5600
Natural gas increased 0.011 USD/MMBtu or 0.41% to 2.7130
Gasoline increased 0.0265 USD/GAL or 1.82 % to 1.4786
Heating oil increased 0.0157 USD/GAL or 1.03% to 1.5346
The above data was collected around 13:47 EST on Wednesday
Top commodity gainers: Palm Oil (3.20%), Lumber (3.95%), Bitumen (2.83%) and Milk (2.04%)
Top commodity losers: Coffee (-3.28%), Coal (-2.57%), Gold (-2.21%), and Silver (-2.28%)
The above data was collected around 13:53 EST on Wednesday.
BONDS:
Japan 0.02%(+1bp), US 2's 0.15%(+0.026%), US 10's 1.05%(+9bps); US 30's 1.83%(+0.122%), Bunds -0.55% (+4bp), France -0.31% (+4bp), Italy 0.54% (+1bp), Turkey 12.74% (-4bp), Greece 0.63% (+0bp), Portugal 0.02% (+2bp); Spain 0.05% (+1bp) and UK Gilts 0.25% (+3bp).
German 10-Year Bund Auction increased from -0.570% to -0.520%
UK 10-Year Treasury Gilt Auction decreased from 0.432% to 0.332%
Japan 10-Year JGB Auction remain the same at 0.019%