Blog/Market Talk
Posted Jan 6, 2020 by Martin Armstrong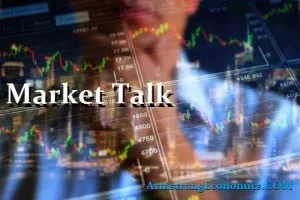 ASIA:
China has replaced their liaison officer with Hong Kong over the manner in which the protests were handled. The new liaison officer was quick to offer a way back to China by urging Hong Kong they must return to the "right path." Luo Huining was confident he was able to stabilize the country and get Hong Kong back on track.
Japanese Prime Minister Abe told the media that Japan with still go ahead with Middle East deployment after the killing of the Iranian general in Iraq. He mentioned Japan's close ties with Iran as he stressed any further escalation should be avoided. The reasons for entering the Middle East's waters will be for intelligence gathering.
E-commerce giant Amazon has partnered with India's second largest retail chain, Future Retail, to sell its goods online to widen its footprint in one of its key overseas markets. The two said on Monday that they have entered into a long-term business agreement to expand the reach of Future Retail's stores through Amazon's India marketplace. As part of the agreement, Amazon India will become the authorized online sales channel for Future Retail stores including department and grocery stores chain Big Bazaar and lifestyle food superstore Foodhall, the two said. Additionally, India's second largest retail chain, which attracts over 350 million footfalls a year across its network, will list its items on Amazon's two-hour delivery platform Prime Now.
The Indian rupee is expected to weaken further against the dollar after Brent crude climbed above $70 a barrel for the first time in almost four months on mounting tensions between the U.S. and Iran. India which imports nearly 90 per cent of its oil is also slated to see its import bill ballooning putting pressure on current account deficit and in turn putting pressure on the rupee also. Financial markets in India – equity, commodity, bonds and currency – are also hugely impacted by such global events.
The major Asian stock markets had a mixed day today:
Shanghai decreased 0.38nts or -0.01 to 3,083.41
Kospi decreased 21.39 points or -0.98% to 2,155.07
ASX 200 increased 2.20 points or 0.03% to 6,735.70
NIKKEI 225 decreased 451.76 points or -1.91% to 23204.86
Hang Seng decreased 225.31 points or -0.79% to 28,226.19
SENSEX decreased 787.98 points or -1.90% to 40,676.63
The major Asian currency markets had a mixed day today:
AUDUSD decreased 0.0013 or 0.19% to 0.6937
NZDUSD increased 0.0004 or 0.06% to 0.6669
USDJPY increased 0.3210 or 0.30% to 108.4260
USDCNY increased 0.0051 or 0.07% to 6.9717
Precious Metals:
Gold increased 16.85 USD/t oz. or 1.09% to 1,567.23
Silver increased 0.1209 USD/t. oz or 0.67%% to 18.1182
Some economic news from last night:
South Korea:
FX Reserves – USD increased from 407.46B to 408.82B
Australia:
AIG Manufacturing Index (Dec) increased from 48.1 to 48.3
Services PMI increased from 49.7 to 49.8
Japan:
Manufacturing PMI (Dec) decreased from 48.8 to 48.4
China:
Caixin Services PMI (Dec) decreased from 53.5 to 52.5
Hong Kong:
Manufacturing PMI (Dec) increased from 38.5 to 42.1
Some economic news from today:
India:
Nikkei Services PMI (Dec) increased from 52.7 to 53.3
EUROPE/EMEA:
The biggest story of the day was how the global leaders have responded to the killing of the Iranian General Qasem Soleimani in Iraq on Friday. Iran has vowed revenge on the US for the killing as thousands ran to the streets of Tehran mourning his death. US President Trump stated via twitter that 52 cultural sights are to be attacked if any retaliation occurs. An Iranian state-run broadcast stated that Iran would not be adhering to the 2015 nuclear deal and will scale back compliance with the pact.
Meanwhile, Russian President Putin has invited German chancellor Merkel to Russia to discuss the crisis and attempt to resolve or save the nuclear deal with Iran. Russia had recently called the killing as illegal whereas Germany, who tends to support the US, has been reluctant to show support over the last US offensive. China also weighed in on the situation urging the UN to get involved to address the Iran crisis and the US' role.
US President Trump has threatened Iraq with sanctions if they are to go ahead and expel US troops from the country after the parliament voted to go proceed with doing so. Trump told reporters, "We have a very extraordinarily expensive air base that's there. It cost billions of dollars to build. We're not leaving unless they pay us back for it."
France is still facing strikes as the transportation workers are still not happy with their pension reforms. Talks are to resume tomorrow after President Macron cabinet returns from the holidays and will have this as a pressing topic to discuss.
The major Europe stock markets had a negative day today:
CAC 40 decreased 30.57 points or -0.51% to 6,013.59
FTSE 100 decreased 47.06 points, or -0.62% to 7,575.34
DAX 30 decreased 92.15 points or -0.70% to 13,126.99
The major Europe currency markets had a mixed day today:
EURUSD increased 0.0034 or 0.30% to 1.1193
GBPUSD increased 0.0086 or 0.66% to 1.3165
USDCHF decreased 0.0038 or 0.39% to 0.9687
Some economic news from Europe today:
Germany:
German Retail Sales (MoM) (Nov) increased from -1.3% to 2.1%
German Retail Sales (YoY) (Nov) increased from 1.4% to 2.8%
German Composite PMI (Dec) increased from 49.4 to 50.2
German Services PMI (Dec) increased from 51.7 to 52.9
Spain:
Spanish Services PMI (Dec) increased from 53.2 to 54.9
Italy:
Italian Composite PMI (Dec) decreased from 49.6 to 49.3
Italian Services PMI (Dec) increased from 50.4 to 51.1
France:
French Markit Composite PMI (Dec) decreased from 52.1 to 52.0
French Services PMI (Dec) increased from 52.2 to 52.4
Euro Zone:
Markit Composite PMI (Dec) increased from 50.6 to 50.9
Services PMI (Dec) increased from 51.9 to 52.8
Sentix Investor Confidence (Jan) increased from 0.7 to 7.6
PPI (YoY) (Nov) increased from -1.9% to -1.4%
PPI (MoM) (Nov) increased from 0.1% to 0.2%
UK:
Composite PMI (Dec) increased from 48.5 to 49.3
Services PMI (Dec) increased from 49.0 to 50.0
US/AMERICAS:
An $80 million bounty has been placed on President Donald Trump as retribution for Iranian General Qasem Soleimani's assassination. "Iran has 80 million inhabitants. Based on the Iranian population, we want to raise $80 million (£61 million), which is a reward for those who get close to the head of President Trump," an unidentified man stated on Iranian TV during the eulogy for General Soleimani. An Iranian government advisor also posted a list of President Trump's properties online as potential targets. President Trump released a statement today reminding Iran that the US recently purchased $2 trillion in military equipment and will not hesitate to use that equipment against a perceived enemy. "If they attack again, which I would strongly advise them not to do, we will hit them harder than they have ever been hit before!" President Trump stated.
Ambassadors for NATO met in Brussels this Monday in an attempt to de-escalate tensions between Iran and the US. NATO Secretary General Jens Stoltenberg urged Iran not to retaliate against the US. "At our meeting today, Allies called for restraint and de-escalation. A new conflict would be in no-one's interest, so Iran must refrain from further violence and provocations," Stoltenberg stated today.
Puerto Rico experienced a 5.8-magnitude earthquake before dawn this Monday. Despite significant property and structural damages, no casualties have been reported.
Brazil's trade surplus reached $5.6 billion in December and outperformed most analysts' estimates. Brazil's annual trade surplus reached $46.67 billion in 2019, which is beneath the prior year's posting of $58 billion.
US Market Closings:
Dow advanced 68.50 points or 0.24% to 28,703.38
S&P 500 advanced 11.43 points or 0.35% to 3,246.28
Nasdaq advanced 50.69 points or 0.56% to 9,071.46
Russell 2000 advanced 2.39 points or 0.14% to 1,663.26
Canada Market Closings:
TSX Composite advanced 39.35 points or 0.23% to 17,105.47
TSX 60 advanced 2.61 points or 0.26% to 1,018.26
Brazil Market Closing:
Bovespa declined 828.74 points or -0.70% to 116,877.92
ENERGY:
Reuters data showed today that the OPEC+ cartel is finally starting to comply with the cull in production. December saw production fall by 50,000 bpd and stood at 29.5 million barrels per day.
The oil markets had a mixed day today:
Crude Oil decreased 0.2165 USD/BBL or -0.34% to 62.5265
Brent decreased 0.1626 USD/BBL or -0.24% to 68.5866
Natural gas increased 0.0438 USD/MMBtu or 2.08% to 2.1484
Gasoline decreased 0.0074USD/GAL or -0.42% to 1.7580
Heating oil decreased 0.0265 USD/GAL or -1.25% to 2.0225
Top commodity gainers: Orange Juice (6.17%),Bitumen(4.69%),Sugar(3.16%), and Feeder Cattle(2.57%)
Top commodity losers: Coffee (-3.32%), Platinum(-2.07%), Lumber (-1.64%), and Cocoa(-1.39%)
The above data was collected around 16:01 EST on Monday.
BONDS:
Japan -0.02%(-1bp), US 2's 1.55% (+2bps), US 10's 1.79%(+1bps); US 30's 2.26%(+1bps), Bunds -0.29% (-7bp), France 0.02% (-1bp), Italy 1.37% (+2bp), Turkey 12.08% (+3bp), Greece 2.05% (+1bp), Portugal 0.37% (+1bp), Spain 0.38% (-2bp) and UK Gilts 0.77% (+3bp).
US 3-Month Bill Auction remain the same at 1.520%
US 6-Month Bill Auction decreased from 1.560% to 1.520%
FRENCH 3-Month BTF Auction increased from -0.658% to -0.610%
FRENCH 6-Month BTF Auction increased from -0.648% to -0.616%
FRENCH 12-Month BTF Auction increased from -0.601% to -0.589%