Blog/Market Talk
Posted Jan 6, 2017 by Martin Armstrong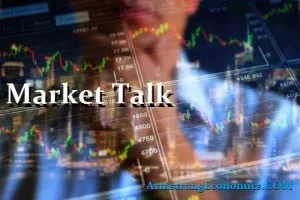 Most markets were waiting for the US employment report in order to set the theme for the rest of the month. Auto shares were the poor performer on the Nikkei today after Trump's remarks over tax levies on auto-makers but also because the rally in the JPY. The Nikkei closed off -0.3% led predictably by exporters. Shanghai also closed down 0.35% with a little profit-taking and also watching the Yuan recover from a recent bout of weakness. In late US trading the offshore CNH trades 6.8500.
Europe opened small lower as we awaited the US numbers but ahead of the release most core European indices were down around -0.3%. The headline NFP came in at +156k less than the forecast +178k, with an unchanged 4.7% rate. Much was made of the 10cent hourly earnings increase and on the whole the consensus was it was a solid report. Markets were not sure how to take it initially but then we started to see selling pressure in fixed-income, from both sides of the Atlantic, and that increased as the day wore on. The DOW came within a whisker of the psychological 20k mark but it wasn't to be today; for that we wait for next week.
Treasuries we hit as the trading volume intensified with the curve steepening as yields rose. 2's closed 1.21% (+5bp) with 10's trading 2.425% (+8.5bp). Bunds traded heavy all day and were even reluctant to follow yesterdays Treasury rally, widening the spread again. Bunds closed +0.295% (+5.5bp), Italy 1.96% (+3bp), Greece 6.69% (+4bp), Turkey 10.98% (-10bp), Portugal 4.01% (+2bp) and Gilt 10yrs at 1.38% (+9bp).