Blog/Market Talk
Posted Jan 5, 2018 by Martin Armstrong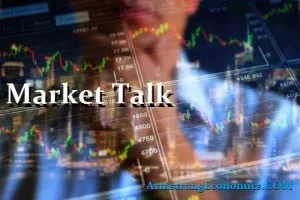 It has been a pretty impressive start to the New Year as we close firmer on all core markets and across all core regions. Asia followed US sentiment and added another 1% for the Nikkei, 0.75% for Australia and +0.25% for both Shanghai and Hang Seng. The KOPSI added 1.3% after news that North and South Korea have planned talks for next Tuesday. Exporters helped the Nikkei's advance as Yen breached the 113 and heads towards the weekly number of 114. China's performance continued following strong PMI data and a general sense money is starting to work. The result was a close at a 10 year high for the HSI.
The records continued to roll in Europe when the UK's FTSE and Swissy both closed at more contract highs. The DAX, CAC and IBEX all closed with over 1% gains even after the Eurozone inflation number edged lower. In December the rate was 1.5% but a 1.4% release this morning was disappointing but did not spoil the equity markets rally. However, we probably need to keep an eye on peripheral bonds if the market start to question the Eurozone's QE program! The NFP's released in the states failed to halt the renewed enthusiasm for equity markets and we closed on a strong note for next week.
US started where it left off yesterday and with the psychological 25k barrier clearly jumped, markets were strong with volumes increasing. The data did nothing to stop the enthusiasm with the rate at 4.1% and even ISM a tad disappointing but nowhere near enough to stop this juggernaut. It has been the best start for the stock markets in over 10 years and is questionably the US that is dragging the others along. Given current conditions and that everyone seems to becoming around to the bullish AE view it should be no surprise we see the VIX hit again. Not seen a close with an 8 handle yet, but that is surely only a matter of time. Still wonder why so many investors withdrew from stocks to deploy into the bond market in Q4; wonder whose call that was!
2's closed 1.96% (+1bp), 10's 2.47% (+2bp), 30's 2.81% (+3bp), Bunds 0.43% (u/c), France 0.79% (+1bp), Italy 1.99% (-1bp), Greece 3.69% (-10bp), Turkey 11.44% (-2bp), Portugal 1.90% (+1bp), Spain 1.50% (-2bp) and Gilts 1.24% (+1bp).