Blog/Market Talk
Posted Jan 5, 2017 by Martin Armstrong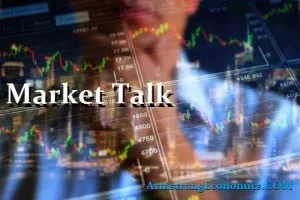 After a 2% jump in the Nikkei yesterday we was no surprise to see a little profit-taking today. The JPY was a major talking point today with a very healthy bounce back to the mid 115 level, a 1.5% price move in the day. The Hang Seng was the star core performer within Asia closing up +1.5% led by energy stocks after the oil price advance. Petro-China and Sinopec were two strong stocks both up over 3% on the day. In late US trading the HSI and China300 have added an additional +0.5% to today performance. The off-shore FX recovered 1.7% today after we saw growth in China Service Sector but also a rise in borrowing costs made running shorts against the USD very expensive indeed.
After a volatile day most core European markets closed little changed. Worth noting however is that the UK's FTSE closed at record levels yet again. The market is tending to make better closes but only by the smallest of margins (today was 5pts higher than previous high). Other core markets were also stronger if only by a little (+0.1%). Not too many European numbers today but tomorrow we have German Industrial Orders (expected -2.3%) and French Trade Balance (expected €-4.9bn from a previous €-5.2bn).
In the US many had hoped the ADP may push the DOW through the magical 20k but that again was not on the plans. Market expectation for the release was 170k (from a previous +216k) but when the actual number came in well below at +153k. We await for Friday NFP for a clearer picture, where expectations are for a +178k and a slight pick-up in the rate to 4.7%. The DOW recovered from its early losses to close down just -0.2%. Given the early jitters with equities the US Bond market saw renewed strength with buyers looking for yield and chased the long end.
The ADP and lower PMI encouraged the bond buyers back in a a renewed flattening of the curve was the name of todays game. 2's closed 1.16% (-1bp) with 10's at 2.34% (-8bp) closing the 2/10 spread at +118bp. German Bunds 10yrs closed +0.24% closing the US/Bund spread at +210bp. Italy 10's closed 1.93%, Greece 6.65%, Turkey 11.08%, Portugal 3.99% and finally UK Gilt 10's at 1.29%.