Blog/Market Talk
Posted Jan 31, 2017 by Martin Armstrong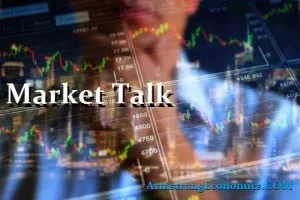 We saw another weak session today for stocks in Japan as the BOJ kept its position on monetary policy unchanged but selling pressure continued. The main concern remains centred around the US action for immigration despite the explanations offered. The USD lost its safe-haven bid with JPY strength resulting in a push closely breaching the 111 handle. The Nikkei closed down 1.7% with exporters suffering key losses. Data released showed Spending fell (-0.3%) which was less than the previous Dec number -1.5% (forecasted was -0.6%), with Unemployment releasing in-line with forecasts 3.1%. NEC Communications fell -17% after news that they have issued profit warning and reduced expectations by 65%.
Europe followed Asia into negative territory as soon as it opened but the DAX saw acceleration of the selling into the close. The DAX was the worst performer against the core closing down 1.25% after news that some in the Trump administration felt the Euro was too weak a currency. European banks were also trading today after Deutsche Bank (-1.6%) after a fine for $629Mn for compliance failures. Other core indices closed lower with CAC and IBEX both down around -0.5% while FTSE held is marginally better at -0.25%. Interesting we are yet to hear the latest regarding Ireland and the tax deadline for Apple but can not imagine the EU will let it walk quietly into the sunset.
The last couple of days we have experienced a heavy market but overall for the first month of the year it has been encouraging. Having set record highs we saw some consolidation but should be taken in the broad context of a new era. We are seeing headlines for new topic being addressed daily from immigration, trade, drugs, employment not to mention international relations. I am not sure what will be next but tax cuts, military, infrastructure and spending cannot be far away so get used to the volatility as it looks like its here for a while. Economic data came in a little weaker than had been expected and as a result kept the USD under pressure (Chicago PMI 50.3 versus expected 55 and Consumer Confidence 111.8 versus 113). DOW recouped half of the days losses into the close with the broader S+P returning slightly better. VIX last seen 12.4.
US 2's climbed 1bp to close 1.21% with 10's at 2.46% (-2bp). German Bunds closed 0.43% (-2bp) keeps US/Bund spread u/c at +203bp. Italy 2.24% (-7bp), Greece 7.65% (++23bp), Turkey 10.67% (-9bp), Portugal 4.13% (-4bp) and Gilt 10yrs closed 1.41% (-3bp).