Blog/Market Talk
Posted Jan 30, 2018 by Martin Armstrong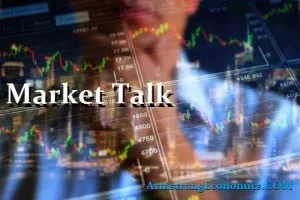 As you would expect, given how the last minutes in the US trading influences Asia – we opened lower. The Nikkei did attempt a small recovery just after the opening, but this was not to last and in-fact the selling pressure increased as the day wore-on. Interesting that although the Nikkei finished 1.45% weaker, the currency held in relatively well. Stuck between a 109.25/108.65 range, even stronger data could not break the mould. We have not seen the rush into fixed-income that is commonly associated with equity weakness which probably implies, many are still holding cash. JGB continues to be sold but given where absolute yields are trading, it is probably not surprising the bid remains absent. Shanghai and Hang Seng both returned around 1% to the market gods, which fell inline with the KOPSI, ASX and SENSEX. Gold and energy were both lower in Asian trade, although gold has seen a small recovery as we head into US trading hours.
Europe just followed the sentiment from Asia with all core markets opening lower. Energy markets were again a concern with oil down 1% but only to lose an additional 1% in US trading hours. This sudden turn appears to have caught many off-side, which is surprising as the rally did too! Economic data released this morning was the best growth seen in the past 10yrs. However, despite the strong data, many are concerned rising interest rates will hinder both the expansion and the cost of debt. Now it appears Europe is balancing between two tier economies again but with more expensive debt – assuming someone other than the ECB will buy it!
US futures were already expecting a 150 point decline and it never got any better than that unfortunately. At one stage we were over 400 points lower with a general sell-off across the sectors but probably led by commodities, energy and healthcare. The President speaks after the close, but other than infrastructure spending the market does not expect much. Bonds have weighed on the markets today and will be interesting to see what reference the FED makes if any.
Japan 0.09%, US 2's closed 2.12% (-1bp), 10's 2.73% (+3bp), 30's 2.99% (+5bp), Bunds 0.69% (u/c), France 0.98% (+2bp), Italy 2.03% (+2bp), Greece 3.63% (+2bp), Turkey 1.59% (-5bp), Portugal 1.94% (+3bp), Spain 1.40% (-1bp), and Gilts 1.46% (+1bp).