Blog/Market Talk
Posted Jan 30, 2020 by Martin Armstrong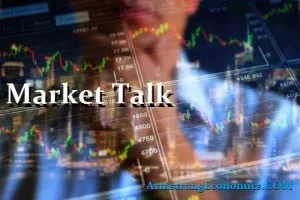 ASIA:
The coronavirus is taking all the headlines today, as the number affected has grown exponentially (standing at 170 deaths) and all states in China are now affected. Our colleagues in China have reported that highways have been closed and the public needs special permission to travel from city to city. There has been a complete shut down of all restaurants in most major cities. China is now reportedly building one new hospital per week. The World Health Organization (WHO) declared the virus a global emergency today.
Mercedes Benz in India is planning the largest launch in four years with as many as 10-12 new products lined up to launch in the country for the calendar year 2020. This move by the German carmaker is intended to protect its higher market share gained in the middle of a slowdown last year. Currently, Mercedes Benz India has 41% of the market share in the luxury car market in India at a time when the overall luxury car sales contracted by 16%.
Prime Minister Narendra Modi's political party, Bhartiya Janata Party (BJP), has recommended adjusting rules on taxing equity market returns in the upcoming budget on Feb. 1, which if accepted, could attract more capital inflows into the stock markets, a senior party leader said. Financial market participants have been lobbying for scrapping long-term capital gains tax (LTCG) on investment in equity or equity-oriented funds or extending the holding period from the current one year to two years with nil tax. India charges 15% short-term capital gains tax if equity shares are sold within a year and at 10% if sold after a year.
The major Asian stock markets had a negative day today:
Shanghai closed
Kospi decreased from 37.28 points or -1.71% to 2,148.00
ASX 200 decreased 23.10 points or -0.33% to 7,008.40
NIKKEI 225 decreased 401.65 points or -1.72% to 22,977.75
Hang Seng decreased 711.50 points or -2.62% to 26,449.13
SENSEX decreased 284.84 points or -0.69% to 40,913.82
The major Asian currency markets had a mixed day today:
AUDUSD decreased 0.0037 or 0.55% to 0.6717
NZDUSD decreased 0.0040 or 0.61% to 0.6490
USDJPY decreased 0.1990 or 0.18% to 108.8180
USDCNY increased 0.02034 or 0.29% to 6.98994
Precious Metals:
Gold increased 2.23 USD/t oz. or 0.14% to 1,581.87
Silver increased 0.293 USD/t. oz or 1.67% to 17.9007
Some economic news from last night:
New Zealand:
Exports (Dec) increased from 5.21B to 5.54B
Imports (Dec) decreased from 6.00B to 5.00B
Trade Balance (MoM) (Dec) increased from -791M to 547M
Trade Balance (YoY) (Dec) increased from -4,850M to -4,310M
Japan:
Foreign Bonds Buying decreased from 195.7B to -551.9B
Foreign Investments in Japanese Stocks decreased from 263.8B to -284.3B
Australia:
Export Price Index (QoQ) (Q4) decreased from 1.3% to -5.2%
Import Price Index (QoQ) (Q4) increased from 0.4% to 0.7%
Singapore:
Unemployment Rate (Q4) remain the same at 2.3%
Some economic news from today:
HongKong:
Exports (MoM) (Dec) increased from -1.4% to 3.3%
Imports (MoM) (Dec) increased from -5.8% to -1.9%
Trade Balance decreased from -26.2B to -32.5B
EUROPE/EMEA:
The BOE decided to keep interest rates unchanged at 0.75%. However, they warned PM Boris Johnson that his Brexit plan could push the economy down. The members voted 7-2 for keeping the rates unchanged. Brexit will officially take place at 11 PM UK time tomorrow.
US Secretary of State Mike Pompeo has told the UK that even though they did not expel Huawei from their 5G infrastructure, they can find solutions to not affect their "special relationship." He did subtlety warn the UK that trade talks will not be easy sailing.
An EU task force initiated to stop Russian disinformation held its first summit today where experts gathered in order to find solutions to combat the issue.
A Swiss payment system initiated by the Swiss government has opened a channel to Iran in order to facilitate funds for humanitarian aid, food, and medicine to be sent without breaching US sanctions. It is said those suffering from cancer will be first to benefit from the aid.
France has sent a warship to the Mediterranean in support of the Greek government in their standoff with the Turkish government over energy reserves in the region. President Macron talked about the issue saying Turkey is creating tension in the region and should stick to their intended plan with Libya.
The major Europe stock markets had a negative day today:
CAC 40 decreased 83.12 points or -1.40% to 5,871.77
FTSE 100 decreased 101.61 points, or -1.36% to 7,381.96
DAX 30 decreased 187.88 points or -1.41% to 13,157.12
The major Europe currency markets had a mixed day today:
EURUSD increased 0.0020 or 0.18% to 1.1036
GBPUSD increased 0.00703 or 0.54% to 1.30923
USDCHF decreased 0.0038 or 0.39% to 0.9695
Some economic news from Europe today:
Norway:
Core Retail Sales (MoM) (Dec) decreased from 1.0% to -2.0%
Swiss:
KOF Leading Indicators (Jan) increased from 96.2 to 100.1
Germany:
German Unemployment Change (Jan) decreased from 8K to -2K
German Unemployment Rate (Jan) remain the same at 5.0%
German Unemployment (Jan) decreased from 2.279M to 2.277M
German Unemployment n.s.a. (Jan) increased from 2.227M to 2.425M
German CPI (YoY) (Jan) increased from 1.5% to 1.7%
German CPI (MoM) (Jan) decreased from 0.5% to -0.6%
German HICP (YoY) (Jan) increased from 1.5% to 1.6%
German HICP (MoM) (Jan) decreased from 0.6% to -0.8%
Italy:
Italian Monthly Unemployment Rate (Dec) remain the same at 9.8%
Euro Zone:
Business and Consumer Survey (Jan) increased from 101.3 to 102.8
Business Climate (Jan) increased from -0.32 to -0.23
Consumer Confidence (Jan) remain the same at -8.1
Consumer Inflation Expectation (Jan) increased from 20.5 to 20.7
Selling Price Expectations (Jan) increased from 2.1 to 3.0
Services Sentiment (Jan) decreased from 11.3 to 11.0
Industrial Sentiment (Jan) increased from -9.3 to -7.3
Unemployment Rate (Dec) decreased from 7.5% to 7.4%
Spain:
Spanish Business Confidence decreased from -1.9 to -5.6
UK:
BoE MPC vote cut (Jan) remain the same at 2
BoE MPC vote hike (Jan) remain the same at 0
BoE MPC vote unchanged (Jan) remain the same at 7
BoE QE Total (Jan) remain the same at 435B
BoE Interest Rate Decision (Jan) remain the same at 0.75%
US/AMERICAS:
The World Health Organization (WHO) officially declared a global emergency due to the coronavirus outbreak. Although WHO applauded China's effort to contain the virus, they stated that the world must take the necessary precautions to prevent the virus from spreading. President Trump announced that US health agencies are working closely with China to help contain the virus.
White House Trade Adviser Peter Navarro confirmed that the US will not lift tariffs on Chinese goods due to the coronavirus outbreak. "The tariffs are in place because China engages in massive unfair subsidies. They use their state-owned enterprises to put American companies and workers out of business," Navarro told CNBC. Navarro confirmed that the removal or deduction of tariffs will not be considered until phase two of the trade deal in underway. Furthermore, the trade adviser stated that maintaining tariffs will "ensure that we come back for phase two."
Commerce Secretary Wilbur Ross suggested in an interview with Fox Business that the coronavirus outbreak could "very likely" send businesses in China fleeing to the US and Mexico. "I don't want to talk about a victory lap over a very unfortunate, very malignant disease, but the fact is, it does give businesses another thing to consider when they go through their review of their supply chain," Ross told reporters.
Facebook shares plummeted 6.14% this Thursday after the company announced their expenses increased by 51% year-on-year. The number of users remained the same with 2.5 billion active users accessing the site on a monthly basis. EPS increased to $2.56 compared to analysts' expectations of $2.53, and overall revenue increased to $21.08 billion compared to analysts' expectations of $20.89 billion. Increasing user privacy has been a main concern, and expense, for Facebook this past year after the social media giant came under fire by agencies across the globe for sharing user data.
US Market Closings:
Dow advanced 124.99 points or 0.43% to 28,859.44
S&P 500 advanced 10.26 points or 0.31% to 3,283.66
Nasdaq advanced 23.77 points or 0.26% to 9,298.93
Russell 2000 declined 1 point or -0.06% to 1,648.22
Canada Market Closings:
TSX Composite declined 21.19 points or -0.12% to 17,490.56
TSX 60 declined 0.38 of a point or -0.04% to 1,044.44
Brazil Market Closing:
Bovespa advanced 143.2 points or 0.12% to 115,528.04
ENERGY:
The EIA suggested that the US will be a net exporter of oil this year with the US increasing production and domestic demand weakening.
The oil markets had a negative day today:
Crude Oil decreased 0.67 USD/BBL or -1.26% to 52.5442
Brent decreased 0.95 USD/BBL or -1.59% to 58.8200
Natural gas decreased 0.0445 USD/MMBtu or -2.37% to 1.8346
Gasoline decreased 0.0121USD/GAL or -0.79% to 1.5269
Heating oil decreased 0.0382 USD/GAL or -2.25% to 1.6557
Top commodity gainers: Silver (1.67%), Cocoa (1.58%),Sugar (0.83%), and Palladium (0.71%)
Top commodity losers: Lean Hogs (-3.89%), Palm Oil (-2.76%), Rubber (-2.62%), and Natural Gas(-2.37%)
The above data was collected around 15.50 EST on Thursday.
BONDS:
Japan -0.05%(-2bp), US 2's 1.39% (-2bps), US 10's 1.57%(-2bps); US 30's 2.02%(-3bps), Bunds -0.40% (+1bp), France -0.14% (-2bp), Italy 0.97% (+1bp), Turkey 9.96% (+2bp), Greece 1.18% (-51bp), Portugal 0.27% (-0bp) Spain 0.27% (-3bp) and UK Gilts 0.53% (+2bp).
US 4-Week Bill Auction increased from 1.500% to 1.545%
US 8-Week Bill Auction increased from 1.540% to 1.550%
Italian 5-year BTP Auction decreased from 0.61% to 0.31%
Italian 10-Year BTP Auction decreased from 1.35% to 0.94%