Blog/Market Talk
Posted Jan 30, 2019 by marty armstrong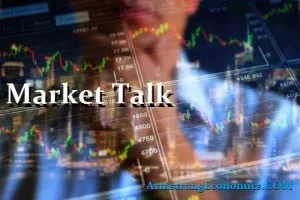 Asia:
Both the Nikkei and the Shanghai were amongst the losers in Asia, dropping 108.10(-0.52%) and 17.28(-0.67%) bps respectfully. Kospi on the contrary had a positive day climbing more than 1%. The prolonged US-China trade war coupled with slowing Chinese growth is putting uncertainty in the region. The Japanese Industrial production PMI expect at -0.5% (previous was -1.0%). The Chinese Manufacturing PMI expect at 49.3, slight lower than previous(49.4). BOJ members make announcements, would be interesting to hear if they come with a clear direction for future rate decisions.
Wheat remains even as it has been following a sideways channel since summer last year. The metals (Gold, Silver and Copper) continue their decent run with Gold performing 2% this month – with much of those gains coming in the last week.
Europe:
The European markets had a very positive day, with pretty much all the major indices apart from the DAX index increasing. The vote for "plan B" was passed, thus buoyed the UK stock market as it became the best performer in the euro zone rising 1.51%. As for the FX markets, both the EUR and GBP declined against the dollar.
French GDP data arose, with the expectations met of a growth of 0.3% for the quarter. German CPI month over month declined by 0.8% but still better than expectations, this mirrored last months decline.
Tomorrow we will get the German unemployment change, with expectations to be -11k, but still a healthy unemployment rate of 5%. The future of robotics and AI, will certainly have an effect on these numbers in the future, I wonder for how long these numbers will illustrate an accurate picture of the economy.
USA:
Another day of earnings along with a steady-as-she-goes decision by the Fed to keep rates unchanged fueled a strong day for U.S. markets. Apple and Boeing gave the Dow a bump in reaction to their relatively well received earnings, but the Fed's no-change announcement carried the day.
The Fed's decision was not a surprise. Some believe the Fed's decision is largely due to pressure from the White House, or in some way focusing on stock market instead of economic data. You know our feelings on this. This is a never-ending story, as the pundits love to jump on every word, action or inaction of the Fed. For his part, Fed Chair Jerome Powell (who hasn't been great at managing the message since being elected) did attempt to clarify their approach during his press conference:
"What we care about, and really the only thing we care about at the Fed, is doing our job for the American people and using our tools," Powell said. "We're always going to do what we think is the right thing, we're never going to take political considerations into account or discuss them as part of our work. We're human, we make mistakes, but we're not going to make mistakes of character or integrity."
The Dow finished up 435.90 points (+1.77%), closing above the symbolic 25,000 mark. The S&P 500 closed up 41.05 (+1.55%); NASDAQ Composite 154.79 (+2.2%); Russell 2000 finished up 15.49 (+1.05%). Microsoft, Facebook and Tesla lead the docket of post-close earnings announcement.
Outside of earnings and the Fed, there was some economic data released as well. The National Association of Realtors reported pending home sales down 2.2% in December (12 straight months of declines YOY), but this number should not be that surprising given the rise of mortgage rates and a declining stock market to close out 2018. ADP also issued a positive report of 213,000 private sector jobs being added in January (non-farm), which was above estimates.
Energy:
A few days following U.S. sanctions on Venezuela, data shows supply is tight, pushing Oil prices higher. Brent crude hovering around 62 dollars a barrel, and WTI around 55 dollars a barrel.
Bonds:
U.S. treasuries had a down day, as one would expect. The Italian 10yr BTP auction was fulfilled at 2.6% 10bps less than expected – therefore easier to sell. Previously sold at a yield of 2.70%.
Japan 0.01%(+1bp), US 2's 2.51(-14bps)%, US 10's 2.67%(-18bps), US 30's 3.03%(-24bps), Bunds 0.18% (-1bp), France 0.59% (-1bp), Italy 2.59% (-4bp), Turkey 14.50% (-15bp), Greece 3.92% (-7bp), Portugal 1.68% (0bp), Spain 1.27% (+3bp) and UK Gilts 1.26% (-1bp).