Blog/Market Talk
Posted Jan 30, 2017 by Martin Armstrong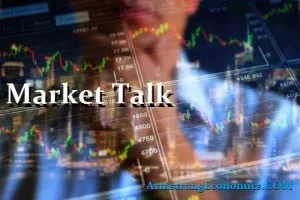 Asian markets were weaker today with many Traders explaining that the reason for the market jitters was around President Trumps immigration policy and the consequent rally in the safe-haven currencies such as US Dollar and the Japanese Yen. The Nikkei lost around -0.50% despite the fact that volumes were heavily reduced with many of the regional players taking national holidays. The BOJ starts its two day meeting but has the market expecting no change in rates. The BOJ have increased their purchases of JGB's recently as they hope to increase liquidity. In late US futures trading the China and HSI contracts have drifted lower and are currently around -0.4% lower, with the Nikkei futures now down around -1.25%.
All core European markets followed Asia's lead which saw them around 1% lower. IBEX was the weakest performer with daily losses of a little over -1.5%. Energy prices fell around 2% as the outlook appears uncertain but also basic resources weighed heavy as the fear of trade sanctions and wall building persists. banks and some of the Retailers were some of the weakest stocks today with Barclays, Tesco and Old Mutual all down between 3 and 4%. Germany was further wobbled by the release of slightly weaker than forecast CPI numbers (-0.5% expected by released -0.6%). This had more of an effect on the Bond market than equities.
US markets closed on an encouraging bounce having seen it down over 220 points at its worst. Eventually closing just 60 points lower was a breath of fresh air for many after witnessing potentially its worst day of the year. What is spooking the market is not what President Trump is doing but the fact that he is doing what he said he would do! Probably, the surprise is that this president is keeping to his campaign word. Whether you agree or disagree is not the issue the markets are coming to terms with this new era. This week is the first we will hear from the FED but as Bonds were seemingly well behaved today maybe their fun and excitement kicks off later in the week. The market is not pricing any movement this week but still projects around three hikes later this year.
US 2's closed 1.21% (-1bp) and 10's 2.48% (u/c). Bunds closed 0.45% (-1bp) closes the US/Germany spread at +203bp. Italy 2.31% (+9bp), Greece 7.42% (+39bp), Turkey 10.76% (+20bp), Portugal 4.17% (+10bp) and Gilts 1.44% (-3bp).
As we can see from above the peripheral markets came under some pressure today given the wobble seen in risk. Interesting that although the equity wobble pressured the periphery there was only a holding stance for core bond markets. The test will come when we see longer term stock stability and the comments from central banks later in the week.