Blog/Market Talk
Posted Jan 3, 2020 by Martin Armstrong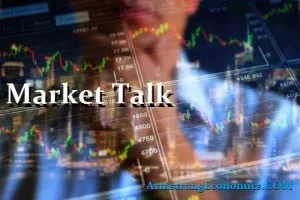 ASIA:
US President Donald Trump announced a date for the signing of the first phase of the trade deal. He said the first date will be the 15th of January as well as announcing via twitter that he will be traveling soon to Beijing to work out phase 2 of the deal.
Taiwanese President Tsai stated that Taiwan will not be accepting Chinese proposal of a "one country two system" model as they have done with Hong Kong.
HSBC is being drawn into Hong Kong's political turmoil with protestors attacking some of its branches and graffiti daubed on the famous pair of lions that guard its city-center headquarters. Hong Kong is the bank's single most important market, accounting for just over half of its $12.5 billion pre-tax profits in the first half of 2019. Although with the protests tipping Hong Kong's economy into recession, HSBC and its peers are expected to take a financial hit.
Since India's enacting of new citizenship rules on December 12th, widespread protests against them have left 27 dead, scores injured, and tempers high. This rule makes it easier for refugees to naturalize as Indians unless they are Muslims. All eyes turn now to the Supreme Court, who is expected to rule later this month on whether the law is constitutional.
Sheikh Mohamed bin Zayed Al Nahyan, Crown Prince of Abu Dhabi and Deputy Supreme Commander of the UAE Armed Forces, directed the Khalifa Fund for Enterprise Development, Khalifa Fund to allocate $200 million to support small and medium-sized enterprises in Pakistan. This initiative aims to encourage innovation and support entrepreneurship to assist the Pakistani government's efforts to create a stable and balanced national economy that will help achieve the country's sustainable development.
Malaysia will maintain its claim in the disputed South China Sea area despite China's objection to Malaysia's submission of the claim to the United Nations last month, said Foreign Minister Datuk Saifuddin Abdullah. Saifuddin also said Malaysia is unafraid of retaliation from China.
The major Asian stock markets had a mixed day today:
Shanghai decreased 1.41 points or -0.05% to 3,083.79
Kospi increased 1.29 points or 0.06% to 2,176.46
ASX 200 increased 42.90 points or 0.64% to 6,733.50
NIKKEI 225 closed
Hang Seng decreased 92.02 points or -0.32% to 28,451.50
SENSEX decreased 162.03 points or -0.39% to 41,464.61
The major Asian currency markets had a mixed day today:
AUDUSD decreased 0.0026 or 0.37% to 0.6955
NZDUSD decreased 0.0031 or 0.46% to 0.6666
USDJPY decreased 0.55 or 0.51% to 108.05
USDCNY increased 0.0061 or 0.09% to 6.9650
Precious Metals:
Gold increased 19.95 USD/t oz. or 1.31% to 1,551.30
Silver decreased 0.0097 USD/t. oz or -0.05%% to 18.0336
Some economic news from today:
Hong Kong:
Retail Sales (YoY) (Nov) increased from -24.3% to -23.6%
India:
Bank Loan Growth decreased from 7.9% to 7.1%
Deposit Growth decreased from 10.3% to 10.1%
FX Reserves, USD increased from 454.95B to 457.47B
Singapore:
Manufacturing PMI (Dec) increased from 49.8 to 50.1
EUROPE/EMEA:
The Austrian chancellor has agreed to reject a trade deal with the EU in order to gain support from their Green Party. The EU must tackle environmental issues before any deal will be agreed upon.
The head of the Iranian Revolutionary Guard, General Qasem Soleimani, was killed by US forces in Iraq. The Pentagon's reasoning for the attack was that the general was expected to launch plans to attack Americans. Meanwhile, the US president signed off on sending 2,500 troops to the region. The Iranian supreme leader Khameneni said there will be "revenge" against those who orchestrated the attacks.
France, Russia, and China were quick to condemn the attacks and said the actions added further destabilization to the region.
The US has warned Turkey not to interfere with the crisis in Libya, as Turkey recently sent troops there.
The major Europe stock markets had a mixed day today:
CAC 40 increased 2.67 points or 0.04% to 6,044.16
FTSE 100 increased 18.10 points, or 0.24% to 7,622.40
DAX 30 decreased 166.79 points or -1.25% to 13,219.14
The major Europe currency markets had a mixed day today:
EURUSD decreased 0.0008 or 0.07% to 1.1163
GBPUSD decreased 0.0070 or 0.53% to 1.3074
USDCHF increased 0.0008 or 0.08% to 0.9722
Some economic news from Europe today:
UK:
BRC Shop Price Index (YoY) increased from -0.5% to -0.4%
Nationwide HPI (MoM) (Dec) decreased from 0.5% to 0.1%
Nationwide HPI (YoY) (Dec) increased from 0.8% to 1.4%
BoE Consumer Credit (Nov) decreased from 1.339B to 0.563B
Construction PMI (Dec) decreased from 45.3 to 44.4
M4 Money Supply (MoM) (Nov) increased from 0.0% to 0.8%
Mortgage Approvals (Nov)increased from 64.66K to 64.99K
Mortgage Lending (Nov) decreased from 4.31B to 4.05B
Net Lending to Individuals decreased from 5.6B to 4.5B
Germany:
German Unemployment Change (Dec) increased from -16K to 8K
German Unemployment Rate (Dec) remain the same at 5.0%
German Unemployment (Dec) increased from 2.266M to 2,279M
German Unemployment n.s.a. (Dec) increased from 2.180M to 2.227M
German CPI (YoY) (Dec) increased from 1.1% to 1.5%
German CPI (MoM) (Dec) increased from -0.8% to 0.5%
German HICP (YoY) (Dec) increased from 1.2% to 1.5%
German HICP (MoM) (Dec) increased from -0.8% to 0.6%
Euro Zone:
M3 Money Supply (YoY) (Nov) decreased from 5.7% to 5.6%
Loans to Non Financial Corporations (Nov) decreased from 3.8% to 3.4%
Swiss:
procure.ch PMI (Dec) increased from 48.8 to 50.2
Spain:
Spanish Unemployment Change decreased from 20.5K to -34.6K
Norway:
Unemployment Rate (Oct) decreased from 3.9% to 3.8%
France:
French CPI (YoY) increased from 1.0% to 1.4%
French CPI (MoM) increased from 0.1% to 1.0%
French HICP (YoY) increased from 1.2% to 1.6%
French HICP (MoM) increased from 0.1% to 0.5%
US/AMERICAS:
The Federal Reserve does not foresee a need to lower rates in 2020, according to the minutes report released this Friday. Members voiced concerns that "keeping interest rates low over a long period might encourage excessive risk-taking," and further stated that lower rates would make it harder for the economy to recover if another recession occurs. Inflation remains a looming concern for the Fed as it has failed to reach the 2% target. Of the 17 voting members, only four saw a potential need to increase rates in 2020. All 17 members unanimously stated that current economic conditions will likely not warrant a further rate cut over the next three years.
The Senate remains undecided on how to proceed with President Trump's impeachment trial. House Speaker Nancy Pelosi has not yet presented the two articles of impeachment to the Senate, and therefore no official trial can begin. Senate Democratic Leader Chuck Schumer and Senate Majority Leader Mitch McConnell have been slowly negotiating the parameters for the hearing. Only a two-thirds majority vote could remove President Trump from office, which is a move many see unlikely in the Republican controlled Senate.
The US launched an air strike on Thursday that killed Iranian military commander Qasem Soleimani. Recently, Secretary of State Mike Pompeo blamed Iran for attacks on US and US-allied bases in Iraq. "Iran never won a war, but never lost a negotiation!" President Trump declared on Friday morning. Iran is reportedly planning retaliation measures against the US. Although neither country has declared war, the Pentagon announced that it will send a brigade, or roughly 3,500 troops, to the region to monitor conditions.
US Market Closings:
Dow declined 233.92 points or -0.81% to 28,634.88
S&P 500 declined 23 points or -0.71% to 3,234.85
Nasdaq declined 71.42 points or -0.79% to 9,020.77
Russell 2000 declined 5.90 points or -0.35% to 1,660.87
Canada Market Closings:
TSX Composite declined 33.83 points or -0.20% to 17,066.12
TSX 60 declined 2.59 points or -0.25% to 1,015.65
Brazil Market Closing:
Bovespa declined 866.44 points or -0.73% to 117,706.66
ENERGY:
The EIA reported a draw of inventories which caused Crude to push up higher by around 3%. The set date of the US-China gave optimism for further global growth.
Russia has halted their oil supply in Belarus, which accounts for approximately 10% of the supply to the EU. The reasoning was a disagreement with a long-standing pact between Russia and Belarus. The President of Belarus recently invited the US secretary of state to work out further strategies.
The oil markets had a green day today:
Crude Oil increased 1.825 USD/BBL or 2.99% to 62.9308
Brent increased 2.3988 USD/BBL or 3.62% to 68.5113
Natural gas increased 0.003 USD/MMBtu or 0.14% to 2.1092
Gasoline increased 0.0454USD/GAL or 2.65% to 1.7645
Heating oil increased 0.0368 USD/GAL or 1.82% to 2.0563
Top commodity gainers: Crude Oil(2.99%),Brent(3.62%),Gasoline(2.65%), and Heating Oil(1.82%)
Top commodity losers: Lean Hogs(-5.19%), Oat(-2.61%), Soybeans (-1.65%), and Corn(-1.64%)
The above data was collected around 15.37 EST on Friday.
BONDS:
Japan -0.02%(-1bp), US 2's 1.53% (-5bps), US 10's 1.80%(-9bps); US 30's 2.26%(-8bps), Bunds -0.29% (-7bp), France 0.03% (-6bp), Italy 1.36% (-6bp), Turkey 12.05% (+14bp), Greece 1.43% (-2bp), Portugal 0.36% (-6bp), Spain 0.41% (-5bp) and UK Gilts 0.74% (-6bp).