Blog/Market Talk
Posted Jan 2, 2018 by Martin Armstrong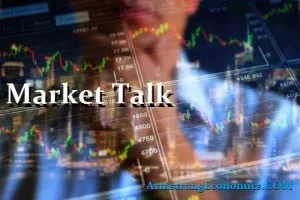 The Hang Seng and Shanghai were both off to an impressive start for the New Year. Recording gains of over 2% for the first two trading days, we saw the former touch 10-years intraday highs. China PMI data released yesterday helped sentiment, but we saw an impressive all round performance with real estate related companies continuing their pre new year rally. Volumes were better which contributed to confidence, but with some market still closed it was seen as a healthy start to 2018. The US Dollar was under pressure early yesterday but has recovered all and added after stronger US data and some confident FED minutes. Against the Yen, the USD remained reasonably restrained but the national holiday there probably has a lot to do with it.
European markets were all about MiFID II and even though you have already heard it didn't impact business, even with the last minute reprieve for the futures exchanges, many had very different views! LME, ICE and Eurex were all granted until July 2020 to offer the "Open ended" access – which would allow customers to declare where they settle their contracts. The DAX, CAC and IBEX all saw similar price activity today, all closing with gains of around +0.8%. The UK's FTSE spent much of the morning under water and only a late rally helped it close +0.3%. This probably only occurred due to the weakness in the currency, which lost all of yesterdays gains, returning the 0.6% it made yesterday. BREXIT is still a focal point and is not about to change, despite claims made in China by the UK Minister for Trade, Liam Fox. Quite interesting that the GBP weakness came late in the trading day and after the comment; guess it could be related to the TTP talk!
Another strong show from all the majors with sectors adding to the gains. More 52 week highs as confidence leads advance after advance, with only a smidgen of tech stocks attempting to set break away. ​As a result of this we see Gold start to lose its bid, while oil gains. The big sufferer, as you can imagine is the VIX. Today trading with an "8" handle, so you would have to really appreciate the market to hit that bid!
US 10yr closes 2.45% (+3bp), Bunds 0.45% (+4bp), OAT 0.81% (+4bp), Gilts 1.22% (+2bp) and JGB 0.05% (+0.5bp).