Blog/Market Talk
Posted Jan 29, 2018 by Martin Armstrong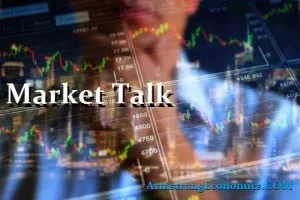 Most core Asian markets turned negative but only towards the end of the trading session. The Nikkei appeared happy playing in positive territory but tended to drift as we approached the close of the day. There was talk of different reports hindering sentiment but it was the unknown and the speed of the decline that wounded confidence more. Utilities and financials held-in well whilst tech and auto's felt the pain. It was only a small close lower, but the fact that the buyers appeared to just disappear that many questioned. Currency was reasonably well behaved closing close to the 109 handle. China stocks saw a similar picture with early gains reversed as the day wore-on. We did see positive closes for the KOPSI, ASX and SENSEX so many will be looking for Wall Street for their opening indications Tuesday. Don't forget FED later this week, end of Month and so NFP's on Friday.
European markets started with a similar pattern to Asia with many attempts at stronger markets, but all effects were in vein. Most core markets closed lower (DAX -0.15% and CAC -0.2%), but we did see the UK's manage a positive close probably because of the decline in the currency. Both Euro and GBP were weak against the US Dollar, with Sterling losing around 1% on the day. Weaker bond prices on upbeat inflation consensus saw selling in both US and European government bond markets. The spread narrowed a little between US Treasuries and German Bunds but still see Germany over 200bp through the US debt. BREXIT was again a hot topic after rumours that Theresa May could potentially be facing a no-confidence challenge by a hard "Brexiteer" Joseph Rees-Mogg. Also today, the EU set its demands for UK during the possible temporary transition period. All this even as the peers claim the Brexit bill is flawed! This is a storey that will go on and on and on…..
US markets were heavy from the opening as futures were already leading cash lower. Tech was the initial concern, but after last weeks record after record close – it shouldn't be a surprise we are seeing some kind of correction. Utilities, energy and financials were looking for bids, as we are expecting the large tech names (Apple etc.) start to report Thursday. Tuesday we will heard the State of the Union Address, followed on Wednesday by the FED meetings. NAFTA talks are always on the side-wings and all this leads up to Fridays Non-Farm Payrolls. The number expected is +180k but following the FED's decision we could have a delayed reaction.
In the final hour of US cash trading, selling pressure increased and we saw the DOW hit the days lows on the close, down around -140 points. With this we are seeing the VIX pick-up, today over 20% at 13.60.
Japan 0.081%, US 2's closed 2.13% (+1bp), 10's 2.70% (+4bp), 30's 2.94% (+3bp), Bunds 0.69% (+6bp), France 0.96% (+5bp), Italy 2.01% (+2bp), Greece 3.61% (u/c), Turkey 11.64% (+9bp), Portugal 1.91% (u/c), Spain 1.41% (+1bp), and Gilts 1.45% (+1bp).