Blog/Market Talk
Posted Jan 28, 2021 by Martin Armstrong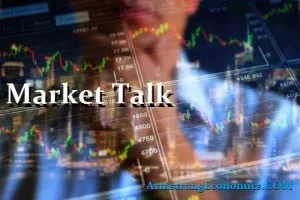 ASIA:
A World Health Organization (WHO) team has come out of quarantine and will start on-the-ground investigations into the origins of the coronavirus in the Chinese city of Wuhan. The scientists will begin interviewing people from research institutes, hospitals and the seafood market linked to the initial outbreak. Their research will rely upon evidence provided by Chinese officials.
India's government plans to announce the sale of a 10% to 15% stake in state-run Life Insurance Corp, the country's biggest insurer, in next week's federal budget, as part of a privatization push to improve public finances, Reuters reported. One of the government sources said the government will enact changes to a parliament law governing LIC, which has assets under management amounting to over $400 billion.
Vietnam is likely the top-performing Asian economy in 2020–a feat that was achieved without a single quarter of economic contraction at a time when many economies globally were weighed down by the coronavirus pandemic. The Vietnamese economy grew 2.9% last year from a year ago, according to government estimates released in late December. That's better than China's forecast–beating 2.3% growth during the same period.
The major Asian stock markets had a negative day today:
NIKKEI 225 decreased 437.79 points or -1.53% to 28,197.42
Shanghai decreased 68.17 points or -1.91% to 3,505.18
Hang Seng decreased 746.76 points or -2.55% to 28,550.77
ASX 200 decreased 130.90 points or -1.93% to 6,649.70
Kospi decreased 53.51 points or -1.71% to 3,069.05
SENSEX decreased 535.57 points or -1.13% to 46,874.36
Nifty50 decreased 149.95 points or -1.07% to 13,817.55
The major Asian currency markets had a mixed day today:
AUDUSD increased 0.0029 or 0.38% to 0.76772
NZDUSD increased 0.00354 or 0.50% to 0.71777
USDJPY increased 0.12 or 0.11% to 104.28
USDCNY decreased 0.02709 or -0.42% to 6.47513
Precious Metals:
Gold decreased 2.10 USD/t oz. or -0.11% to 1,841.89
Silver increased 0.84 USD/t. oz or 3.34% to 26.083
Some economic news from last night:
Japan:
Foreign Bonds Buying increased from 276.6B to 752.6B
Foreign Investments in Japanese Stocks increased from 177.5B to 209.2B
Retail Sales (YoY) (Dec) decreased from 0.6% to -0.3%
South Korea:
Manufacturing BSI Index (Feb) increased from 76 to 84
Australia:
Export Price Index (QoQ) (Q4) increased from -5.1% to 5.5%
Import Price Index (QoQ) (Q4) increased from -3.5% to -1.0%
New Zealand:
Exports (Dec) increased from 5.21B to 5.35B
Imports (Dec) increased from 4.92B to 5.33B
Trade Balance (MoM) (Dec) decreased from 290M to 17M
Trade Balance (YoY) (Dec) decreased from 3,300M to 2,940M
Singapore:
Unemployment Rate (Q4) decreased from 3.6% to 3.2%
Some economic news from today:
India:
M3 Money Supply remain the same at 12.5%
EUROPE/EMEA:
To reduce international travel, the United Kingdom announced Wednesday that British citizens flying home from 22 COVID-19 hotspots must quarantine in hotels at their own expense for 10 days. British residents and citizens who fly into the UK will be taken straight from the airport to government-approved hotels to begin a mandatory 10-day stay. Police will do more checking to make sure people are self-isolating, the news release said. The new restrictions come as the UK grapples with a surge in cases and the emergence of a highly transmissible homegrown COVID variant. The UK recently passed the 100,000 mark in coronavirus-related deaths. British authorities will also start questioning British citizens about why they want to travel abroad.
Based on inflation outcomes of several regional states, German inflation in January came in at 1.0% year-on-year, from -0.3% in December. The harmonized index, relevant for European Central Bank policymaking surged to 1.6%, also remained unchanged at -0.7% YoY. On the back of the VAT cut reversal, core inflation has also increased. Judging from the available regional data to around 1.5% YoY. With the VAT increase, it is hard to disentangle the negative impact from the latest lockdown measures and the positive impact from a higher VAT on prices.
Saudi Arabia is reportedly exploring ways to enhance its bilateral collaboration with France to boost the digital economy. The two nations are also looking to expand knowledge exchange efforts in the fields of digital technology and entertainment. Digital technologies are a pivotal aspect of Saudi Arabia's economic diversification plan Vision 2030. Launched in 2016, Vision 2030 set forth several strategic goals for ICT, which include expanding high-speed broadband coverage to 90% of households in densely populated cities and to 66% of households in other urban areas. It's also looking to strengthen partnerships with the private sector in order to develop new ICT infrastructure and the expansion of digital services to cut unnecessary bureaucracy.
The major European stock markets had a mixed day:
CAC 40 increased 50.90 points or 0.93% to 5,510.52
FTSE 100 decreased 41.22 points or -0.63% to 6,526.15
DAX 30 increased 45.47 points or 0.33% to 13,665.93
The major European currency markets had a mixed day today:
EURUSD increased 0.00357 or 0.30% to 1.21336
GBPUSD increased 0.0071 or 0.52% to 1.37415
USDCHF decreased 0.00191 or -0.21% to 0.88766
Some economic news from Europe today:
Swiss:
Trade Balance (Dec) decreased from 4.476B to 2.881B
Norway:
Core Retail Sales (MoM) (Dec) decreased from 2.9% to -5.7%
Unemployment Rate (Nov) decreased from 5.2% to 5.0%
Spain:
Spanish Unemployment Rate (Q4) decreased from 16.26% to 16.13%
Spanish Business Confidence increased from -7.6 to -3.6
Italy:
Italian Business Confidence (Jan) decreased from 96.0 to 95.1
Italian Consumer Confidence (Jan) decreased from 101.1 to 100.7
Germany:
German CPI (MoM) (Jan) increased from 0.5% to 0.8%
German CPI (YoY) (Jan) increased from -0.3% to 1.0%
German HICP (MoM) (Jan) increased from 0.6% to 1.4%
German HICP (YoY) (Jan) increased from -0.7% to 1.6%
Euro Zone:
Business and Consumer Survey (Jan) decreased from 92.4 to 91.5
Business Climate (Jan) increased from -0.40 to -0.27
Consumer Confidence (Jan) remain the same at -15.5
Consumer Inflation Expectation (Jan) increased from 15.3 to 15.4
Selling Price Expectations (Jan) increased from 4.1 to 4.9
Services Sentiment (Jan) decreased from -17.1 to -17.8
Industrial Sentiment (Jan) increased from -6.8 to -5.9
US/AMERICAS:
Robinhood suspended trades of Gamestop, AMC, Nokia, BlackBerry, and others during early morning trading in what appears to be blatant market manipulation. The decision comes after a group on the popular forum Reddit (r/WallStreetBets) decided to target Melvin hedgefund by purchasing large quantities of Gamestop shares, knowing that the fund had a contract expiring this Friday that bet on the stock declining. Reddit users, mainly Millennials who use Robinhood to trade, wrote personal narratives about how the Great Recession personally affected their families while the banks received bailouts and money is not their motive for inflating the stock. People on the forum are urging others to "hold the line" and switch trading platforms. At the time of this writing, the subreddit has over 4.9 million readers.
Later in the day, a class-action lawsuit was filed against Robinhood by Alexander Cabeceiras under NELSON v ROBINHOOD FINANCIAL LLC. The matter has gathered bipartisan support and US lawmakers are likely to launch an investigation. Users on the subreddit r/WallStreetBets are encouraging one another to hold their shares of Gamestop and have launched a new subreddit called r/ClassActionRobinhood to pursue legal action. Celebrities
The International Monetary Fund (IMF) fiscal affairs department director, Vitor Gaspar, said that the US is poised to provide a "very large" stimulus to combat the coronavirus fallout and supports Biden's $1.9 trillion relief plan. "This Biden relief plan is a first stage of a broader strategy that includes medium- to long-term growth priorities, and public investment in infrastructure that will come later. We do believe that this sequencing is exactly appropriate," Gaspar stated. House Speaker Pelosi stated this Thursday that she believes a relief plan will be in place by the end of next week despite a lack of support from the GOP.
President Biden signed an executive order this Thursday to permit those without health insurance to apply for Obamacare. Those eligible will be able to sign up between February 15 until May 15. In a second executive order signed today, President Biden eliminated the Mexico City Policy that provided funds to support abortion counseling to international non-profit organizations.
US Market Closings:
Dow advanced 300.19 points or 0.99% to 30,603.36
S&P 500 advanced 36.61 points or 0.98% to 3,787.38
Nasdaq advanced 66.56 points or 0.5% to 13,337.16
Russell 2000 declined 2.09 points or -0.1% to 2,106.61
Canada Market Closings:
TSX Composite advanced 232.77 points or 1.34% to 17,657.2
TSX 60 advanced 17.35 points or 1.69% to 1,046.82
Brazil Market Closing:
Bovespa advanced 3,000.95 points or 2.59% to 118,883.25
ENERGY:
The oil markets had a mixed day today:
Crude Oil decreased 0.52 USD/BBL or -0.98% to 52.3300
Brent decreased 0.28 USD/BBL or -0.50% to 55.5300
Natural gas decreased 0.019 USD/MMBtu or -0.70% to 2.6820
Gasoline increased 0.0079 USD/GAL or 0.50% to 1.5850
Heating oil decreased 0.0091 USD/GAL or -0.57% to 1.5998
Top commodity gainers: Silver (3.34%), Lumber (2.50%), Lithium (9.65%) and Palladium (0.84%)
Top commodity losers: Crude Oil (-0.98%), Canola (-2.88%), Sugar (-1.20%), and Coffee (-1.12%)
The above data was collected around 15:33 EST on Thursday.
BONDS:
Japan 0.04%(+1bp), US 2's 0.12%(+0.002%), US 10's 1.06%(+4bps); US 30's 2.00%(+0.03%), Bunds -0.55% (+3bp), France -0.30% (+1bp), Italy 0.64% (+2bp), Turkey 12.80% (+2bp), Greece 0.69% (+1bp), Portugal 0.04% (+2bp); Spain 0.09% (+1bp) and UK Gilts 0.30% (+3bp).
US 7-Year Note Auction increased from 0.662% to 0.754%
US 4-Week Bill Auction decreased from 0.070% to 0.055%
US 8-Week Bill Auction decreased from 0.080% to 0.065%
Italian 10-Year BTP Auction increased from 0.59% to 0.65%
Italian 5-Year BTP Auction increased from 0.01% to 0.07%