Blog/Market Talk
Posted Jan 26, 2017 by Martin Armstrong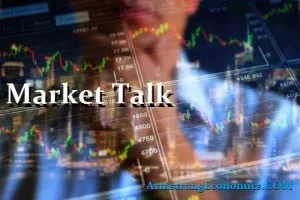 With the DOW having broken the psychological 20k level in early US trading and all the hype and coverage surrounding that, there really was only ever one direction planned for today. In the absence of any other significant market related news, Core Asia responded accordingly that saw both the Nikkei and the Hang Seng close almost 2% higher. The JPY tended to drift weaker as the day wore on with the majority of trade playing mid 114's (a loss of around 1%). There was speculation also that BOJ Governor Kuroda be invited to return for another term as he is due to finishes April 2018. The Shanghai exchange lagged a little closing up 0.3% but there is little enthusiasm adding additional risk just ahead of a week long holiday.
The UK takes its fair share of todays news with data released earlier that Q4 GDP had a marginal improvement at +0.6% and Y/Y resulted in 2.2%; against expectations of +0.5% and 2.1%. GBP eased a little after early morning gains as PM Theresa May prepares to meet with US President Donald Trump in the hope that she can work her way up the queue. As we work our way towards February concerns start to rise surrounding upcoming elections. In March Holland will vote, late April/May we see France head to the poles (could possibly be earlier), then we have Germany in September. The DXY has lost ground these past two weeks trading back around the par level, but given the political uncertainty ahead and the coverage of the 20k benchmark, it appears the uncertainty may have seen misguided. The DAX was the sole performer amongst the European core with small losses seen for CAC, FTSE and the IBEX.
Consolidation was the name of the game today for core US indices after yesterdays performance. The DOW managed a small improvement over yesterdays levels but as you would expect, lacked the strength to sustain any meaningful improvements. The corporate results we have seen have been good with many beating expectations. There are still more to come but from what we have witnessed so far, the positive theme supports the enthusiasm seen for the stock market. Economic data has also been the best of a bad bunch but tomorrow we see the highly volatile Durable Goods number. Previously released at -4.5% tomorrows expectation lie around the +2.6% level.
As stocks stabilized so a small bid returned for bonds. US 2's and 10's closed 2bp tighter at 1.22% and 2.50% respectively. However, Europe is starting to loose some of its support as bids start to be a little more defensive. 10yr Bunds closed 0.48% (+2bp) which takes the spread US/Germany tighter by 2bp at +202bp. Italy 2.22% (+13bp), Greece 6.80% (+4bp), Turkey 11.02% (u/c), Portugal 4.07% (+14bp) and UK Gilts 1.51% (+4bp).