Blog/Market Talk
Posted Jan 25, 2019 by Martin Armstrong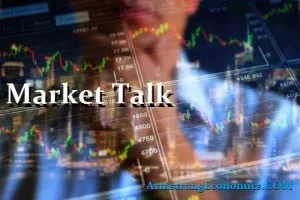 The meandering of US markets failed to provide an excuse for Asia, but it found its footing anyway and can point to tech as the key driving force. There is still a lot of hype in China for domestic support and official direction helping sentiment and today that became more targeted. This enthusiasm in helping not just mainland China but also providing a strong regional response. Shanghai closed up +0.4%, Hang Seng up 1.65% (heavily weighted towards tech) and saw the Nikkei up 1%. Admittedly, yesterday did see the release of strong Texas Instruments and Xilinx earnings, which helped sentiment and managed a closed at five month highs for tech Chips in the Nikkei. The SENSEX was doing ok until poor earnings became the norm and then took a turn for the worst! Eventually closing down 0.47% was a disappointing close as had been up +0.6% in the morning session. Interesting in late US trading that the Dollar has suffered against Euro and GBP, but has held its own against the Yen!
The technology led stock rally pushed into Europe also and helped core DAX and CAC indices to gain over 1.2% today. Having heard some positive comments from Chinese delegates attending Davos, sentiment and encouragement remove attention away from BREXIT. the rally in the Euro and GBP helped ease investors back as values were reflected. However, it is worth mentioning that many are expecting some good numbers from core NASDAQ components next week, which make up around 35% of the street. Having suffered almost a years loss in one quarter, they could well set the path for 2019 especially from such low levels. Auto's also traded well following softer China/US trade talk rumours. There is still money finding its way into emerging markets driving yields down yet again. The demand for US Dollar debt is encouraging EM issuance outside of local and into hard currency. Think most people know our views on that.
Up beat earnings expectations, partial end to the government shutdown and positive rumours coming from the China/US trade talks and we see stocks rallying. January comes to a close next week and we have seen a month that recaptured much of the Q4 losses. NASDAQ has rallied 8%, Small Caps 10% and the DOW and S+P 6.25% which is not a bad start to the year. We all know that stocks are pulling back from December lows, but will be interesting listening to the FED next week after January stock market returns. Employment numbers again next Friday, but with government back in the game and positive remarks coming from the talks, and we could be in for some exciting times if next weeks earnings show a positive surprise. Treasuries looked to have turned again, but we do have a heavy issuance calendar due, so keep an eye out for rising yields. Will also be interesting watching the European and US market divergence test.
Japan 0.00%, US 2's closed 2.60% (+4bp), US 10's closed 2.75% (+4bp), US 30's 3.06% (+3bp), Bunds 0.19% (+1bp), France 0.59% (+1bp), Italy 2.65% (-1bp), Turkey 14.94% (-27bp), Greece 4.04% (-6bp), Portugal 1.64% (u/c), Spain 1.22% (-2bp) and UK Gilts 1.30% (+4bp).