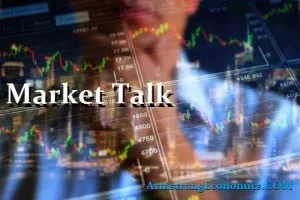 ASIA:
China is experiencing an outbreak of the coronavirus that has affected 900 people and taken the lives of 26. The Chinese Government has put 13 cities on lockdown which affects 36 million people. The virus has spread to other countries as well, with the first case in France being reported today.
Neha Narula, director of the Digital Currency Initiative at the Massachusetts Institute of Technology (MIT) along with some group of experts predicted that a digital Chinese yuan could allow some countries to avoid US sanctions and increase the Chinese government's influence. The People's Bank of China is working on a digital yuan but has released very few details about the technology behind it or the timeline of its release. Narula described a simulation that took part in November involving a number of people including Larry Summers and former US Secretary of Defense Ash Carter. The participants simulated a White House National Security Council meeting in response to a major security crisis. One of the situations involved North Korea developing a missile that had the capability to reach the US. It was funded by the digital yuan which allowed North Korea to bypass the global banking system and US sanctions.
India's government is planning to increase import duties on more than 50 items including electronics, electrical goods, chemicals, and handicrafts. This will target about $56 billion worth of imports from China and elsewhere, sources close to the matter said. It is expected that this announcement could be made by India's finance minister. She will present the annual budget for 2020-21 on February 1, along with other stimulus measures to revive sagging economic growth.IMF chief Kristalina Georgieva on Friday said growth slowdown in India appears to be temporary and she expects the momentum to improve going ahead. On Monday, the IMF lowered growth estimate for the world economy to 2.9 percent for 2019 citing "negative surprises" in a few emerging market economies especially India.
India is likely to fund roughly $28 billion of its expenditure outlay in its budget for fiscal 2020- 21 via off-budget borrowings as it seeks to revive a sagging economy while keeping its fiscal deficit in check. Prime Minister Narendra Modi's government is under pressure to increase spending on rural welfare schemes and infrastructure to boost growth that has fallen for six straight quarters. Sources close to the matter also said that there is a possibility that real deficit touches 4.5% of GDP to meet the expenditure for the next fiscal year 2020-21.
The major Asian stock markets had a green day today:
Shanghai closed
Kospi closed
ASX 200 increased 2.50 points or 0.04% to 7,090.50
NIKKEI 225 increased 31.74 points or 0.13% to 23,827.18
Hang Seng increased 40.52 points or 0.15% to 27,949.64
SENSEX increased 226.79 points or 0.55% to 41,613.19
The major Asian currency markets had a mixed day today:
AUDUSD decreased 0.0018 or -0.26% to 0.6820
NZDUSD decreased 0.0011 or -0.17% to 0.6602
USDJPY decreased 0.3 or -0.27% to 109.25
USDCNY increased 0.0068 or 0.10% to 6.9329
Precious Metals:
Gold increased 10.43 USD/t oz. or 0.67% to 1,572.91
Silver increased 0.3434 USD/t. oz or 1.93%% to 18.1516
Some economic news from last night:
Japan:
CPI, n.s.a (MoM) (Dec) decreased from 0.1% to 0.0%
National Core CPI (YoY) (Dec) increased from 0.5% to 0.7%
National CPI (MoM) decreased from 0.2% to 0.1%
National CPI (YoY) (Dec) increased from 0.5% to 0.8%
Manufacturing PMI (Jan) increased from 48.4 to 49.3
Services PMI increased from 49.4 to 52.1
New Zealand:
Credit Card Spending (YoY) decreased from 4.4%  to 3.4%
CPI (YoY) (Q4) increased from 1.5% to 1.9%
CPI (QoQ) (Q4) decreased from 0.7% to 0.5%
Australia:
Manufacturing PMI decreased from 49.2 to 49.1
Services PMI decreased from 49.8 to 48.9
Some economic news from today:
Singapore:
Industrial Production (MoM) (Dec) increased from -8.4% to 4.1%
Industrial Production (YoY) (Dec) increased from -8.9% to -0.7%
India:
FX Reserves, USD increased from 461.21B to 462.16B
EUROPE/EMEA:
The EU has produced a map where it believes checkpoints between the EU border in Northern Ireland should be, despite UK PM Boris Johnson denying there will be any border present. Today PM Boris Johnson signed the withdrawal agreement labeling it a fantastic moment for the country.
The EU is trying to regulate smartphone makers to adopt the USB type C cable in order to reduce electronic waste. However, Apple was criticizing the move saying the laws will stifle innovation.
German Finance minister Olaf Scholz stated that he isn't concerned about the US-EU trade deal, as he believes it will happen. He also mentioned that a global digital tax is within reach which has caused the US concern during discussions with member states.
The US Pentagon said that 34 US troops faced brain injury due to the Iranian strikes on the US base in Iraq. Meanwhile, there has been a mass protest in Iraq for US troops to pull out of the country.
The US and Israel are expected to announce plans of peace between Israel and Palestine. However, the PA said they are unlikely to accept a deal as it will be heavily biased towards Israel.
The major Europe stock markets had a green day today:
CAC 40 increased 52.47 points or 0.88% to 6,024.26
FTSE 100 increased 78.31 points, or 1.04% to 7,585.98
DAX 30 increased 188.26 points or 1.41% to 13,576.68
The major Europe currency markets had a mixed day today:
EURUSD decreased 0.00249 or -0.23% to 1.10291
GBPUSD decreased 0.0045 or 0.34% to 1.3075
USDCHF increased 0.0014 or 0.14% to 0.9712
Some economic news from Europe today:
Spain:
Spanish PPI (YoY) increased from -2.3% to -1.9%
France:
French Manufacturing PMI (Jan) increased from 50.4 to 51.0
French Markit Composite PMI (Jan) decreased from 52.0 to 51.5
French Services PMI (Jan) decreased from 52.4 to 51.7
Germany:
German Composite PMI (Jan) increased from 50.2 to 51.1
German Manufacturing PMI (Jan) increased from 43.7 to 45.2
German Services PMI (Jan) increased from 52.9 to 54.2
Italy:
Italian Trade Balance Non-EU (Dec) increased from 4.16B to 5.77B
Euro Zone:
Manufacturing PMI (Jan) increased from 46.3 to 47.8
Markit Composite PMI (Jan) remain the same at 50.9
Services PMI (Jan) decreased from 52.8 to 52.2
UK:
Composite PMI increased from 49.3 to 52.4
Manufacturing PMI increased from 47.5 to 49.8
Services PMI increased from 50.0 to 52.9
US/AMERICAS:
The Center for Disease Control (CDC) confirmed a second case of the coronavirus in the US this Friday, causing Wall Street to decline midday amid fears that the outbreak could impact the global economy. The CDC has enacted screening precautions at major airports, but some are urging for additional measures. US Senator Josh Hawley wrote a letter to the White House today urging for "more aggressive limitations on travel between the US and China." At this time, the World Health Organization is not classifying the virus as a global health emergency.
Treasury Secretary Steven Mnuchin and European Central Bank President Christine Lagarde engaged in a heated debate over climate change today at the World Economic Forum. Mnuchin stated that technological advances will naturally curtail hazardous emissions and implementing taxes will cause a spike in energy prices. Lagarde rebuked his proposal, stating that companies can price in the additional taxes given notice. " If you want to put a tax on people, go ahead and put a carbon tax. That is a tax on hard-working people. I personally think the costs are going to be much lower 10 years from now — because of technology — than we think they are today,"  Mnuchin stated.
The White House previously reported that no US military personnel were injured after Iran launched an attack on a US military base earlier in the month. However, the Pentagon released a statement today that revealed 34 service members have been diagnosed with traumatic brain injuries following the attack.
The United States is now lobbying for India to increase purchases of agricultural goods. India was removed from the US' Generalized System of Preferences (GSP) last year that exempted taxes on $5.6 billion worth of Indian goods. Rumors have it that the US may consider granting India GSP status once again if they agree to increase agricultural purchases and lower taxes on US imports. President Trump and India's PM Modi are set to meet next month for further discussions.
US Market Closings:
Dow declined 170.36 points or -0.58 of a point to 28,989.73
S&P 500 declined 30.07 points or -0.90% to 3,295.47
Nasdaq declined 87.57 points or -0.93% to 9,314.91
Russell 2000 declined 22.78 points or -1.35 to 1,662.23
Canada Market Closings:
TSX Composite declined 56.44 points or -0.32% to 17,565.34
TSX 60 declined 3.72 points or -0.35% to 1,047.97
Brazil Market Closing:
Bovespa declined 1,151.27 points or -0.96% to 118,376.36
ENERGY:
Oil continued to slide today with brent breaking the 60 USD region. The reasoning behind the recent bear run was fear over global demand and the normalization of geopolitics.
The oil markets had a negative day today:
Crude Oil decreased 1.63 USD/BBL or -2.93% to 53.8800
Brent decreased 1.65 USD/BBL or -2.66% to 60.4511
Natural gas decreased 0.0349 USD/MMBtu or -1.83% to 1.8716
Gasoline decreased 0.0561USD/GAL or -3.56% to 1.5206
Heating oil decreased 0.0626 USD/GAL or -3.49% to 1.7315
Top commodity gainers: Silver (1.93%), Gold (0.77%),Platinum (0.23%), and Milk (0.18%)
Top commodity losers: Oat (-4.19%), Palm Oil (-7.52%), Gasoline (-3.56%), and Heating Oil(-3.49%)
The above data was collected around 14.23 EST on Friday.
BONDS:
Japan -0.02%(+0bp), US 2's 1.52% (+0bps), US 10's 1.74%(+0bps); US 30's 2.18%(+0bps), Bunds -0.29% (+5bp), France -0.04% (+2bp), Italy 1.28% (+2bp), Turkey 10.22% (-17bp), Greece 1.33% (-44bp), Portugal 0.36% (-0bp) Spain 0.38% (+2bp) and UK Gilts 0.59% (+0bp).