Blog/Market Talk
Posted Jan 24, 2019 by Martin Armstrong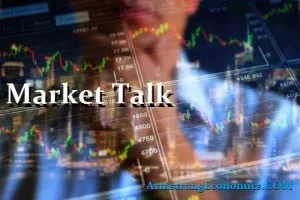 Most core Asian indices finished todays trading on a positive note. Both Shanghai and Hang Seng indices recovered from early losses and managed a close at the days highs. Both closed up +0.4% on continued talk of domestic support and the possibility of shorter working weeks. In Australia the jobs number released better than expected and helped the ASX to close up +0.38%, but did not manage to help the AUD. The demand for USD continues globally with a +0.75 advance against the A$ in late trading. The Nikkei was the one core index that lost ground today, closing off just -0.1% but also saw the Yen down -0.2%. Markets everywhere, seem to waiting news of the China/US trade talks, but as all rumours appear to be, just rumours – only had the ECB to focus their attention today. Global concerns for the China slowdown should not be a surprise as they are accountable for around 20% of the whole globe.
After a nervous start European markets found their footing reaching the days highs late morning.
However, that was quite surprising given the poor data we saw from France and Germany. These numbers were followed by an unchanged ECB decision and a President who expressed new concerns of a slowing economy. This announcement hit the Euro but also encouraged renewed demand for European peripheral bonds. The spreads of Italy, Spain and Portuguese were all tighter with BTP's almost dropping by double figures even with a slap from Davos. The Euro has broken the psychological 1.13 support and is now with a 1.12 (-0.75%) handle. As we all know now, BREXIT was never far away and today in Davos we heard it is doubtful they get a second referendum. This did take cable back to the low 130's, but late in the day remains almost unchanged at mid 130's.
Having heard concerns all day from Davos and supporting economic data for a slowdown, the last thing it needed today was a comment from US Commerce Secretary Wilbur Ross, claiming China/US trade talks are "miles apart"! However, surprising to many, core US actually traded off of their intraday lows on this report and managed a small advance. The DOW was not higher unfortunately, closing with a small -0.14% close. The NASDAQ was the star performer closing up +0.68% with a small +0.14% support from the S+P. Interesting, that even with the negative environment emerging markets appear to be trading reasonable well. Talk of cash flow searching for the additional yield could be the recipe for the perfect storm. Demand is for US Dollars and there appears no shortage of voluntary borrowers.
Japan 0.00%, US 2's closed 2.56% (-3bp), US 10's 2.71% (-4bp), 30's 3.03% (-4bp), Bunds 0.18% (-4bp), France 0.58% (-5bp), Italy 2.66% (-9bp), Turkey 15.21% (-11bp), Greece 4.10% (-4bp), Portugal 1.64% (-7bp), Spain 1.24% (-7bp) and Gilts 1.26% (-6bp).