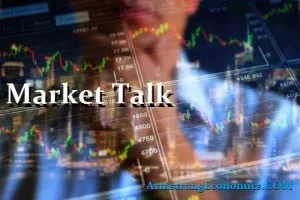 The DXY (Dollar Index) fell below the psychological 90 level today and that seemed to propel Asian stocks, whilst Europe preferred the currency. In Japan however, the Nikkei took the brunt of the selling, closing down (-0.8%) whilst the currency spent much of the day flirting with the 109 level. a gain of roughly 1.1%. Japanese Manufacturing ISM released better than expected. Financials and real estate were the better performing areas on the assumption the domestic economy is finally waking-up. Australia had a good day with the currency breaking 80 and closing up +0.8% whilst the All Ord's also gained +0.3%. Shanghai and the Hang Seng although both displayed similar price action, the domestic index recovered sooner and healthier with a +0.4% daily return. The Hang Seng managed just +0.09% in the final hour of trading. SENSEX played in and out of positive territory all day, but looked a tired market as we approached the play of trading. Recent price activity is looking heavy and probably due for a correction soon as volumes decline.
A heavy day for core and periphery European indices. Both the UK's FTSE and the German DAX lost over 1% as currencies rallied. The Euro gained near 15 whilst the GBP rallied 1.6%. A combination of lower than expected earnings and poor (seasonal) retail sales both hit confidence and sentiment. The talk that economic data in the UK may lead to a rise in rates appeared to enthuse the bulls in todays currency run, but even that looked a little stretched after a 1.6% daily run. Davos remained top market talk for much of the session, especially as French president Emmanuel Macron spoke of globalization be stretched! Will be interesting to hear the US president Donald Trumps address. All core equity markets closed on their days lows with sentiment feeling the heat. Worth noting that long end Gilts suffered today on expectations on confidence (higher long end rate rises). Given rising equity uncertainty, the demand for metals has increased with Silver, Gold, Copper, Platinum and Palladium all showing strong returns today.
Any correction continues to be short-lived and the rally continues. We hit yet more records today as demand and fear of being left behind continues to build. We did see another wobble just after lunch but by the close that decline seemed like a distant memory. All this resulted in a mixed close for core indices with the DOW closing positive yet the NASDAQ and Russell -0.5% lower. Much of today US session talk has focused on the DXY and the lack of confirmation – coming from Steven Mnuchin's predominantly – and his almost refusal to confirm a firm US policy. Claims by Press Secretary, Sarah Huckabee, that a stable dollar is good for US economy failed to ease concerns. We should hear more along these lines over the next couple of days.
Japan 0.058%, US 2's closed 2.08% (+4bp), 10's at 2.65% (+2bp), 30's 2.93% (+1bp), Bunds 0.58% (+2bp), France 0.85% (+1bp), Italy 1.90% (+2bp), Greece 3.67% (-2bp), Turkey 11.64% (-15bp), Portugal 1.88% (u/c), Spain 1.35% (u/c) and Gilts 1.41% (+6bp).