Blog/Market Talk
Posted Jan 24, 2017 by Martin Armstrong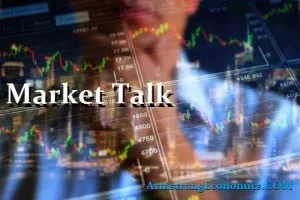 The safe-haven bid into the yen continues as we trade under 113 early in the US session. As concerns surround the US's withdrawal out of TTP many worry where this new era is leading the markets. Initially, we have seen some cash return to the bond markets but as the day has worn-on and US equity markets gain a bid, so the risk trade returns. The Nikkei lost -0.5% in todays cash market but late this evening we are seeing the futures recoup all of that and advance in sympathy with the US performance whilst watching the JPY's decline. Shanghai and Hang Seng both very much quiet ahead of the long holidays ahead, closed higher but with small gains. In late futures HS50 blends with core western markets as confidence returns and the US indices start to show signs of reclaiming lost stability we see Nikkei fut's up around +1.5%.
Europe was keen to hear the UK's Supreme Court ruling on Brexit even though much of it ha been priced-in. The court ruled the government will require parliamentary approval to start Brexit negotiations but does not have to consult the assemblies of Scotland, Wales or Northern Ireland ahead of time. The shares of UK's BT Group Plc. were heavily in the headlines today after disclosing accounting errors at its Italian unit. This news has forced the company to triple write-downs whilst also preparing the markets for reduced earning for 2017 and 2018. Shares closed down around 20% on the day. A strong US market in the afternoon certainly helped sentiment resulting in DAX, CAC and IBEX all registering solid gains for the day. The Euro has drifted, marginally more than GBP, as the USD regained momentum on some decisive Trump decision.
Following-on from the flurry of executive orders that President Trump has undertaken we see the S+P leading its own march and setting new record highs. Constructive data from Manu PMI released better than previous and with materials leading the way we saw a strong close. Sentiment appears better than previous and there remains a fear that investors will be left behind if there is no pullback seen. However, that is usually the way we see markets behave as no-one like to buy new highs unless they are supporting their positions.
As a result of the strong equity markets we saw bonds trade heavy. The US 2yr note added 5bp at 1.19% with 10's putting-on 6bp closing at 2.46%. Bunds heavy also but by only 4bp closing at 0.4%. This closes the US/Germany spread at +206bp. Italy 10yrs closed 2.03% (+6bp), Greece 6.84% (-3bp), Turkey 10.81% (-8bp) a little confidence given the central bank raised rates by 75bp (9.25%) to support weakening the Lira. Portugal 3.82% (+7bp) and finally Gilts 1.40% (+4bp).