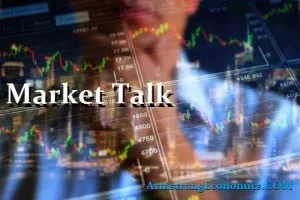 ASIA:
India is planning to send a "female" humanoid robot called Vyommitra into space as part of an unmanned mission that could launch this year. Indian Space Research Organization head K. Sivan described the robot as a "half-humanoid" as it does not have any legs. Vyommmitra will speak two languages to communicate with mission control, and possibly with astronauts in the future.
At WEF Summit in Davos, Switzerland, Rajnish Kumar, Chairman of India's largest public sector Bank (State Bank of India), said India's shadow lending sector is in a "better position" after two years of clean up. India's non-banking financial companies (NBFCs) — often referred to as shadow lenders — faces funding challenges because of bad assets and corporate government issues. Yet, he struck an optimistic tone about the outlook. According to Kumar, after India's central government warned that the collapse of a large Indian non-bank financial company could inflict as much damage as that of a commercial bank, shadow banks are becoming more strategic in raising funds. Kumar said, "They have been able to raise funds in international markets; they have been able to raise funds in equity markets. I don't think that we need to take such a gloomy view, but I would not say that we just don't keep an eye or don't be watchful. My assessment is … we're much more confident than we were six months ago."
The outbreak of a deadly disease in China has led to a market tumble in the region as investors worry that Chinese shoppers will stay home for the Lunar New Year holiday and beyond. It has cast a pall over growth prospects for the world's second largest economy, raising fears about the global outlook. Economists say the possible impact is not clear yet. The uncertainty has put a palpable damper on Chinese economy, which has for years been one of the world's most powerful growth engines. A stumble in China could hobble jobs and growth elsewhere. Today, China's economy is bigger but growing at its slowest pace in nearly three decades. It is grappling with problems like the trade war with the United States and a campaign to wean local governments and companies off their addiction to borrowing.
In an attempt to resolve the ongoing spat over palm oil import issue with India, Malaysia's top sugar refiners has decided to increase purchase of commodity from India. MSM Malaysia Holdings Berhad will buy 130,000 tonnes of raw sugar from India worth 200 million ringgit ($49.20 million) in the first quarter, the company told Reuters. It bought around 88,000 tonnes of raw sugar from India in 2019. MSM is the sugar refining arm of the world's largest palm oil producer, FGV Holdings, which is an unit of Malaysian state-owned Federal Land Development Authority or Felda. The people familiar with the matter said it was a bid to appease India, which has been urging Malaysia to trade deficit between the countries.
The major Asian stock markets had a mixed day today:
Shanghai decreased 84.23 points or -2.75% to 2,976.53
Kospi decreased 21.12 points or -0.93% to 2,246.13
ASX 200 decreased 44.70 points or -0.63% to 7,088.00
NIKKEI 225 decreased 235.91 points or -0.98% to 23,795.44
Hang Seng decreased 431.92 points or -1.52% to 27,909.12
SENSEX increased 271.02 points or 0.66% to 41,386.40
The major Asian currency markets had a mixed day today:
AUDUSD increased 0.00014 or 0.02% to 0.68444
NZDUSD increased 0.0006 or 0.09% to 0.6601
USDJPY decreased 0.2690 or 0.25% to 109.4870
USDCNY increased 0.0152 or 0.22% to 6.92640
Precious Metals:
Gold increased 3.63 USD/t oz. or 0.23% to 1,559.41
Silver decreased 0.1244 USD/t. oz or -0.69%% to 17.7838
Some economic news from last night:
Japan:
All Industries Activity Index (MoM) increased from -4.8% to 0.9%
Exports (YoY) (Dec) increased from -7.9% to -6.3%
Foreign Bonds Buying decreased from 2,329.7B to 175.1B
Foreign Investments in Japanese Stocks increased from -16.4B to 263.8B
Imports (YoY) (Dec) increased from -15.7% to -4.9%
Trade Balance (Dec) decreased from -85.2B to -152.5B
Singapore:
URA Property Index (QoQ) (Q4) increased from 0.30% to 0.50%
New Zealand:
External Migration & Visitors (Nov) decreased from 0.10% to -3.50%
Permanent/Long-Term Migration (Nov) decreased from 3,400 to 2,610
Australia:
MI Inflation Expectations increased from 4.0% to 4.7%
Employment Change (Dec) decreased from 39.9K to 28.9K
Full Employment Change (Dec) decreased from 4.2K to -0.3K
Participation Rate (Dec) remain the same at 66.0%
Unemployment Rate (Dec) decreased from 5.2% to 5.1%
Some economic news from today:
Japan:
Leading Index decreased from 91.6 to 90.8
Singapore:
CPI (YoY) (Dec) increased from 0.6% to 0.8%
Indonesia:
Interest Rate Decision remain the same at 5.00%
Deposit Facility Rate remain the same at 4.25%
Lending Facility Rate remain the same at 5.75%
Motorbike Sales (YoY) increased from -8.30% to -6.80%
EUROPE/EMEA:
The Welsh and the Northern Irish Assembly stood with the Scottish Assembly in rejecting the Brexit Bill. Although this cannot change the law, it will be the first time where all three would have stood against the UK.
SNP leader spoke at parliament stating the UK was acting unconstitutionally. "We are faced with a situation which is completely unprecedented, when the government in Edinburgh, in Belfast and in Cardiff has not given consent to this act of parliament. And this completely contravenes the devolution settlement that made it clear that the consent of the devolved administrations had to be given in bills of parliament to become acts of parliament that involve the devolved administrations."
The EU could introduce fines if there are any breaches with the Brexit agreement between the UK and the EU; any breach of the deal will be given a lengthy period to rectify before any fines are implemented.
The US has threatened the next incoming Iranian general, stating that if an American is killed under his reign he will face the same fate as his predecessor. Meanwhile, Iranian intelligence said that the drone that killed Solemani was from Kuwait.
The major Europe stock markets had a negative day today:
CAC 40 decreased 39.18 points or -0.65% to 5,971.79
FTSE 100 decreased 64.25 points, or -0.85% to 7,507.67
DAX 30 decreased 127.33 points or -0.94% to 13,388.42
The major Europe currency markets had a mixed day today:
EURUSD decreased 0.00383 or -0.35% to 1.10567
GBPUSD decreased 0.0023 or -0.17% to 1.3120
USDCHF increased 0.0017 or 0.17% to 0.9693
Some economic news from Europe today:
Norway:
Unemployment Rate (Nov) increased from 3.8% to 4.0%
Interest Rate Decision remain the same at 1.50%
Euro Zone:
Deposit Facility Rate (Jan) remain the same at -0.50%
ECB Marginal Lending Facility remain the same at 0.25%
ECB Interest Rate Decision (Jan) remain the same at 0.00%
Consumer Confidence (Jan) remain the same at -8.1
US/AMERICAS:
American citizens may see an unexpected change in their credit scores due to a newly implemented credit scoring model. Fair Isaac Corp., the company behind FICO scoring, launched the FICO 10 model this Thursday that now incorporates consumer debt ratings. The company estimates that 80 million consumers will experience at least a 20 point increase or decrease in their scores. According to the FICO website, 90% of consumer credit decisions in the US are based on FICO scores. Dave Shellenberger, FICO vice president of product management, noted that consumers with highly extended or delinquent credit are likely to see a downward shift in their scores that could be significant depending on the severity.
The Trump administration is planning a second round of tax cuts aimed at lowering costs for the middle class, according to Treasury Secretary Steven Mnuchin. "The president feels that we need to continue to incentivize the middle class, that their taxes have been too high historically," Mnuchin said. Mnuchin stated that the loss of government revenue derived from taxes will not have a longterm impact on the overall deficit, which has surpassed $23 trillion. The secretary said there is "no question" that the government must curb its spending to sustain growth and lower deficits.
Bank of Canada Governor Stephen Poloz hinted that the central bank could be willing to lower interest rates if future data warrants the decision necessary. "I'm not saying that the door is not open to an interest rate cut, obviously it is, it is open," Poloz stated. Canada's central bank has held firm on rates despite most nations opting for low or negative targets. The Bank of Canada will hold its rate of 1.75%, stating "the balance of risks does not warrant lower interest rates at this time."
Brazil is requesting that India lower its importation taxes on chicken products in order to enter an industry that is expected to grow by over 10% this year. India currently imposes a 100% import tax on chicken products and a 30% tax on whole chickens. In an interview with Reuters, Brazil's Agriculture Minister Tereza Cristina Dias said the current poultry tax is "far too steep" for Brazil to enter the market. Furthermore, she said that Brazil is "equally keen to import from India" and a trade negotiation could provide a "win-win situation for both countries."
US Market Closings:
Dow declined 26.18 points or 0.09% to 29,160.09
S&P 500 advanced 3.79 points or 0.11% to 3,325.54
Nasdaq advanced 18.71 points or 0.20% to 9,402.48
Russell 2000 advanced 0.55 of a point or 0.03% to 1,685.01
Canada Market Closings:
TSX Composite advanced 21.92 points or 0.12% to 17,621.78
TSX 60 advanced 2.28 points or 0.22% to 1,051.69
Brazil Market Closing:
Bovespa advanced 1,136.27 points or 0.96% to 119,527.63
ENERGY:
Crude took another dive today after reports of oversupply in the markets outweighed disruptions to the Libyan and Iranian oil supplies. Brent is on course for testing the 60 USD a barrel range after it broke through it early November.
The oil markets had a mixed day today:
Crude Oil decreased 0.7156 USD/BBL or -1.27% to 55.5144
Brent decreased 1.19 USD/BBL or -1.88% to 61.9378
Natural gas increased 0.0029 USD/MMBtu or 0.15% to 1.9053
Gasoline decreased 0.0145USD/GAL or -0.91% to 1.5706
Heating oil decreased 0.0041 USD/GAL or -0.23% to 1.7933
Top commodity gainers: Ethanol (3.59%), Corn (1.54%),Lean Hogs (1.54%), and Coffee (1.44%)
Top commodity losers: Steel (-1.60%), Palm Oil (-1.59%), Brent (-1.88%), and Cotton(-1.55%)
The above data was collected around 15.50 EST on Thursday.
BONDS:
Japan -0.01%(-1bp), US 2's 1.52% (-1bps), US 10's 1.73%(-4bps); US 30's 2.18%(-4bps), Bunds -0.30% (-4bp), France -0.06% (-5bp), Italy 1.25% (-10bp), Turkey 10.39% (-6bp), Greece 1.35% (-4bp), Portugal 0.38% (-3bp) Spain 0.36% (-5bp) and UK Gilts 0.59% (-5bp).
Spanish 3-Year Bonos Auction increased from -0.391% to -0.236%
French 3-Year BTAN Auction increased from -0.58% to -0.53%
French 5-Year BTAN Auction increased from -0.49% to -0.38%
US 4-Week Bill Auction decreased from 1.505% to 1.500%
US 8-Week Bill Auction increased from 1.530% to 1.540%
US 10-Year TIPS Auction decreased from 0.149% to 0.036%