Blog/Market Talk
Posted Jan 23, 2019 by Martin Armstrong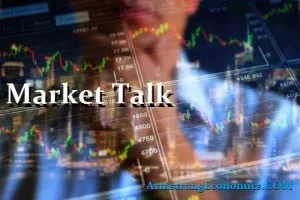 Asian markets had already had a taste of the IMF outlook, but today the Bank of Japan again trimmed its inflation forecast and that hurt the Yen. Having already suffered the weekend headlines, todays price action tended to drift in light volume even as the Yen touched the 110 handle. Eventually, the Nikkei closed with a small -0.14% loss, but much of the talk focused on the currency. Again, the rumours that China/US talks were not proceeding as well as hoped continues to spook markets, but more by the lack of clarity than anything else. The Yen weakness did help the exporters in the Nikkei, but its the trade talks that most are waiting details of. Both the Shanghai and Hang Seng were not that much to write about as they closed more or less unchanged, so lets just skip todays details. The SENSEX was hanging-on to unchanged for much of the day, but then some large cap's (ITC) missed its December numbers and the selling pushed the index to close off almost 1%.
In Europe the focus remains on BREXIT and it feels as though that will remain the case for the rest of our lives! Today, the EU negotiator Michel Barnier insisted there are only two options – Theresa Mays or a No Deal; whilst the House talks of possible delays and in Davos British Trade Secretary Liam Fox stated he believed there is a good chance of an Exit Agreement! Whatever you believe, GBP took the initiative today and rallied 0.9% against the USD and that hit FTSE which lost -0.85%. CAC, FTSE MIB and DAX were all small losses today and again in extremely light volume. Financials are starting to weigh on the indices as curve structure and the general slowdown start to take their toll. Could be fun tomorrow after we see a host of economic data we will hear from the ECB following its rate decision.
US markets are being torn between headline fears, BREXIT rumours, China/US Trade hiccups and quarterly earnings reports. Early gains were lost when tech and financials traded heavy, but then were all dragged higher when the DOW led the way. Soft mortgage data was rumoured to have turned early advances, but intraday losses were very limited. As we entered to final hour we are seeing the DOW continue its run as IBM, U-Tec and P&G all show gains in-excess of 5%. Could be more consolidation tomorrow as we watch capital continue to flow towards the US. Friday we'll see New Home Sales and the notoriously volatile Durable Goods number.
Japan 0.00%, US 2's 2.59% (+1bp), US 10's 2.75% (+2bp), US 30's 3.07% (+1bp), Bunds 0.22% (-1bp), France 0.63% (-1bp), Italy 2.75% (+1bp), Turkey 15.32% (-4bp), Greece 4.14% (+4bp), Portugal 1.71% (-1bp), Spain 1.31% (-2bp) and UK Gilts 1.32% (u/c).