Blog/Market Talk
Posted Jan 23, 2017 by Martin Armstrong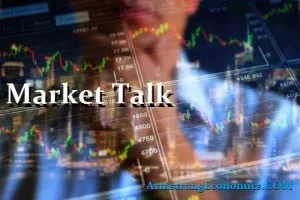 Asia was not really sure in which direction it should respond today. Having seen Trumps inauguration Friday and then all the press over the weekend, it should be no surprize that we saw a hesitancy for a core response. We saw safety demand return for the JPY, taking that back below 113 and watched as the Nikkei retreated 1.15%. Fears of trade barriers continue after Trumps declaration of America first and this uncertainty weighs heavy on exporters the world over. It did not have such an impact on China which closed better (+0.45%), after last weeks flood of funds into the money market. Also, in a surprise move they cut the RRR for five of their largest banks to 16% from 17%. This, together with the funds that they provided last week is hoped to relieve the pressure upon demand as we approach the New Year holidays. Stocks closed better and also as a bi-product of this move, provided some assistance to the Yuan (last seen trading the off-shore around 6.8100.
The recent decline in the US Dollar against the Euro accelerated today resulting in weaker core European equities. We also saw weaker oil prices as speculation circulates that a deal would leave plenty of unanswered questions. Tomorrow we hope to have a little clarity over Brexit when at 09:30 we will hear the result of the Supreme Court ruling over Article 50 and the governments vote on when Britain leaves. The speculation has seen GBP rally for the past few trading days but still remains around 20% below last summers level. At the same time Tuesday we have a few data points released so expect a little volatility. The DAX, CAC, FTSE and IBEX all closed around 0.75% lower on the day with exporters and financials leading the way lower.
It is unsurprising that core US indices were indecisive Monday when we hear that trade deals are to be renegotiated, regulation to be cut and protectionist safeguarding are to be top of the list for the first week in office. Dealers are unsure where to take the market and even CEO's are deciding their next strategy. Talking around the feeling is the majority are willing to give this a little time to see how it begins to play out but that said, the current generosity will not last forever. We will need to see some benefits soon or we move into volatile times where orders move the markets with limited natural flow. A host of earnings expected Tuesday, together with Housing Starts, PMI and Phili Fed.
Amongst all the confusion the Treasury market found a bid with US 10's backing up to 2.40 (-6bp) flattening the curve as 2's only gained 5bp closing at 1.14%. In Germany 10's closed 0.36% (6bp tighter) closing the spread at +204bp. Italy 1.97% (-4bp), Greece 6.87% (-9bp), Turkey 10.89% (-7bp), Portugal 3.75% (-7bp) and Gilts 1.36% (-7bp).