Blog/Market Talk
Posted Jan 22, 2018 by Martin Armstrong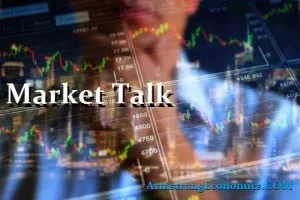 We opened the week with a quiet, low volume Monday but with plenty of central bank activity scheduled to look forward to. Given the US shutdown started midnight Friday, the news over the weekend appears to be somewhat muted, but unless it continues for a longer period it is unlikely to have economic consequences. The Nikkei cash did lose ground a couple of times during trading but managed a bounce every-time. The close of business was one of those times and managed a unchanged (-0.03%) close for Monday. Financials and Sec Houses performed best with Transportation lagging. We do have the BOJ meeting starting Tuesday and should have many glued to any change in bond buying rhetoric or easing of monetary stimulus. The Yen played much of the day mid 110's but is seeing a little weakness (towards the 111 figure) as we approach the end of the US trading session. Yen looks to have bounced off of (rejected) the Weekly bearish Reversals and moving away from the Monthly. Core Shanghai and Hang Seng both closed around +0.4% firmer on the day having spent much of the morning in negative territory. Housing stocks continue to lead the way, concluding with yet another record for the index.
Hot European talk surrounded the German coalition agreement with SDP and Christian Democrats. Financials and Tech led much of the European rally (probably spurred by the rumour Deutsche Bank had delayed bonus payments) and when US cash markets reflected little concerns surrounding government stalemate, then core Europe followed suit. The CAC and DAX both managed a +0.25% positive performance, whilst the UK's FTSE lost a similar percentage. Much of the European indices traded negative until US cash produced something positive Europe could respond too. ECB to announce Thursday.
The initial weakness in the DOW was quickly reversed and turned into a +0.3% appreciation. In the final 90 minutes of trading we heard the news that the government had sorted their differences and a vote was imminent. The USD had lost yet more ground today despite rumours of early rate hikes and greater cash repatriation. Having set records yet again, the DXY is becoming a talking point both for the ECB and state-side. FED not meeting until next week but expect headlines ahead of that date. Positive news from the Senate and that propels core indices to the days highs and close. Interesting the DXY bounced also at the close.
Japan 0.076%, US 2's 2.06% (+1bp), 10's 2.66% (+2bp), 30's 2.93% (+2bp), Bunds 0.56% (-1bp), France 0.84% (u/c), Italy 1.91% (-4bp), Greece 3.79% (+3bp), Turkey 11.79% (-2bp), Portugal 1.91% (-4bp), Spain 1.38% (-6bp), and Gilts 1.36% (+2bp).