Blog/Market Talk
Posted Jan 21, 2020 by Martin Armstrong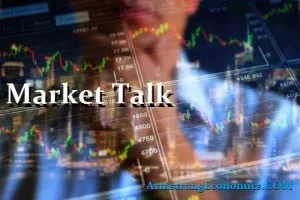 ASIA:
Many business leaders at the World Economic Forum raised concerns over whether the latest round of trade negotiations between China and US will result in a "phase two" deal before the end of President Donald's first term. The biggest roadblocks that leaders identified for the phase two deal are US tariffs on Chinese goods and China's pledge to buy more American products. A phase two deal is expected to lead to a rollback of billions of dollars of tariffs that the US first slapped on China in 2018.
Uber has announced it will sell its food delivery service in India to local rival Zomato. Uber will get a 9.99% stake in the Indian start-up, helping it maintain its presence in the sector. It will be interesting to watch in coming days if this acquisition will cause lay-offs when all UberEats Customers in India will be redirected to Zomato. The deal is likely to give Zomato an edge over its rival Swiggy in a fast-growing but fiercely-contested sector.
India's much lower than expected GDP numbers are the single biggest drag on its global growth forecast for two years, IMF Chief economist Gita Gopinath said at the WEF summit in Davos. The IMF chief also said that India was primarily responsible for the downgrade in global growth as the IMF cut global growth forecasts due to the economic slowdown in India and other emerging markets. The IMF has projected global growth at a rate of 2.9% for 2019 and 3.3% for 2020, which is 0.1% lower than October estimates.
Nikkei Asian Review reported that All Nippon Airways (ANA) and Singapore Airlines may announce a new joint venture as early as this month, with the partnership going live in 2021. This joint venture would cover flights within Asia. This would be All Nippon Airways' third joint venture, after their joint ventures with United (to the US) and Lufthansa (to Germany). ANA & Singapore wouldn't be the first Japanese & Southeast Asia airlines to link. Japan Airlines and Malaysia Airlines entered a joint venture recently, which geographically is similar.
The major Asian stock markets had a negative day today:
Shanghai decreased 43.65 points or -1.41% to 3,052.14
Kospi decreased 22.95 points or 1.01% to 2,239.69
ASX 200 decreased 13.20 points or -0.19% to 7,066.30
NIKKEI 225 decreased 218.95 points or -0.91% to 23,864.56
Hang Seng decreased 810.58 points or -2.81% to 27,985.33
SENSEX decreased 205.10 points or -0.49% to 41,323.81
The major Asian currency markets had a mixed day today:
AUDUSD decreased 0.0032 or -0.47% to 0.6845
NZDUSD decreased 0.0015 or -0.23% to 0.6594
USDJPY decreased 0.35 or -0.32% to 109.82
USDCNY increased 0.04019 or 0.59% to 6.90759
Precious Metals:
Gold decreased 3.12 USD/t oz. or -0.20% to 1,558.89
Silver decreased 0.2588 USD/t. oz or -1.43%% to 17.8311
Some economic news from last night:
South Korea:
PPI (YoY) (Dec) increased from -0.1% to 0.7%
PPI (MoM) (Dec) increased from -0.1% to 0.3%
Japan:
BoJ Interest Rate Decision remain the same at -0.10%
New Zealand:
RBNZ Offshore Holdings (Dec) decreased from 49.60% to 48.90%
Some economic news from today:
China:
FDI decreased from 6.00% to 5.80%
Hong Kong:
CPI (YoY) (Dec) decreased from 3.00% to 2.90%
New Zealand:
GlobalDairyTrade Price Index decreased from 2.8% to 1.7%
EUROPE/EMEA:

Bloomberg reported that the EU is expected to lose around 11 billion USD next year due to the newly agreed US and China trade deal, as China has pledged to buy more from the US.
UK PM Boris Johnson announced that he wishes to conclude a trade deal with the US in parallel with the EU. British business leaders are calling for more clarity from Brexit, and are stating that the relationship with the EU was more important than the US.
Google's CEO Sundar Pichai has called on both the US and the EU to create a plan to regulate the AI market. He stated the AI tech was too important not to regulate.
US President Donald Trump has now set his sights on the EU, stating that the two super economies must start negotiating a "big trade." "A deal between ourselves and essentially Europe is something we all want to be able to make," Trump said in Davos, Switzerland. Meanwhile, yesterday saw a truce by French President Macron and US President Trump regarding digital taxes as both sides agreed not to implement them this year.
A US ambassador to Iran said that it would send a very negative message to the world if Iran walks away from the nuclear treaty. Meanwhile, an Iranian MP has put a $3 million bounty on President Trump.
The major Europe stock markets had a mixed day today:
CAC 40 decreased 32.54 points or -0.54% to 6,045.99
FTSE 100 decreased 40.74 points, or -0.53% to 7,610.70
DAX 30 increased 6.93 points or 0.05% to 13,555.87
The major Europe currency markets had a mixed day today:
EURUSD decreased 0.0006 or 0.05% to 1.1090
GBPUSD increased 0.0042 or 0.32% to 1.3046
USDCHF decreased 0.0001 or 0.01% to 0.9683
Some economic news from Europe today:
Spain:
Spanish Trade Balance increased from -2.58B to -1.86B
UK:
Average Earnings ex Bonus (Nov) decreased from 3.5% to 3.4%
Average Earnings Index +Bonus (Nov) remain the same at 3.2%
Claimant Count Change (Dec) remain the same at 14.9K
Employment Change 3M/3M (MoM) (Nov) increased from 24K to 208K
Unemployment Rate (Nov) remain the same at 3.8%
Germany:
German ZEW Current Conditions (Jan) increased from -19.9 to -9.5
German ZEW Economic Sentiment (Jan) increased from 10.7 to 26.7
Euro Zone:
ZEW Economic Sentiment (Jan) increased from 11.2 to 25.6
US/AMERICAS:
President Trump spoke at the World Economic Forum this Tuesday in Davos, Switzerland. "The United States is in the midst of an economic boom – the likes of which the world has never seen before," the president stated as he used his speech to boast US economic growth under his administration. Trump noted that two of the biggest trade deals in recent US history coincidentally occurred within the same week – phase one of the US-China trade deal and the signing of the USMCA. Trump stated he sees "tremendous upside potential" for continued US economic growth.
President Trump also used his platform in Davos to voice his dismay with the Federal Reserve. "The Fed raised rates too fast and lowered them too slowly," the president said. Furthermore, he believes the Fed forced the US to "compete against nations with negative rates…they get paid to borrow money." The Federal Open Market Committee will meet next week, and it is largely expected that rates will remain on hold for the remainder of the year.
Larry Kudlow, top White House economic adviser, predicts that the US' GDP will rise by 3% in 2020. Kudlow called economic growth during the Trump administration a "mini-upcycle" within a long cycle. "We're now down to 2.5% to 3%. I'm looking for faster growth: I think we're going to get 3% this year. The trade deals will help, the Fed changed policy — that was very, very important," he told reporters at CNBC.
The US Army is contemplating building a massive sea wall to protect the New York-New Jersey harbor from future hurricanes and natural disasters. Project "Alternative 2" would be composed of surge gates connected to artificial islands that span over a six-mile radius. The project could cost anywhere from $119 billion to $200 billion to implement over a 25-year period, and scientists are still unsure whether such measures could actually protect the area from environmental disasters.
Huawei Chief Financial Officer Meng Wanzhou's trial began in yesterday in Vancouver, Canada. China has repeatedly called on Canada to release the Huawei heir, but the US is adamant that she be extradited to the US to face trial for alleged bank fraud and illegal dealings with Iran. Wanzhou's lawyers claim that US-imposed sanctions on Iran are at the center of this case. "In a typical case, double criminality is not contentious. This case, however, is founded on an allegation of breach of US sanctions, sanctions which Canada has expressly repudiated," Wanzhou's lawyer stated.
US Market Closings:
Dow declined 152.06 points or -0.52% to 29,196.04
S&P 500 declined 8.83 points or -0.27% to 3,320.79
Nasdaq declined 18.14 points or -0.19% to 9,370.81
Russell 2000 declined 13.74 points or -0.81% to 1,685.90
Canada Market Closings:
TSX Composite declined 25.11 points or -0.14% to 17,572.28
TSX 60 declined 1.36 points or -0.13% to 1,047.14
Brazil Market Closing:
Bovespa declined 1,835.59 points or -1.54% to 117,026.04
ENERGY:
China has found oil and natural gas for the first time onshore in China.
The EIA reported that it sees Brent prices going lower into May due to and premiums associated with global geopolitical risk reducing.
The oil markets had a negative day today:
Crude Oil decreased 0.5404 USD/BBL or -0.92% to 58.3302
Brent decreased 0.71 USD/BBL or -1.09% to 64.4234
Natural gas decreased 0.0203 USD/MMBtu or -1.06% to 1.9045
Gasoline decreased 0.0042USD/GAL or -0.25% to 1.6495
Heating oil decreased 0.0452 USD/GAL or -2.40% to 1.8314
Top commodity gainers: Wheat (1.74%), Orange Juice (0.79%), Oat (0.78%), and Cocoa (0.75%)
Top commodity losers: Palladium (-3.87%), Cotton (-2.82%), Heating Oil (-2.40%), and Copper(-1.90%)
The above data was collected around 15.50 am EST on Tuesday.
BONDS:
Japan 0.00%(-1bp), US 2's 1.53% (-2bps), US 10's 1.77%(-6bps); US 30's 2.23%(-6bps), Bunds -0.25% (+1bp), France 0.01% (-4bp), Italy 1.39% (+3bp), Turkey 10.69% (-10bp), Greece 1.39% (-64bp), Portugal 0.44% (+5bp) Spain 0.42% (-3bp) and UK Gilts 0.64% (-1bp).
Spanish 3-Month Letras Auction increased from -0.584% to -0.499%
Germany 2-Year Schatz Auction increased from -0.640% to -0.580%
US 3-Month Bill Auction remain the same at 1.530%
US 6-Bill Auction decreased from 1.530% to 1.520%