Blog/Market Talk
Posted Jan 21, 2019 by Martin Armstrong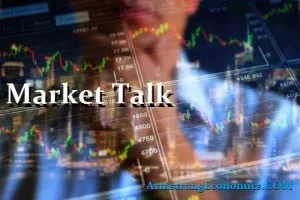 Much had been talked about last week about the slowdown in China and on Sundays release we finally saw the latest. China GDP released at 6.4% but industrial output beat expectations. Both domestic and regional markets took this news as positive, as it tends to reflect a manageable slowdown rather than the feared 'hard-landing'. Both Shanghai and the Hang Seng gave up early gains, but still finished up +0.56% and +0.39% respectively. Japan's Nikkei also lost ground from the opening burst, but still managed to close +0.26% whilst the Yen treads water. The SENSEX saw a similar pattern, closing up +0.53% but again the currency loses ground. Both the INR and CNY lost around 0.25% against the US Dollar. Given we have another BREXIT deadline due later today, Davos starts tomorrow and the US markets closed for national holidays, it should not be surprising volume and volatility were limited today.
The 6.4% GDP number and the surprise 5.7% Industrial Production release were not enough to halt the nervousness surrounding Europe today. BREXIT is more a concern following all the press coverage at the weekend and also, European markets managed to take advantage of US positivity late in its Friday trading. Core European indices finished the day marginally weaker (CAC -0.17%), but did see the DAX suffer (-0.62%) mostly on the back of the Chinese slowdown. In the UK Parliament heard PM Theresa May effectively rule-out a second referendum and therefore possibly ruling out any extension of Article 50. She is rumoured to be exploring potential movement on the backstop (Irish boarder) and so we see markets moving favourably. The FTSE closed small positive (+0.03%) and watched GBP head towards the 1.29 handle, a gain of roughly +0.25%.
US markets closed
Japan 0.01%, US 2's 2.61%, US 10's 2.78%, US 30's 3.10%, Bunds 0.25% (-1bp), France 0.65% (-1bp), Italy 2.75% (+2bp), Turkey 15.36% (-15bp), Greece 4.12% (-3bp), Portugal 1.74% (+2bp), Spain 1.36% (+2bp) and UK Gilts 1.32% (-3bp).