Blog/Market Talk
Posted Jan 20, 2021 by Martin Armstrong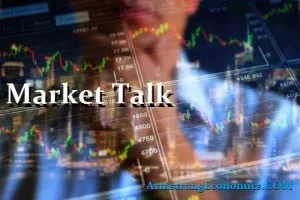 ASIA:
Alibaba Group founder Jack Ma has made his first appearance since Chinese regulators cracked down on his business empire. The billionaire met 100 rural teachers in China via a video meeting on Wednesday, according to local government media.
The Chinese government slapped sanctions on former Secretary of State Mike Pompeo, former National Security Adviser Robert O'Brien and former trade adviser Peter Navarro, along with other members of the Trump administration Wednesday. The move came after Joe Biden was sworn in as 46th president of the United States. "China has decided to sanction 28 persons who have seriously violated China's sovereignty and who have been mainly responsible for such US moves on China-related issues," the Ministry of Foreign Affairs said in a statement.
China will be looking to tweak its economic policies to get consumers to spend more, policy advisers in Beijing said after retail sales emerged as a weak spot in better-than-expected GDP data, underlining the need for reform. They said that while supporting employment was key in the short run, reforms to help fatten ordinary people's wallets were needed to boost domestic spending – a priority for President Xi Jinping's "dual circulation" strategy to cut China's reliance on overseas markets. The advisers are influential in Beijing, and their recommendations are likely to be considered. Calls for deepening reforms to spur domestic consumption have been rising since Xi unveiled the dual circulation strategy last year.
Indian stock exchanges on Wednesday gave the go ahead for Future Group's $3.4 billion deal to sell its retail assets, taking it a step closer toward closing a deal that has soured its ties with its business partner Amazon.com Inc. Future and Amazon are locked in legal tussles over the Indian group's August deal with Reliance Industries. The US e-commerce giant alleges the deal breached some of its pre-existing contracts with Future. India's markets regulator, the Securities and Exchange Board of India (SEBI), has advised that Future should share various details of company's ongoing litigation with Amazon when it approaches India's National Company Law Tribunal, which also needs to sign off on the deal, the Bombay Stock Exchange notification said.
India's crude oil imports in December soared to the highest levels in nearly three years to more than 5 million barrels per day (bpd) as its refiners cranked up output to meet a rebound in fuel demand, data from trade sources showed. India's year-end rush for crude supplies coincided with stronger demand from north Asian buyers during winter, boosting prices and an accelerating de-stocking of floating storage globally. December oil imports by India, the world's third-biggest crude importer and consumer, were about 29% more than the previous month and about 11.6% higher than a year earlier, the data showed, after fuel consumption rose for a fourth straight month to an 11-month high in December.
The major Asian stock markets had a mixed day today:
NIKKEI 225 decreased 110.20 points or -0.38% to 28,523.26
Shanghai increased 16.71 points or 0.47% to 3,583.09
Hang Seng increased 320.19 points or 1.08% to 29,962.47
ASX 200 increased 27.80 points or 0.41% to 6,770.40
Kospi increased 21.89 points or 0.71% to 3,114.55
SENSEX increased 393.83 points or 0.80% to 49,792.12
Nifty50 increased 123.55 points or 0.85% to 14,644.70
The major Asian currency markets had a mixed day today:
AUDUSD increased 0.00342 or 0.44% to 0.77437
NZDUSD increased 0.00389 or 0.55% to 0.71656
USDJPY decreased 0.32 or -0.31% to 103.56
USDCNY decreased 0.01433 or -0.22% to 6.46370
Precious Metals:
Gold increased 29.92 USD/t oz. or 1.63% to 1,869.26
Silver increased 0.626 USD/t. oz or 2.49% to 25.817
Some economic news from last night:
China:
PBoC Loan Prime Rate remain the same at 3.85%
FDI (Dec) decreased from 6.30% to 6.20%
Australia:
Westpac Consumer Sentiment (Jan) decreased from 4.1% to -4.5%
EUROPE/EMEA:
Prime Minister Boris Johnson has warned there will be "tough weeks to come" as the UK reported another all-time high of daily coronavirus deaths. A further 1,820 people have died within 28 days of a positive Covid test, according to government figures. Mr Johnson said there was now a "race against time" to vaccinate the vulnerable, but he hoped there would be a "real difference" by spring.
UK inflation jumps to 0.6% despite Christmas in lockdown. Consumer Prices Index inflation jumped to 0.6%, from 0.3% in November, pushed higher by rising transport and clothes prices, the Office for National Statistics (ONS) said. Many people rushed to travel and beat Christmas restrictions, forcing up prices. The rise was slightly higher than many economists' forecasts of 0.5%. ONS deputy national statistician for economic statistics Jonathan Athow said: "Clothing prices put upward pressure on inflation in December, despite some evidence of continued discounting.
The European Central Bank (ECB) is set to leave its policy unchanged in January but may paint a gloomy picture, Fox Street news reported. According to FXStreet's Analyst Yohay Elam, unless the bank threatens lower rates, EUR/USD may resume its rises, based on dollar weakness. Citi Bank said "Citi analysts do not expect any changes on policy or communication but it is of interest to see what message President Lagarde sends with respect to the near-term outlook and risks surrounding the baseline and current strength in EUR and impact on euro area's longer-term inflation outlook."
The major European stock markets had a green day:
CAC 40 increased 29.83 points or 0.53% to 5,628.44
FTSE 100 increased 27.44 points or 0.41% to 6,740.39
DAX 30 increased 106.31 points or 0.77% to 13,921.37
The major European currency markets had a mixed day today:
EURUSD decreased 0.00318 or -0.26% to 1.21052
GBPUSD increased 0.00124 or 0.09% to 1.36562
USDCHF increased 0.00133 or 0.15% to 0.88957
Some economic news from Europe today:
UK:
Core CPI (YoY) (Dec) increased from 1.1% to 1.4%
Core CPI MoM (MoM) (Dec) increased from -0.1% to 0.3%
Core PPI Output (YoY) (Dec) increased from 1.0% to 1.2%
Core PPI Output (MoM) (Dec) remain the same at 0.1%
Core RPI (YoY) (Dec) increased from 1.1% to 1.4%
Core RPI (MoM) (Dec) increased from -0.3% to 0.6%
CPI (YoY) (Dec) increased from 0.3% to 0.6%
CPI (MoM) (Dec) increased from -0.1% to 0.3%
CPI, n.s.a (Dec) increased from 108.90 to 109.20
PPI Input (YoY) (Dec) increased from -0.3% to 0.2%
PPI Input (MoM) (Dec) increased from 0.4% to 0.8%
PPI Output (YoY) (Dec) increased from -0.6% to -0.4%
PPI Output (MoM) (Dec) remain the same at 0.3%
RPI (YoY) (Dec) increased from 0.9% to 1.2%
RPI (MoM) (Dec) increased from -0.3% to 0.6%
Germany:
German PPI (MoM) (Dec) increased from 0.2% to 0.8%
German PPI (YoY) (Dec) increased from -0.5% to 0.2%
Euro Zone:
Core CPI (MoM) (Dec) increased from -0.5% to 0.4%
Core CPI (YoY) (Dec) remain the same at 0.2%
CPI (YoY) (Dec) remain the same at -0.3%
CPI (MoM) (Dec) increased from -0.3% to 0.3%
CPI ex Tobacco (MoM) (Dec) increased from -0.4% to 0.3%
CPI ex Tobacco (YoY) (Dec) remain the same at -0.4%
HICP ex Energy & Food (YoY) (Dec) remain the same at 0.4%
HICP ex Energy and Food (MoM) (Dec) increased from -0.4% to 0.3%
US/AMERICAS:
All three major US indexes reached all-time highs this Wednesday amid the transfer of political power. The Dow rose by over 250 points, pushed higher by strong performances from Microsoft (3.65%), Apple (3.29%), and Salesforce (3.08%). After releasing promising earnings, Netflix jumped 16.85% and aided the Nasdaq and S&P 500. Alphabet C (5.34%), Alphabet A (5.36%), and Amazon (4.57%) all made notable performances as well.
Joe Biden became the 46th president of US today, while Vice President-elect Kamala Harris became the first woman VP. Unlike previous inaugurations, the crowd was limited due to heightened security measured prompted by the Capitol riots. "At this time in this place let's start afresh. All of us must begin to listen to one another again, to hear one another, see one another, show respect to one another," President Biden stated in reference to the volatile US election. Although Donald Trump did not attend the inauguration, he wished the Biden administration luck, and thanked his supporters for providing him with "the honor of a lifetime."
European leaders offered Biden their congratulations this Wednesday after four years of tough negotiations and disagreements with the outgoing administration. British Prime Minister Boris Johnson said he is looking forward to working with Biden and "strengthening the partnership between our countries and working on our shared priorities: from tackling climate change, building back better from the pandemic and strengthening our Transatlantic security." German President Frank-Walter Steinmeier said he is "relieved" to begin working with a new administration. EU Commission President Ursula von der Leyen bluntly stated, "After four long years, Europe has a friend in the White House."
Donald Trump pardoned 73 people before leaving office. The list includes a number of politicians including former Detroit Mayor Kwame Kilpatrick who is serving a 28-year sentence for fraud, as well as Republican fundraiser Elliot Broidy who was accused of acting as a foreign agent. Former Trump adviser Steve Bannon was pardoned as well after being charged with scamming donors out of funds that were to be used to build the US-Mexico wall. Rappers Lil Wayne and Kodak Black, both wanted for gun charges, were pardoned by the leaving president as well after both supported his campaign. Noticeably absent from the list were WikiLeaks founder Julian Assange and whistleblower Edward Snowden.
US Market Closings:
Dow advanced 257.86 points or 0.83% to 31,188.38
S&P 500 advanced 52.94 points or 1.39% to 2,851.85
Nasdaq rose 260.07 points or 1.97% to 13,457.25
Russell 2000 advanced 9.48 points or 0.44% to 2,160.62
Canada Market Closings:
TSX Composite advanced 57.54 points or 0.32% to 18,014.91
TSX 60 advanced 2.21 points or 0.21% to 1,068.94
Brazil Market Closing:
Bovespa decreased 989.99 points or -0.82% to 119,646.4
ENERGY:
The oil markets had a mixed day today:
Crude Oil increased 0.32 USD/BBL or 0.60% to 53.3000
Brent decreased 0.02 USD/BBL or -0.04% to 55.8800
Natural gas decreased 0.006 USD/MMBtu or -0.24% to 2.5400
Gasoline decreased 0.0003 USD/GAL or -0.02% to 1.5378
Heating oil decreased 0.0039 USD/GAL or -0.24% to 1.5948
Top commodity gainers: Rubber (4.39%), Lumber (4.79%), Lean Hogs (2.63%) and Tin (2.88%)
Top commodity losers: Canola (-2.42%), Soybeans (-1.39%), Coffee (-1.53%), and Corn (-0.90%)
The above data was collected around 16:09 EST on Wednesday.
BONDS:
Japan 0.05%(+0bp), US 2's 0.13%(-0.004%), US 10's 1.08%(-1bps); US 30's 1.83%(-0.012%), Bunds -0.52% (+4bp), France -0.30% (+0bp), Italy 0.58% (+2bp), Turkey 13.02% (-2bp), Greece 0.65% (-3bp), Portugal 0.03% (+2bp); Spain 0.08% (+1bp) and UK Gilts 0.30% (+1bp).
US 20-Year Bond Auction increased from 1.470% to 1.657%
German 30-Year Bund Auction decreased from -0.060% to -0.130%