Blog/Market Talk
Posted Jan 20, 2017 by Martin Armstrong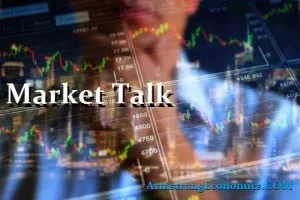 Although many market players were expecting Chinese GDP around 6.6% most had speculated 6.7% and so a 6.8% boosted confidence ahead of the weekend and ahead of next weekends New Year celebrations. Government fiscal stimulus and additional bank lending's were primary reasons provided. Although this helped the Shanghai exchange it failed to have the same effect on the more international Hang Seng. The Japan watched as the Yen retreated and the Nikkei rallied, which it has continued in after hours futures trading; currently up an additional 0.5%. Little activity was seen in Asian cash trading ahead of the excitement in the US.
It was funny today when dealers all provided different reasons for the mornings market movements. Some claim European stocks were better was because of USD strength (which hit the Euro and GBP), some claim oil price increase (currently up 1.5% ahead of this weekends meeting), some claim a large liquidation in Bunds and some say the nerves surrounding the massive miss in this morning UK's data release. Whatever the reason the price is what it is and ahead of the US opening we saw a drive back into US Dollars.
Just ahead of Trump's inauguration all core US indices are making good headway but as we listen to his speech (as short and as sweet as it was) so stocks retrace from the early highs and consolidation is the name of the game. He states that he is handing the country back to the people but with that the USD starts to lose ground as GBP, Euro and JPY all bounce from their early lows. Having seen stocks retrace from early gains so we see an increase in the VIX – last seen trading around 12.
We did see weakness (lower prices higher yield) in the Treasury market early in the day but as stocks retreated from the highs then so the fixed-income bid returned. However, the same could not be said in Europe where Bunds lost ground with no zero bounce. 2's were last seen 3bp lower at 1.19% with 10's down 1bp at 2.46%. In Europe Bunds were 4bp higher at 0.42% (+4bp) tightening the 10yr US/German spread by 5bp to +204bp. Italy 2.01% (+4bp), Greece 6.96% (+3bp), Turkey 10.96% (-17bp), Portugal 3.82bp (-1bp) and Gilts 1.43% (+3bp).