Blog/Market Talk
Posted Jan 20, 2017 by Martin Armstrong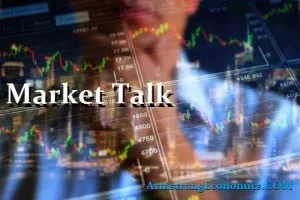 A major hit for Toshiba in todays market after rumoured reports that they are considering spinning off parts of its businesses resulting in a 16% decline in its stock price. However, the Nikkei index still managed a strong close of almost 1% higher. A retracement in the JPY also aided exporters as the currency traded back to mid 115's. We saw small declines for the Shanghai and Hang Seng but US speeches, data and Yellen address all failed to provide any emphasis that Asia could cling on too! On the eve of Mr Trumps inauguration it is probably not a surprise we have adopted a wait and see approach but that was not the case for the US fixed-income market.
Europe spent most of the morning awaiting the ECB's rate decision followed 50mins later with Mr Draghi's Q+A session. The key statement was as expected but then the Brexit issue was delicately side-stepped. The asset purchase programme reduces its size in April (from the 80 down to 60bn) but could not be drawn on specifics if the liquidity of the paper involved were not to be available. Liquidity is an issue in this part of the curve often with Dealers struggling to find paper that they can offer to the programme. FTSE and CAC both finished down around 0.4% whilst the DAX and IBEX were off only marginal.
US stocks saw a set back mid afternoon trading importantly ahead of tomorrows event. Weekly claims saw a large drop (13k to 234k), followed by better Housing starts and Phili Fed. Certainly feels like sentiment is joining confidence despite a wobble in today's DOW. The better than expected data certainly hit the bond market with the long bond losing almost 2 points on the day. Lots of talk in the bond market with a rumoured large buyer paying up for 10yr TIPS (Treasury Inflation Protected Securities) – an indication someone out there is looking for inflation on the horizon. Lets see how the markets handle next week with Trump as president.
Treasuries were heavy most of the day but certainly accelerated mid afternoon. 2's were unchanged at 1.22% with 10's +5bp at 2.47%. Bunds 0.38% (+3bp) puts the US/Bund spread at +209bp. Italy 1.97% (+3bp), Greece 6.93% (-6bp), Turkey 11.13% (+8bp), Portugal 3.83% (+4bp) and Gilts 1.40% (+3bp).