Blog/Market Talk
Posted Jan 18, 2017 by Martin Armstrong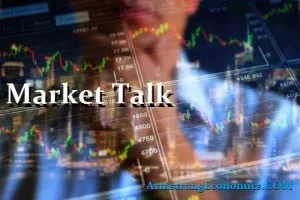 Core Asian indices had a relatively good session today with small gains seen across the board. Currencies had been a little stretched yesterday so with a reset today saw exporters climbing from yesterdays lows. The yen is off its 112.50 highs and is currently trading mid 113's which is also lifting Nikkei futures off it its lows. Talk in Japan is that the BOJ wishes to keep 10yr JGB's around the 6bp range whilst pushing investors towards stocks. This also at the time when it is expected the government will miss its efforts to clear the primary budget deficit by 2021. They have already delayed the Sales Tax hike and so an increase in infrastructure spending is widely anticipated. Further JPY weakness may well support the stock market but probably just tilt the balance to favour domestic conditions only. Shanghai closed slightly better on the day whilst the Hang Seng rallied over 1% following other core large cap movements.
German economic data appears to be releasing almost right in line recently and so today CPI number was nothing to get that excited about. UK employment numbers slipped again with ONS reporting the total number of people in work at 31.8mn. GBP could not retain yesterdays strength after we saw headlines from many on the continent but importantly that Angela Merkle puts German car makers wishes to one side (or some may say, "Back of the queue") as she sees EU considerations paramount. Only the CAC disappointed in todays core European indices with a slight loss whilst we wait for further US data together with Yellen and Obama speeches later this evening (after European markets closed).
US numbers were seen better than expected but markets were still prepared to adopt a wait and see attitude. We have the ECB tomorrow where we probably have to wait for the Q+A to see some clear messages from Mario Draghi and should expect Theresa May's speech top of the pile, we still have a host of FED speakers and all ahead of Trumps inauguration on Friday. In the final hour of trading the DOW woke after Janet Yellen's prepared remarks claiming the economy is closing in on the FED's forecasts and may be in a position to remove the extreme measures in place. She also commented that rates could creep higher also as productivity improves. The USD continues to move stronger, especially after yesterdays declines with GBP down 1.5%, gold down 1.3% and oil -2%. The US Bond market certainly listened to the FED as 10's moved back over 2.4% yield. Yes, the DOW closed small lower but saw positive closes for S+P, NASDAQ and Russell.
US 2's closed 1.22% (+7bp), 10's 2.42% (+10bp) puts 2/10 curve at +120bp (+3bp steeper upon FED's comments). Germany (futures) roughly 0.35% (+3p) US/Germany spread +207bp but lets see how cash and ECB press conference goes tomorrow. Italy 1.94% (+4bp), Greece 6.99% (-1bp), Turkey 11.05% (+7bp), Portugal 3.79% (+0bp) and Gilts 1.33% (+3bp).