Blog/Market Talk
Posted Jan 17, 2018 by Martin Armstrong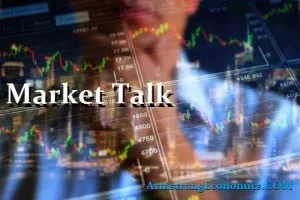 Given yesterdays sudden reversal in US and the accompanying 20% decline in BITCOIN, Asian markets traded nervously as one would expect. Most core opened lower but that proved to be the days lows. The Hang Seng spent 95% of the day in negative territory but then in the final minutes managed a +0.25% positive close. The Shanghai index displayed a better performance intraday but also closed up +0.25%. The Nikkei could not get away from the negative sentiment even with better Machinery Orders data (+5.7%) and eventually closing -0.4%. Commodities markets but namely energy weighed on the Australian ASX forcing both a -0.55% decline in stocks but also a near +0.2% depreciation in the currency.
European markets struggled across the board. Briefly we saw a small positive print in the CAC intraday but if you had blinked you probably missed it. One common theme did emerge in that the final few minutes of cash trading, all markets declined under selling pressure. FTSE and CAC ended around -0.5% lower, whilst the DAX lost -0.65% on the day. Media and banks stocks were some of the largest decliners as many start to ponder next weeks ECB meeting in Frankfurt. Concerns surround that chances of the ECB withdrawing from their bond purchases, or at least cutting them once again by September, but looking at todays demand for Greek paper the fears look a long way off. Consumer inflation data dropped slightly (1.4% from 1.5%) has helped demand from fixed-income.
The US markets were strong already but the Beige Book highlighting almost every sector and region are pulling their weight. The concern rumoured is what the FED is hearing about inflation. There are market rumours we may see a hike this month if the stocks market continue at their current rate. Goldman was a disappointment at the open and we saw the stock down 3% at one stage. Tomorrow we will start to see some earnings report from the Technology which after Apples announcement of share offers for staff, many expect some very encouraging numbers. Apple also said they would be bringing overseas money ($245bn) back onshore ($38bn tax payment) together with adding additional jobs. Stock loved this announcement and added an additional 100 points to the already 200 point move.
Japan 0.083% (+0.005bp), US 2's closed 2.04% (+3bp), 10's 2.56% (+2bp), 30's 2.83% (u/c), Bunds 0.57% (u/c), France 0.84% (u/c), Italy 1.99% (+4bp), Greece 3.70% (-2bp), Turkey 11.77% (+13bp), Portugal 2.01% (+25bp), Spain 1.48% (u/c) and Gilts 1.31% (+1bp).