Blog/Market Talk
Posted Jan 17, 2017 by Martin Armstrong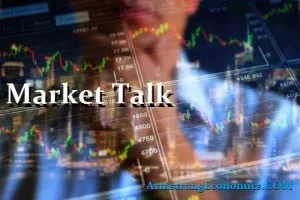 A rather mixed session in Asia with many anxious to hear what British Prime Minister, Theresa May, has about to say about BREXIT. The Nikkei continued to experience a setback having rejected last weeks highs and has also seen the JPY trading down (Yen strength) to mid 112's. Shanghai and Hang Seng were both positive but also awaiting an address by the Chinese President Xi at Davos. So, lets just jump to Europe's activities…
President Xi Jinping was first to hit the screens and in his message claimed trade wars should be rejected as they would be damaging to everyone. He requested everyone to keep trade doors open and claimed he would not devalue the Yuan to boost competitiveness. I guess we have to see how Trump responds to this. Chinese trade figures will be released ahead of Trumps address on Friday with numbers expected between 6.5%-7%. Economics data in Europe was largely ignore ahead of Theresa May's address and that certainly woke FX Dealers up! By close of business GBP had rallied almost 3% against the USD and 2% against the Euro; the best day in almost 20years. Having said Britain is leaving the EU she also said that the House will get a vote ahead of leaving but the decision has been made by the general public. She has delivered what many believe is the hard exit speech but has seen the opposite effect on the pound. Many dealers said it was over sold especially after Mondays sub 1.20 trades and so the pressure value was released ahead of Friday and Trumps speech. DXY was down -0.75% at around 100.40. The FTSE was the opposite effect with the FTSE down around 1.4% with other core European markets pretty much mixed.
In a holiday shortened week and with no material economic data released today all core US indices were relatively well behaved. The currency markets were where all the excitement was taking place which tended, initially, to keep the DOW controlled after an early dip. However, late in the session the financials started to weigh on the market with Morgan Stanley (despite better than expected results) sees its shares down 3.5%; which eventually resulted in a negative close.
US 2's closed 1.15% with 10's at 2.32% (2/10 curve at +117bp). Bunds closed 0.32%, which closes the US/Germany spread at +200bp. Italy 1.90% (-3bp), Greece 7% (+17bp), Turkey 10.93%, Portugal 3.79% and UK Gilts 1.30%.