Blog/Market Talk
Posted Jan 16, 2018 by Martin Armstrong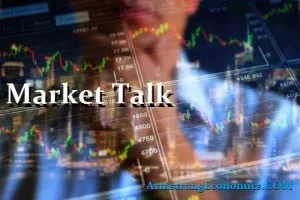 Asia started today's broad stock market rally as from the opening bell all core moved from strength to strength. Both the Hang Seng and Shanghai adding +0.8% but the HSI doubled that and more with an impressive +1.8% daily return. HSI was the outlier yesterday recording a decline but with Banks and Finance stocks benefiting, today performance certainly alleviates that. After yesterdays low 110.30 print, Yen is back flirting with the 111 handle again. After a brief negative print, the Nikkei rallied over 1% to levels not seen in over 26 years. It was a very broad rally from Food and Electrical to exporters, IT and financials with talk of old and new money building positions. There is talk that much of this cash is moving away from the bond market which is a move well overdue. The ASX was unable to join the party closing the index down -0.5% reflecting much of the commodity activity. Negative talk of financials, energy, and industrial metals weighed on prices and also hit the AUD. Sportsmanship appears to be lending the KOPSI and helping a hand with a close today of almost 1% higher. Bitcoin had another rough day (last seen -20%) after more talk central banks will deepen investigations and may even block access to some platforms.
Today's European equity price action is very interesting as after the initial rally, following Asia's lead, but then the brakes were applied and some even closed down. Both the DAX and CAC did close +0.3% and +0.1% firmer but were far better in late morning trade. The UK's FTSE lost -0.2% on the day, even as Sterling fell. The UK inflation data slowed from the November 3.1%. The FTSE spent much of the afternoon trading in negative territory so could well be vulnerable tomorrow after we see the early US gains turn. Europe looks as though the negative capital flow is building momentum. BREXIT headlines are soon to return either as we potentially see new political parties appear in the UK or when coverage of Davos starts.
All core indices saw record opening today with the DOW exceeding the psychological 26k level (+1.1%) at the opening bell. A lot of talk that the past 1k points took just seven trading days to achieve it! However, the opening proved to be the day's highs but saw contributions from a large cross-section of the market. Earnings have been releasing well and in many cases above expectation and that appears to be driving sentiment. Interesting that even as we watch stocks perform, we are still seeing demand for long-dated treasuries. Given the reversal we have seen today in stocks it will be interesting to see which way the cash flows in Europe tomorrow. Worth keeping an eye on the 10yr US/Bund spread and how peripheral bond markets perform. We can now say a welcome-back to the VIX players. This is the first day in a long time that a positive 285 point print saw a 100 point decline and then closed small down; starts to re-price the one-way option.
Japan 0.078%, US 2's closed 2.01% (u/c), 10's 2.54% (-1bp), 30's 2.83% (-2bp), Bunds 0.57% (-2bp), France 0.84% (-2bp), Italy 1.95% (-4bp), Greece 3.72% (-11bp), Turkey 11.64% (+8bp), Portugal 1.76% (-1bp), Spain 1.48% (-4bp), and Gilts 1.30% (-3bp).