Blog/Market Talk
Posted Jan 15, 2018 by Martin Armstrong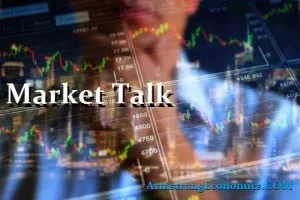 Todays Asian session really looked like a game of two halves! Initially we saw core outperform for both the Shanghai and Hang Seng, but by afternoon trading and into the close prices had drifted into negative territory. The Yuan appreciation probably has much to do with the move, but also coming off of last weeks gains was probably a tad too far. Both the HSI and Shanghai closed on or near their days lows at -0.25% and -0.55% respectively. The Nikkei struggled all day, after having opened at its days highs and eventually closing near its low. However, given the the currency appreciated to the low 110's the stock market traded well. The financials were much of the performance whilst the positive currency move hindered exporters. Generally, the US Dollar continued its weak theme which has propelled AUD commodity currency to new recent highs.
Europe had a less than certain open this Monday as all core were around -0.4% down from Fridays close. DAX, CAC and the FTSE probably reflected the currency move and so we had to wait for afternoon trading before we saw moves back towards unchanged. However, that was probably as good as it got with all core closing with small losses. FTSE MiB lost -0.5% with more talk of the possible return of Silvio Berlusconi. Volumes were light and we did see again the Euro and GBP outperform the USD. Lots of market talk that the banks are moving quickly in preparation for a possible no deal BREXIT. BNP Paribas apparently making plans to gain British mid-sized company business. Again, more action in fixed-income than equities are nerves start to drift into the peripheral markets.
Japan 0.074% (+0.004bp), US 2's closed 2.01% (u/c), 10's at 2.55% (-1bp), 30's 2.85% (-2bp), Bunds 0.59% (+2bp), France 0.86% (+1bp), Italy 1.99% (+2bp), Greece 3.83% (+1bp), Turkey 11.56% (+13bp), Portugal 1.77% (u/c), Spain 1.52% (+4bp), and Gilts 1.33% (-1bp).