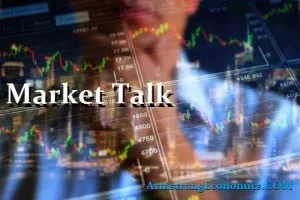 ASIA:
Chinese exports grew more than expected in December, customs data showed on Thursday, as coronavirus disruptions around the world fuelled demand for Chinese goods even as a stronger yuan made shipments more expensive for overseas buyers, Reuters reported. While Chinese exports are likely to benefit from solid global demand at the start of this year, some analysts say a stronger yuan and rising raw materials costs could temper the momentum over coming months. Exports rose 18.1% in December from a year earlier, slowing from a 21.1% jump in November but beating expectations for a 15% rise. Imports increased 6.5% year-on-year last month, topping a 5% forecast and picking up pace from November's 4.5% growth.
China's trade surplus with the United States narrowed to $29.92 billion in December from $37.42 billion in November, as Chinese imports grew faster than its exports to the United States. The data points to "Beijing's continued effort to fulfill its commitments on the Phase One trade deal with the US," said Nomura in a research note.
India's central bank, the Reserve Bank of India, said on Wednesday it had formed a working group to look into digital lending practices, following reports of policy violations and borrower harassment by several digital lending apps in India. The recent spurt of popularity of online and mobile lending platforms "has raised certain serious concerns which have wider systemic implications," the RBI said in its release.
The major Asian stock markets had a mixed day today:
NIKKEI 225 increased 241.67 points or 0.85% to 28,698.26
Shanghai decreased 32.75 points or -0.91% to 3,565.90
Hang Seng increased 261.26 points or 0.93% to 28,496.86
ASX 200 increased 28.70 points or 0.43% to 6,715.30
Kospi increased 1.64 points or 0.05% to 3,149.93
SENSEX increased 91.84 points or 0.19% to 49,584.16
Nifty50 increased 30.75 points or 0.21% to 14,595.60
The major Asian currency markets had a green day today:
AUDUSD increased 0.00261 or 0.34% to 0.77682
NZDUSD increased 0.00166 or 0.23% to 0.72022
USDJPY increased 0.03 or 0.03% to 103.85
USDCNY increased 0.00662 or 0.10% to 6.47173
Precious Metals:
Gold increased 5.56 USD/t oz. or 0.30% to 1,848.97
Silver increased 0.46 USD/t. oz or 1.83% to 25.601
Some economic news from last night:
China:
Exports (YoY) (Dec) decreased from 21.1% to 18.1%
Imports (YoY) (Dec) increased from 4.5% to 6.5%
Trade Balance (USD) (Dec) increased from 75.40B to 78.17B
Japan:
Core Machinery Orders (YoY) (Nov) decreased from 2.8% to -11.3%
Core Machinery Orders (MoM) (Nov) decreased from 17.1% to 1.5%
PPI (YoY) (Dec) increased from -2.3% to -2.0%
PPI (MoM) (Dec) increased from -0.1% to 0.5%
Australia:
Building Approvals (MoM) decreased from 3.8% to 2.6%
Some economic news from today:
India:
M3 Money Supply increased from 12.4% to 12.5%
WPI Food (YoY) (Dec) decreased from 3.94% to -1.11%
WPI Fuel (YoY) (Dec) increased from -9.87% to -8.72%
WPI Inflation (YoY) (Dec) decreased from 1.55% to 1.22%
WPI Manufacturing Inflation (YoY) (Dec) increased from 2.97% to 4.24%
EUROPE/EMEA:
Britain believes it can resolve post-Brexit "teething issues" that have disrupted exports of Scottish fish to the European Union, a minister said on Thursday, in comments that further charged tensions with Scotland's largest political party. Since Britain completed its journey out of the EU at the end of last year, Scottish fish companies have seen some of their exports rejected by several nations in the bloc after new customs demands delayed the arrival of their produce. Some businesses have said they face ruin.
The UK economy is facing its "darkest hour" due the latest Covid-19 lockdown, which is likely to delay the recovery, the Bank of England governor has warned. In an online speech to the Scottish Chambers of Commerce he said the shape of the recovery, while delayed, would broadly follow the forecast made by the Bank's monetary policy committee (MPC) last November.
The US added Austria, Spain, and the UK to the string of countries it says are discriminating against American companies through their decisions to tax local revenue of Internet giants such as Facebook Inc. The office of the US Trade Representative won't take specific action following the outcome of the investigations, but will continue to "evaluate all available options," it said in a statement Thursday. Last week, the USTR issued similar findings against India, Italy and Turkey.
The major European stock markets had a green day:
CAC 40 increased 18.47 points or 0.33% to 5,681.14
FTSE 100 increased 56.44 points or 0.84% to 6,801.96
DAX 30 increased 48.99 points or 0.35% to 13,988.70
The major European currency markets had a mixed day today:
EURUSD decreased 0.00187 or -0.15% to 1.21407
GBPUSD increased 0.00293 or 0.21% to 1.36712
USDCHF increased 0.00114 or 0.13% to 0.88844
Some economic news from Europe today:
Germany:
German GDP Annual decreased from 0.60% to -5.00%
Germany Thomson Reuters IPSOS PCSI (Jan) decreased from 51.27 to 50.87
France:
France Thomson Reuters IPSOS PCSI (Jan) increased from 39.43 to 40.38
UK:
Thomson Reuters IPSOS PCSI (Jan) decreased from 45.2 to 43.1
RICS House Price Balance (Dec) decreased from 66% to 65%
Italy:
Italy Thomson Reuters IPSOS PCSI (Jan) increased from 37.17 to 38.73
US/AMERICAS:
Federal Reserve Chairman Jerome Powell reaffirmed the Fed's decision to maintain low interest rates. "When the time comes to raise interest rates, we'll certainly do that, and that time, by the way, is no time soon," Powell said while speaking at Princeton University. Powell noted that the Fed would not raise rates even in the event that unemployment falls "unless we start to see inflation or other imbalances that would threaten the achievement of our mandate." Core inflation currently sits at 1.4%, which is beneath the 2% target, but Powell insists the central bank has the tools available if inflation spiked. Optimistically, the chairman noted that the US economy was in a good place in February 2020 before the pandemic and he believes the country can get back to that place sooner than anticipated.
Weekly jobless claims in the US peaked to the highest level seen in five months, according to the Labor Department. First-time filers rose to 965,000 last week, surpassing estimates of 800,000 or less. Continuing claims rose by 199,000 to 5.27 million, which is the first increase in continuing claims since November 2020.
Despite being a harsh critic of President Donald Trump, German Chancellor Angela Merkle declared that Twitter's censorship is "problematic." "The right to freedom of opinion is of fundamental importance," Steffen Seibert, Merkel's chief spokesman told reporters. EU Commissioner for Internal Market Thierry Breton voiced similar concerns. "The fact that a CEO can pull the plug on POTUS's loudspeaker without any checks and balances is perplexing," Breton stated while adding that Twitter's actions "displays deep weaknesses in the way our society is organized in the digital space."
"There is no confusion. It's very simple here. Stay home," Premier Doug Ford bluntly stated. Ford took a shot at elected officials questioning the new lockdown order. Ford believed the initial lockdown was too lenient after placing Ontario under a second state of emergency. Residents are expected to remain inside past 8 PM and may only leave for work, child care, school, groceries, and limited gatherings such as funerals or religious services. Canadian police plan to regulate industries and individuals who fail to abide by the lockdown restrictions.
A new Brazilian-led trial shows that China's Sinovac Biotech vaccine is only 50.4% effective at treating the coronavirus. The Butantan Institute in Brazil was the first to conduct a large-stage trial of the vaccination, and is coming under harsh criticism for its findings. In Comparison, Moderna and Pfizer-BioNTech claim their vaccinations are 95% effective. Despite the drastically lower rate of effectiveness, Butantan is requesting the vaccine to be used for emergency use. Sinovac's vaccine is cheaper than the western-developed options and does not require special storage. Brazilian officials are expected to meet in the upcoming days to make a decision.
US Market Closings:
Dow declined 68.95 points or -0.22% to 30,991.52
S&P 500 declined 14.3 points or -0.38% to 3,795.54
Nasdaq declined 16.31 points or -0.12% to 13,112.64
Russell 2000 advanced 43.38 points or 2.05% to 2,155.35
Canada Market Closings:
TSX Composite advanced 23.35 points or 0.13% to 17,958.09
TSX 60 advanced 0.47 of a point or 0.04% to 1,067.62
Brazil Market Closing:
Bovespa advanced 1,547.44 points or 1.27% to 123,480.52
ENERGY:
A consortium that includes oil majors Royal Dutch Shell and ExxonMobil has requested a total of 2.1 billion euros ($2.55 billion) in subsidies for a project to store CO2 gasses in empty Dutch gas fields in the North Sea, the Dutch Economy ministry said on Thursday. The subsidies were requested together with industrial gas suppliers Air Liquide and Air Products for a project which aims to capture carbon dioxide emitted by factories and refineries in the Rotterdam port area in order to reduce emissions in Europe's largest sea port significantly.
The oil markets had a negative day today:
Crude Oil decreased 0.04 USD/BBL or -0.08% to 52.8700
Brent decreased 0.36 USD/BBL or -0.64% to 55.7000
Natural gas decreased 0.049 USD/MMBtu or -1.80% to 2.6770
Gasoline decreased 0.0133 USD/GAL or -0.86% to 1.5355
Heating oil decreased 0.002 USD/GAL or -0.13% to 1.5969
Top commodity gainers: Silver (1.83%), Wheat (1.63%), Sugar (4.42%) and Lithium (16.13%)
Top commodity losers: Bitumen (-1.17%), Palm Oil (-1.25%), Natural Gas (-1.80%), and Zinc (-1.06%)
The above data was collected around 11:44 EST on Thursday.
BONDS:
Japan 0.04%(+1bp), US 2's 0.00%(-0.00%), US 10's 1.09%(+0bps); US 30's 2.00%(+0.01%), Bunds -0.52% (+3bp), France -0.31% (+0bp), Italy 0.61% (+5bp), Turkey 12.95% (+10bp), Greece 0.69% (-1bp), Portugal 0.02% (+1bp); Spain 0.06% (-0bp) and UK Gilts 0.29% (-2bp).
Italian 3-Year BTP Auction increased from -0.30% to -0.23%
Italian 30-Year BTP Auction decreased from 1.480% to 1.470%
Italian 7-Year BTP Auction increased from 0.19% to 0.30%
US 4-Week Bill Auction decreased from 0.080% to 0.075%
US 8-Week Bill Auction decreased from 0.085% to 0.080%