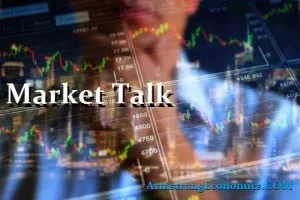 ASIA:
President Trump's trade war with Beijing reduced the US' trade deficit with China last year, although Chinese manufacturers still export far more to the US than vice versa. China's widening surplus provided ready ammunition to the Trump administration as it placed round after round of tariffs on the country's goods to get Beijing to correct what it called unfair an trade practices. The trend is set to reverse, with the two countries poised to complete the first phase of a trade deal this week, although many economists dispute Mr. Trump's view that trade deficits are inherently bad. President Trump and Chinese negotiators are scheduled to sign their pact on Wednesday in Washington. US officials have said Beijing will increase purchases of US goods and services by at least $200 billion over the next two years from 2017 levels. The Chinese side hasn't made any promises in public. Details about what the two countries agreed on could emerge after the signing. The U.S. is expected to release a version of the agreement.
India's antitrust watchdog ordered a probe into whether Amazon and Walmart Inc.'s Flipkart have violated competition laws. This is New Delhi's latest move to try to rein in American tech giants that dominate its burgeoning internet economy. The investigation launched by the Competition Commission of India Monday said it would focus on allegations that the U.S. titans promote "preferred sellers" of goods on their platforms, which may have hurt smaller rivals. Big e-commerce firms should not offer steep discounts. They must disclose discounting policies and ensure they do not drive brick-and-mortar rivals out of business, the CCI chairman Ashok Kumar Gupta has said.
Amazon Inc. CEO Jeff Bezos landed in India on Tuesday. The chief executive's visit to India comes at a time when the country's anti-trust body Competition Commission of India said it is looking into alleged unfair practices by Amazon and Walmart's Flipkart. Mr. Bezos is likely to participate at an Amazon event in Delhi and he has also sought meetings with Prime Minister Narendra Modi and other government officials, Reuters reported.
India's Supreme Court on Monday directed the government's crime fighting agency, Enforcement Directorate (ED), to seize local assets of JPMorgan in relation to some transactions the bank engaged in with a local real estate company in 2010, according to a Press Trust of India report in Business Standard. The ED alleged that the US bank was involved in transactions that violated India's foreign exchange laws and foreign direct investment norms. The ED was further quoted as saying that JPMorgan had bought shares in two companies of Amrapali group which was later sold to shell companies of the same group and the profit repatriated to its home country.
Kuala Lumpur is concerned about India's new curbs on imports of palm oil after a diplomatic row, Malaysia's Prime Minister Mahathir Mohamad said on Tuesday, but indicated he would continue to speak out against "wrong things" even if it costs his country financially. As Malaysian palm refiners stare at a massive loss of business, Mr. Mahathir said his government would find a solution. Reuters reported on Monday that India had informally instructed traders to stay away from Malaysian palm oil. Indian traders are instead buying Indonesian crude palm oil at a premium of $10 tonnes over Malaysian prices.
The major Asian stock markets had a mixed day today:
Shanghai decreased 8.75 points or -0.28% to 3,106.82
Kospi increased 9.62 points or 0.43% to 2,238.88
ASX 200 increased 58.50 points or 0.85% to 6,962.20
NIKKEI 225 increased 174.60 points or 0.73% to 24,025.17
Hang Seng decreased 69.80 points or -0.24% to 28,885.14
SENSEX increased 92.94 points or 0.22% to 41,952.63
The major Asian currency markets had a mixed day today:
AUDUSD increased 0.0001 or 0.02% to 0.6901
NZDUSD decreased 0.0011 or 0.17% to 0.6617
USDJPY increased 0.04 or 0.03% to 109.97
USDCNY increased 0.00834 or 0.12% to 6.88934
Precious Metals:
Gold decreased 1.15 USD/t oz. or -0.07% to 1,543.55
Silver decreased 0.1634 USD/t. oz or -0.91%% to 17.8076
Some economic news from last night:
China:
Exports (YoY) (Dec) increased from -1.3% to 7.6%
Imports (YoY) (Dec) increased from 0.5% to 16.3%
Trade Balance (USD) (Dec) increased from 37.93B to 46.79B
Japan:
Bank Lending (YoY) (Dec) decreased from 2.1% to 1.8%
Current Account n.s.a. (Nov) decreased from 1.817T ro 1.437T
New Zealand:
NZIER Business Confidence (Q4) increased from -40% to -21%
NZIER QSBO Capacity Utilization (Q4) decreased from 92.4% to 92.0%
Building Consents (MoM) (Nov) decreased from -1.3% to -8.5%
Some economic news from today:
India:
WPI Food (YoY) (Dec) increased from 11.08% to 13.24%
WPI Fuel (YoY) (Dec) increased from -7.32% to -1.46%
WPI Inflation (YoY) (Dec) increased from 0.58% to 2.59%
WPI Manufacturing Inflation (YoY) (Dec) increased from -0.84% to -0.25%
Japan:
Economy Watchers Current Index (Dec) increased from 39.4 to 39.8
South Korea:
Export Price Index (YoY) (Dec) increased from -6.5% to -3.1%
Import Price Index (YoY) (Dec) increased from -2.1% to 3.4%
EUROPE/EMEA:
A report came from Bloomberg suggesting that the UK has lost over 200 billion dollars of growth due to Brexit, which would equate to more than 47 years of being a member of the EU. The figure of 200 billion amounts to 3% of the UK GDP.
The EU has laid out plans to make Europe carbon neutral by 2050. To achieve their goals, the EU is willing to spend 1 trillion euros over the course of the next ten years. The European Commission wishes to raise the funds from both private and public sources.
The UK PM Boris Johnson has denied SNP leader Nicola Sturgeon the go-ahead for a second referendum for Scotland to leave the UK, with the initial Brexit vote in Scotland ending around 70% for remain. Boris Johnson via Twitter told the UK that he wrote Nicola Sturgeon a letter urging the UK to stick together to propel growth in 2020.
The US has criticized the UK for using Huawei as their 5G telecommunications provider. The US called the move "madness," however, UK PM Boris Johnson said there are no valid alternatives.
The European Union told Iran that they have broken the 2015 nuclear agreement and should take steps to make amends. They told Iran they have 60 days to make right with the original deal, and if Iran fails to do so they will reimpose the UN sanctions that the deal originally had scrapped. Meanwhile, UK PM Boris Johnson said they should scrap the deal and instead opt for any deal Trump comes up with.
Iran announced that they have made arrests over the Ukraine airline incident, it is still not disclosed as to who and how many people have been arrested.
The major Europe stock markets had a green day today:
CAC 40 increased 4.76 points or 0.08% to 6,040.89
FTSE 100 increased 4.75 points, or 0.06% to 7,622.35
DAX 30 increased 4.97 points or 0.04% to 13,456.49
The major Europe currency markets had a mixed day today:
EURUSD decreased 0.0005 or 0.04% to 1.1131
GBPUSD increased 0.0035 or 0.27% to 1.3027
USDCHF decreased 0.0038 or 0.39% to 0.9669
US/AMERICAS:
The US is unlikely to reduce Chinese tariffs until after the November 2020 presidential election. The midday news reversed the course of US indexes this Tuesday. President Trump initially stated that phase two of the US-China trade deal would begin "immediately" after phase one was finalized, and some are questioning whether the delayed date may be a strategic move to leverage votes for the current administration who has experience negotiating with China. Chinese delegates will visit the White House tomorrow to officially sign phase one of the trade deal, marking the beginning to the end of a 19-month trade standoff.
Kansas City Federal Reserve President Esther George stated today that the Fed may need to "reverse" the three rate cuts implemented in 2019 that brought rates down to 1.5% to 1.75%. "We will need to asses whether the 2019 rate cuts prove to be 'insurance cuts' that will need to be reversed if headwinds fade," said George. However, she stated that the Fed's current policy of maintaining rates is the appropriate course of action until they can monitor the economy's response to the rate cuts. Additionally, George foresees inflation remaining "benign" and unemployment remaining near 3.5%.
Asset management giant BlackRock plans to restructure its investment strategy to focus on environmentally-friendly options. Actively managed funds will sell off equities that derive more than 25% of revenue from thermal coal. BlackRock also plans to double its offering of exchange-traded funds that comply with certain environmental metrics. The news comes weeks after BlackRock joined forces with a group called Climate Action 100+ that lobbies for companies to decrease carbon emissions and meet the parameters set by the Paris Agreement. Climate Action 100+ is now estimated to have a combined value of $41 trillion with BlackRock alone bringing $7 trillion to the table.
Encana Corp. announced plans this Tuesday to move the company from Canada to the US after close to 90% of shareholders voted in favor of relocating. The natural gas and oil company plans to rebrand itself under the name Ovintiv and will move its headquarters from Calgary to Denver. Ongoing environmental and political prohibitions have prevented oil pipeline expansion in Canada, which has prevented Canadian energy companies from increasing their production.
US Market Closings:
Dow advanced 32.62 points or 0.11% to 28,939.67
S&P 500 declined 4.98 points or -0.15% to 3,283.15
Nasdaq declined 22.60 points or -0.24% to 9,251.33
Russell 2000 advanced 6.14 points or 0.37% to 1,675.74
Canada Market Closings:
TSX Composite advanced 59.48 points or 0.34% to 17,352.90
TSX 60 advanced 3.36 points or 0.33% to 1,033.48
Brazil Market Closing:
Bovespa advanced 307.12 points or 0.26% to 117,632.40
ENERGY:
Japan and the UAE have signed a deal where ADNOC can store crude oil in Japan and sell it to their customers. The three-year deal will allow the UAE to store 8.1 million barrels of oil in Japan and was signed into action after Japanese PM Abe met with Abu Dhabi Crown Prince.
The oil markets had a mixed day today:
Crude Oil increased 0.1833 USD/BBL or 0.31% to 58.4081
Brent increased 0.3858 USD/BBL or 0.60% to 64.5261
Natural gas decreased 0.0118 USD/MMBtu or -0.55% to 2.1458
Gasoline decreased 0.0028USD/GAL or -0.17% to 1.6674
Heating oil increased 0.0145 USD/GAL or 0.76% to 1.9170
Top commodity gainers: Steel(3.26%),Lean Hogs(3.16%),Cocoa(2.79%), and Palladium(2.61%)
Top commodity losers: Coal(-3.25%), Palm Oil(-2.09%), Bitumen (-1.26%), and Lumber(-1.02%)
The above data was collected around 16.25 EST on Tuesday.
BONDS:
Japan 0.01%(+1bp), US 2's 1.58% (-1bps), US 10's 1.82%(-2bps); US 30's 2.28%(-2bps), Bunds -0.20% (+4bp), France 0.09% (-1bp), Italy 1.41% (+2bp), Turkey 10.89% (-45bp), Greece 1.42% (-47bp), Portugal 0.43% (-1bp), Spain 0.48% (-0bp) and UK Gilts 0.73% (-1bp).
Spanish 6-Month Letras Auction increased from -0.448% to -0.363%
Spanish 12-Month Letras Auction increased from -0.456% to -0.405%
UK 5-Year Treasury Gilt Auction decreased from 0.561% to 0.536%
Italian 3-Year BTP Auction decreased from 0.22% to 0.18%
Italian 7-Year BTP Auction increased from 0.91% to 0.94%