Blog/Market Talk
Posted Jan 13, 2020 by Martin Armstrong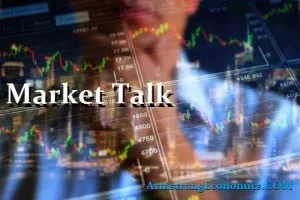 ASIA:
All eyes will be on the signing of the US and China trade deal that is due to occur on Wednesday when Vice Premier Liu will be heading with his entourage to Washington. It seems previous tensions are easing ahead of the talks. The US today removed China off the currency manipulator list as both countries agreed to not weaken their currencies in order to gain a competitive advantage.
China's foreign minister Wang Yi recently visited Harare and during a joint press conference with his counterpart, Sibusiso Moyo, called for sanctions against Zimbabwe to be lifted, saying they have no basis under international law. The US and EU have placed sanctions on senior Zimbabwean officials and businesses but Wang says they have no basis in international law. The two nations are long-standing allies and Wang's visit to reaffirm Beijing's commitment to supporting the African country's economic development. As a veto-holding member of the UN Security Council, China has helped Zimbabwe escape sanctions that would have included an arms embargo, and financial and travel restrictions on senior government and military officials.
The Indian government plans to push the central bank (RBI) for a fiscal lifeline in the form of another interim dividend as it struggles to meet its expenditure commitments amid a steep revenue shortfall, sources directly aware of the matter said. The fresh call comes just months after the Reserve Bank of India (RBI) approved a $24.8 billion dividend payment to the government, including $ 20.9 billion for the current fiscal year. One of the officials said the government does not want to make an RBI interim dividend a regular practice, but will consider its demand for an interim dividend given this financial year has been an "exceptional year" with economic growth projected to fall to an 11-year low of 5%.
India's second-biggest IT services and consulting company, Infosys Ltd, said it found no evidence of financial misconduct by its executives following an investigation into whistleblower complaints. Bengaluru-headquartered Infosys, which earlier on Friday raised its revenue forecasts due to upbeat demand from Western clients, said an audit committee report exonerated Chief Executive Officer Salil Parekh and Chief Financial Officer Nilanjan Roy of all allegations, including accusations that the duo prevented employees from presenting data on large deals.
A court in Pakistan has overturned the death sentence handed down to former President Pervez Musharraf by declaring the legal process unconstitutional. Gen Musharraf had challenged the formation of a special court that found him guilty of treason last December. On Monday, the Lahore High Court sided with the exiled general, who seized power in a 1999 coup and was president from 2001 to 2008.
Singapore's shipping throughput hit an all-time high last year, despite weak global economic activity and challenges such as the trade war between the United States and China. Container throughput at the Port of Singapore hit an all-time high of 37.2 million twenty-foot equivalent units (TEUs) in 2019, the Maritime and Port Authority of Singapore (MPA) announced in a press release on Monday. The 2019 container throughput is 1.6 percent higher than the 36.6 million TEUs registered in 2018, and 31 percent higher than the 28.4 million TEUs in 2010. This marks "strong growth in the past decade" amid challenging economic conditions, MPA noted.
The major Asian stock markets had a mixed day today:
Shanghai increased 23.28points or 0.75% to 3,115.57
Kospi increased 22.87 points or 1.04% to 2,229.26
ASX 200 decreased 25.30 points or -0.37% to 6,903.70
NIKKEI 225 increased 110.70 points or 0.47% to 23,850.57
Hang Seng increased 316.74 points or 1.11% to 28,954.94
SENSEX increased 259.97 points or 0.62% to 41,859.69
The major Asian currency markets had a mixed day today:
AUDUSD increased 0.0012 or 0.17% to 0.6915
NZDUSD increased 0.0008 or 0.12% to 0.6641
USDJPY increased 0.4120 or 0.38% to 109.9010
USDCNY decreased 0.03234 or -0.47% to 6.88096
Precious Metals:
Gold decreased 10.45 USD/t oz. or -0.67% to 1,546.98
Silver decreased 0.0723 USD/t. oz or -0.40%% to 17.9936
Some economic news from last night:
Australia:
MI Inflation Gauge (MoM) increased from 0.0% to 0.3%
Some economic news from today:
India:
CPI (YoY) (Dec) increased from 5.54% to 7.35%
EUROPE/EMEA:
The inexplicable act on behalf of the Iranian military of downing a passenger plane has caused mass protests in Iran. The protests have entered the third day after Iranians question the government's integrity over handling the issue. There were also reports that reporters of the state media have quit after the way the state media handled the cover-up. The Iranian president apologized live on-air for the act and blamed 'human error' after two videos emerged filming the missile striking the plane. But certainly, the act has not put Iran in a good light internationally. The EU has recommended that airlines avoid Iranian airspace "regardless of altitude" until further notice.
US President Trump urged the Iranian government to turn their internet back on to allow free press in the region. He also boldly called for the Iranian government to stop killing protesters by suggesting thousands had already perished at the hands of the government. Mike Pompeo US Secretary of State was also mimicking Trump's tweet suggesting that the people are fed up with the current regime and to allow the people to be free. The Iranian Head of the Revolutionary Guard stated that he wished he was on the plane, as he accepted responsibility for the event.
A UK government think tank has cast doubts over UK PM Boris Johnson's promise of delivering a full Brexit in 2020; the think tank suggested that more time was required. The UK is expected to leave the EU on the 31st with 11 months of a transition period. Meanwhile, another BOE member has suggested a possible rate cut, causing the GBPUSD to sink to 1.30 after weeks strengthening of the pound.
Germany's Automotive industry could lose 410k jobs by 2030, due to the shift from Petroleum based cars to Electric a National report suggested.
A new cabinet in Spain has been sworn in with 4 deputy prime ministers and 18 ministers forming the new government. The big task for them to handle is the growing issue with Social issues as well as bolstering the economy.
The major Europe stock markets had a mixed day today:
CAC 40 decreased 0.96 points or -0.02% to 6,036.14
FTSE 100 increased 29.75 points, or 0.39% to 7,617.60
DAX 30 decreased 31.79 points or -0.24% to 13,451.52
The major Europe currency markets had a mixed day today:
EURUSD increased 0.0021 or 0.19% to 1.1142
GBPUSD decreased 0.0061 or 0.46% to 1.2993
USDCHF decreased 0.0027 or 0.28% to 0.9701
Some economic news from Europe today:
Germany:
German WPI (MoM) (Dec) increased from -0.1% to 0.0%
German WPI (YoY) (Dec) increased from -2.5% to -1.3%
Italy:
Italian Retail Sales (MoM) (Nov) increased from -0.3% to -0.2%
Italian Retail Sales (YoY) (Nov) decreased from 1.0% to 0.9%
UK:
NIESR GDP Estimate decreased from 0.1% to 0.0%
NIESR Monthly GDP Tracker remain the same at 0.0%
U.K. Construction Output (YoY) (Nov) increased from -0.3% to 2.0%
Construction Output (MoM) (Nov) increased from -2.2% to 1.9%
GDP (MoM) decreased from 0.1% to -0.3%
GDP (YoY) decreased from 1.0% to 0.6%
Index of Services decreased from 0.2% to 0.1%
Industrial Production (YoY) (Nov) decreased from -0.6% to -1.6%
Industrial Production (MoM) (Nov) decreased from 0.4% to -1.2%
Manufacturing Production (MoM) (Nov) decreased from 0.5% to -1.7%
Manufacturing Production (YoY) (Nov) decreased from -0.3% to -2.0%
Monthly GDP 3M/3M Change decreased from 0.2% to 0.1%
Trade Balance (Nov) increased from -10.95B to -5.26B
Trade Balance Non-EU (Nov) increased from -2.59B to 1.73B
US/AMERICAS:
After much anticipation, the US and China will sign phase one of the trade deal this Wednesday. Treasury Secretary Steven Mnuchin cited translation issues as one of the main factors that prevented the deal from being formally signed. "The United States and China have reached an historic and enforceable agreement on a Phase One trade deal that requires structural reforms and other changes to China's economic and trade regime in the areas of intellectual property, technology transfer, agriculture, financial services, and currency and foreign exchange," according to a facts sheet released by the office of the United States Trade Representative (USTR). The deal will also include parameters for dealing with dispute resolution in "a fair and expeditious manner."
The US fiscal deficit reached a seven-year high in 2019 after surpassing $1 trillion. The budget deficit for the January-December calendar year stands at $1.2 trillion, which marks a 17.1% year-on-year increase. The fiscal year began in October, but the deficit since then has already reached $356.6 billion. If the pace of spending continues, then 2020 will likely surpass the $1 trillion mark yet again.
Dave Calhoun became Boeing's new CEO this Monday during one of the most volatile times in the company's history. Treasury Secretary Steven Mnuchin announced on Sunday that Boeing's decline could cause the US' entire GDP to drop by half a percentage point. Calhoun's first task at CEO will be to put the 737 Max back in flight after it's worldwide grounding caused the company to lose over $50 billion.
Senator Cory Booker of New Jersey suspended his 2020 presidential campaign this Monday. "I've always said I wouldn't continue if there was no longer a path to victory," Booker commented. Similar to Kamala Harris' reasoning, Booker said he is suspending his campaign due to a lack of funding. The Democratic candidates will face off on Tuesday night for their last face-to-face debate before the Iowa caucus. Despite positive polling numbers, former NYC mayor Michael Bloomberg fell short of the 225,000 unique donor requirement to qualify for tomorrow night's debate. Only six Democratic candidates remain: Joe Biden, Pete Buttigieg, Amy Klobuchar, Bernie Sanders, Tom Steyer, and Elizabeth Warren.
US Market Closings:
Dow advanced 83.28 points or 0.29% to 28,907.05
S&P 500 advanced 22.78 points or 0.70% to 3,288.13
Nasdaq advanced 95.07 points or 1.04% to 9,273.93
Russell 2000 advanced 11.96 points or 0.72% to 1,669.61
Canada Market Closings:
TSX Composite advanced 58.93 points or 0.34% to 17,293.42
TSX 60 advanced 4.46 points or 0.43% to 1,030.12
Brazil Market Closing:
Bovespa advanced 1,821.86 points or 1.58% to 117,325.28
ENERGY:
Crude oil is still moving lower despite production cuts from the OPEC group, rising tensions in the Middle East, as well as China agreeing to aid the US in stopping all Iranian exports of oil. All of this has done little to stop the rut.
The oil markets had a negative day today:
Crude Oil decreased 0.8641 USD/BBL or -1.46% to 58.1023
Brent decreased 0.731 USD/BBL or -1.12% to 64.4047
Natural gas decreased 0.0327 USD/MMBtu or -1.51% to 2.1351
Gasoline decreased 0.0092USD/GAL or -0.55% to 1.6562
Heating oil decreased 0.0344 USD/GAL or -1.78% to 1.9059
Top commodity gainers: Bitumen(5.96%),Ethanol(2.04%),Copper(1.55%), and Coal(1.39%)
Top commodity losers: Orange Juice(-3.43%), Coffee(-3.19%), Lean Hogs (-2.26%), and Steel(-2.06%)
The above data was collected around 13.35 EST on Monday.
BONDS:
Japan 0.00%(+1bp), US 2's 1.58% (+1bps), US 10's 1.84%(+2bps); US 30's 2.31%(+4bps), Bunds -0.23% (-1bp), France 0.09% (+4bp), Italy 1.39% (+5bp), Turkey 10.89% (-45bp), Greece 1.44% (-47bp), Portugal 0.44% (+4bp), Spain 0.48% (+4bp) and UK Gilts 0.74% (-3bp).
US 3-Month Bill Auction increased from 1.520% to 1.530%
US 6-Month Bill Auction increased from 1.520% to 1.530%
French 3-Month BTF Auction increased from -0.610% to -0.590%
French 6-Month BTF Auction increased from -0.616% to -0.589%
French 12-Month BTF Auction increased from -0.589% to -0.583%