Blog/Market Talk
Posted Jan 13, 2017 by Martin Armstrong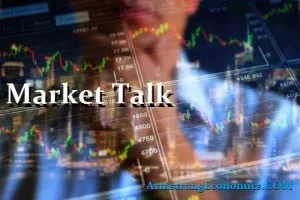 A healthy bounce for the Nikkei ahead of the weekend closing up +0.8% but we only saw a small reversal in the Yen. The currency needs to move at the same time but in opposite directions in order to maximize trend. JPY was last seen this evening at 114.50, almost unchanged for the cash close. Nikkei futures are small down in late trading whilst sentiment around global stocks remains stable. In China the poor trade numbers hit confidence more than stocks with the Shanghai closing -0.2%. Exports were expected to fall 3.5% but released at -6.1% and imports expected 2.7% came in at 3.1%. The Hang Seng performed better following global large cap's and closed +0.45%. CNH was seen in late US trading around the 6.8500 level.
All sectors in Europe seemed to perform well today with strong returns seen for auto makers, banks, healthcare, and energy. The UK's FTSE was the lager but even that closed +0.6% higher. DAX, CAC and IBEX were all up around 15 on the day. Poorer than expected US data tended to be ignored as sentiment seemed to improve ahead of the weekend. Next week will all be about the president-elect Donald Trump and whether the Trump trade finally plays out or is abandoned. Money remains on the sidelines with many hopeful of a setback but only so they can climb aboard. They missed it the first time and will probably do the same again.
As stocks steadied then so we saw treasuries come under pressure. The curve steepened with 30yrs suffering the most. 2's closed 1.19% (+1bp) and 10's +4bp at 2.40%. German 10yr Bunds closed 0.33% +2bp closing US/German spread at +207bp (+2bp). Italy 1.89% (+0bp), Greece 6.83% (+6bp), Turkey 11.14% (-7bp), Portugal 3.85% (-2bp) and Gilts 1.36% (+6bp).