Blog/Market Talk
Posted Jan 12, 2018 by Martin Armstrong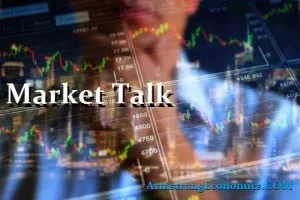 We saw a strong response in the Hang Seng index today, taking it to yet another short-term record level. Shanghai also closed positively (+0.2%), but not the +1% performance recorded in the HSI. China's Trade numbers failed to meet the widely expected 13% releasing at 4.5% which is probably why Shanghai lagged. The Nikkei still hurting from the stronger currency move returned negatively today with much of the sell-off appearing late in afternoon trading. The Yen continues to hover just above the 111 figure, but remains strong due to general US Dollar weakness. SENSEN and ASX both closed better with the former outperforming just at the close after starting the afternoon in negative territory and the ASX reflecting the China numbers.
Despite positive news that Germany may have a breakthrough on the political front, Europe played around unchanged until taking the inspiration from US markets. The US Retail Sales was the dominant release today probably followed closely by some strong key corporate numbers. Both the Euro and GBP were better bid )+0.8% and 1.1% respectively) into the European close after rumours that some core European counterparties (Spain, Holland, Portugal) were in favour of a softer BREXIT outcome than is currently being priced-in. Generally, the consensus is it will be damaging for both counterparties. Roughly, all core closed around +0.25% higher across the board.
Another impressive rally for the US indices jumping off of the back of data and earnings numbers. All core markets recorded yet more records with all closing around +0.7% higher on the day. The Bond market was again sparked into life and especially the front end. Two year notes broke the psychological 2% barrier, but other than absolute higher yields across the curve, pretty much the only effect is this return to a flattening yield curve. Given equity strength and FI weakness – still worth remembering is that monetary growth and the velocity of money remains way down. Even in todays numbers its higher rents and increased medical bills that appeared to be in focus, but worth remembering is the huge expansion in debt. Would not be a surprise to see more flattening if even with higher absolute yields. Core indices very strong close +0.8% on the day.
Japan 0.07% (+0.02bp), US 2's closed 2.01% (+4bp), 10's at 2.56% (+3bp), 30's 2.87% (+1bp), Bunds 0.57% (+4bp), France 0.85% (-1bp), Italy 1.97% (-4bp), Greece 3.82% (u/c), Turkey 11.43% (-4bp), Portugal 1.77% (-3bp), Spain 1.48% (-4bp), and Gilts 1.34% (+3bp).