Blog/Market Talk
Posted Jan 12, 2017 by Martin Armstrong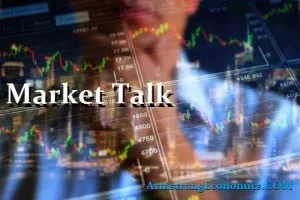 It was not a pretty site for most stock markets today with much of the mainstream media blaming Trump. The first press conference will probably be remembered for the resulting stock market volatility. As Asia opened the mood was heavy but having watched futures markets take much of the immediate repercussions cash tended to take a general drift lower. The Nikkei finished the day down -1.2% with both the Shanghai and Hang Seng closing -0.5% lower. The JPY saw another 2 big figure range with Yen strengthening as cash closed weaker but saw the currency back to mid-range as Nikkei futures bounced along with DOW rallying over 100 points off of its low.
European cash also reacted to the late Trump press conference with all core indices trading lower at the opening. The FTSE was the only one that managed some form of bounce as the currency turned lower, mid afternoon. Sterling saw a 2 point rally early in the day but was back down to the 1.2150 level by late US trading. The rumored "interruption" only proved successful for a short time before the weight of the trend returned. The DAX, CAC and IBEX were down closing 1.1%, -0.5% and -0.1% respectively. Fiat was in the news for allegedly using software which may distort emissions release; a claim they deny and are prepared to defend. Regardless, the shares were initially hit 20% but recovered somewhat by the close. Changes mentioned in the ECB's bond buying program (announced at the Dec 8th meeting) come into effect today tomorrow (Jan 13). They have announced that they may purchase yields lower than the depo rate (-0.4%). Worth keeping an eye on the front end as bonds start to sell-off.
All indices traded weaker in the US too today with the NASDAQ also taking a rest. Having seen positive gains day after day we finally saw the NASDAQ fall for the first time this year. However, even though the broader markets were heavy they closed off of their lows with the DOW recovering much ground into the close. The USD clawed back much of yesterdays losses and was last seen at 102.45. The VIX bounced 1.25% also as speculators pay for cheap volatility.
As stocks bounced so the treasury curve steepened with 30's underperforming the belly. 2's eventually closed 1.17%(-2bp) and 10's at 2.36% (+0bp); 30's closed 2.96% (-4bp). German 10yr Bunds closed 0.31% (-1bp) with the spread US/Germany closing +205bp (+1bp). Italy 1.89% (+3bp), Greece 6.77% (+1bp), Turkey 11.21% (-36bp), Portug 3.87% (-7bp) and Gilts 1.30% (-4bp).
Tomorrow all eyes will be on the US big banks as they report earnings, which could get the trend rather than currency for a change.