Blog/Market Talk
Posted Jan 11, 2019 by Martin Armstrong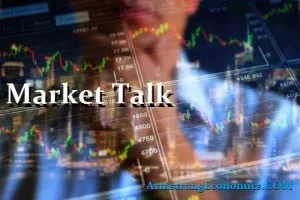 Last minute positivity in the US was released into Asia and we saw all core markets open higher. The Nikkei gained 1% on the day, even with poor economic data. The Economy watchers Index (Household Spending) released at 48% compared to the 50.5% expected. Previously, this number was recorded at 51, so was already written lower but is disappointing. However, it did not impair the sentiment and technology, retail and pharmaceutical's managed to make-up the difference. The Nikkei did not provide volatility and the 1% gain proved impressive especially as the Yen held its ground. Shanghai and the Hang Seng saw similar days as having hit highs just after the open, lost it all and was back at unchanged before closing at the days highs. Closing +0.75% and +0.55% was as the CNY rallied +0.35% to close a healthy week. This has not been a bad price action considering the growth forecasts has been lowered to 6%-6.5% for 2019. ASX and SENSEX closed near their days lows as commodity prices tend to suffer as the USD increases and all while the oil rally dents India's performance.
Morning gains were lost in Europe as we witness a weak US open. Europe has seen a solid week over-all, but the concerns are ever present for core Europe. The lack of news coming from the China/US trade talks is starting to spread fears for global growth. DAX, FTSE and CAC all closed off around -0.35%, but this was not really were all the talk was centred. News from the UK that the BREXIT day (March 29th, 2019) maybe struck from law IF Theresa May's vote proves unsuccessful next week! The speculation that BREXIT may be delayed saw GBP rally against both the USD and the Euro. The Euro also lost some of the GBP hedged business as it lost 0.3% against Dollars, taking it down to mid 1.14's. Given this talk the poor economic numbers tended to be ignored at least for today – GDP the weakest in six months. However, as we all know, they may have been ignored today but are never forgotten!
US opened weak where they were to record the days lows, but encouragingly spent the rest of the day recovering. By the close all core indices had made it back to almost unchanged and encouraging that saw another weekly gain. Both the S+P and the DOW have now completed their third positive week in a row, closing up over 2% each; whilst the NASDAQ does even better at +3.2% higher. Next week we start earnings figure for financials and Citi is the start the week reporting on Monday. As the Treasury curve flattens, speculation grows this hits banks bottom line. 2/10's are now quoted around just 16 basis points, which will probably impact banks revenues flow. However, capital flow remains headed towards the USA so just means financials will probably lag in rallies. Volatility is expected to return and more likely in Europe given the BREXIT vote expected next Tuesday.
Japan 0.01%, US 2's closed 2.55% (-1bp), US 10's closed 2.70% (-3bp), US 30's 3.04% (-1bp), Bunds 0.23% (+2bp), France 0.66% (-1bp), Italy 2.85% (-3bp) Turkey 16.01% (-21bp), Greece 4.26% (-2bp), Portugal 1.70% (-1bp), Spain 1.44% (-1bp) and Gilts 1.29% (+2bp).