Blog/Market Talk
Posted Jan 11, 2018 by Martin Armstrong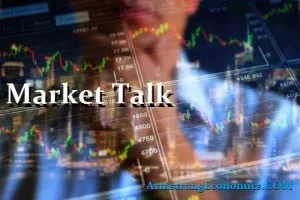 Currency tended to have more of an effect today in Asian trading, well certainly for Japan anyway! The Yen played between low and higher end of 111, edging lower into the close of the session as earnings failed to match expectation. Late in the US trading day, the Yen was flirting with a 110 handle which will weigh on stocks again when cash opens Friday. It was mostly exporters (both Auto's and Electricals) that lead stocks down on currency concerns but it probably wasn't a surprise given the weak US performance. Shanghai and Hang Seng were both better bid into the close which was a relief as much of their day was spent in negative territory. Currency also played a strong role dictating the ASX direction. Having seen better than expected Retail Sales numbers the currency strengthened on views the RBA will respond and that resulted in a -0.5% decline in stocks. SENSEX closed +0.5% firmer with Housing and Financials contributing to the gains.
European data releases were good (German BDI directive and Eurozone Ind Prod) and that influenced markets, but it was the talk that now the ECB could consider removing their punch bowl that lifted the currency rebalancing stocks. The DAX and CAC suffered, as a result, closing down around -0.45%, while the IBEX and FTSE MiB both closed positive. The UK was another hot topic but this time for over BREXIT! Today the focus highlighted on retail stocks and notably Tesco and Marks & Spencer. Both stocks lost ground today (-4.6% and -7% respectively) after talk that both saw poor December numbers and concerns spreading that retail across the field was below average. Oil looks to have topped today having had a good run in recent days.
US indices opened firmer and took on record after record. DOW over 200 points better in what is proving to be a very broad-based rally indeed. Tomorrow (Friday) we see the start of earnings season and with the large banks also starting to report, many will be looking closely at the numbers. Interesting that Europe and the UK are struggling even with the data as growth remains an issue whilst the US equivalent is booming. The capital flow will start to become more obvious as this trend builds. Crypto-currencies were heavy today after news that some Asian countries have adopted a strong tone, so still, a fragile play best left to the brave.
Japan 0.068% (-1.8bp), US 2's closed 1.97% (u/c), 10's 2.53% (-3bp), 30's 2.86% (-5bp), Bunds 0.53% (+5bp), France 0.86% (+4bp), Italy 2.03% (u/c), Greece 3.82% (+18bp), Turkey 11.47% (+2bp), Portugal 1.80% (-1bp), Spain 1.52% (-1bp), Gilts 1.31% (+2bp).