Blog/Market Talk
Posted Jan 11, 2017 by Martin Armstrong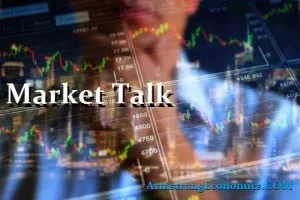 Although the Asian cash markets were reasonably strong today we did see a slight wobble in the Shanghai index. Japan cash closed +0.35% and Hang Seng even better at +0.85% but China's main index closed down -0.8% all in relatively low volume day. However, this was ahead Trump's first major press conference. Most of the action was to take place following this conference with the lack of volatility in cash was more than made-up for in futures later in the day. The JPY saw a 117 – 114 trading range eventually closing around mid range (115.50). The Nikkei (fut's) traded down over 200 points only to close up in late US trading and the CNH (off-shore Yuan) also added to the speculation that intervention was at play. However, by the close we were almost back to unchanged as the DOW recovered along with the US Dollar. It would probably be unfair to target any particular currency weakness today as all suffered against the ever stronger USD.
Europe was a similar story with cash markets playing along but saw much of the fun only late in the day also. GBP was again a hot topic falling over 1.1% (1.2035) also joined by the Euro down to 104.50 (-0.9%) ahead of Trumps speech. Other markets that saw volatility today were the Turkish Lira down 3.5%; RUB -1.5% and Columbian Peso -25 but all recovered from their lows. Most of the action was over within a few hours and looking back appears we are close to unchanged levels on the day and many asking, "what was that about"?
US cash indices also had their swings today with 100+ point rally in the DOW wiped away within minutes before a recovery into the close. The NASDAQ set yet another record closing helped by healthcare following Trump's remarks. A healthy bounce from the lows but we still need some positive economic data to take us to the next stage. The market is poised at multi-year highs, the VIX is low, banks have shown very little movement but they do report Friday and all as expectations for growth start to increase. Yes, it has been the most unloved rally but sentiment is definitely catching up.
Interestingly, that as the USD rose on many fronts so the treasury long end caught a bid. More flattening seen today but with yields at current levels many are happy just to own the currency but even better if it also provides a little yield. 2's closed 1.19% (+0bp) with 10's at 2.36% (-1.5bp). Germany 10's closed 0.32% (US/Germany at +204bp (-5bp), Italy 1.86% (-5bp). Greece 6.76% (-4bp), Turkey 11.57% (+38bp), Portug 3.94% (-7bp) and Gilts 1.34% (-2bp).