Blog/Market Talk
Posted Jan 10, 2020 by Martin Armstrong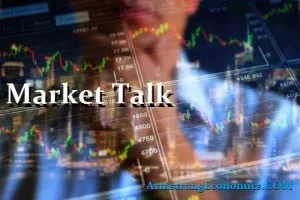 ASIA:
Apple saw a huge boost in iPhone sales in China last month, but embattled tech giant Huawei won't giving up the top spot anytime soon. Sales for the iPhone jumped 18% in December compared to the same month a year earlier, according to data from the China Academy of Information and Communication Technology. The news beat Wall Street's projections and sent Apple shares to a record high on Thursday. But Apple has been losing ground to domestic rivals in China for years, and analysts say that trend is unlikely to change. The biggest reason is that Apple sells expensive phones to wealthy customers. That only allows Apple to go after so much of the market, since competitors like Huawei and Xiaomi offer a wider range of phones at varying price points
The Indian supreme court on Friday directed the Jammu and Kashmir administration to review the restrictive orders imposed in the region within a week. Calling the freedom of speech "an essential tool in a democratic set up," Justice Ramana said that the freedom to access the internet "is a fundamental right" under Article 19 (1) (a) of the Constitution. The top court pronounced the verdict on a number of petitions challenging the restrictions and internet blockade imposed in Jammu and Kashmir after the abrogation of Article 370 in August last year.
Soft Bank Group Corporation is in talks to sell a majority stake in its renewable energy joint venture in India as it looks to raise cash after facing setbacks to its global investments, India's Economic Times daily reported on Thursday. SoftBank's Indian renewable energy business is a joint venture with India's Bharti Enterprises and Taiwan's Foxconn Technology Group. The Japanese technology giant has been in talks with sovereign wealth and pension funds from the Far East and Gulf regions, as well as some Silicon Valley technology giants, the report said.
India tore into Pakistan on Thursday at an open debate at the UN Security Council, accusing its representatives of epitomizing "the dark arts" and "peddling falsehoods." Earlier, Pakistan's UN envoy Munir Akram brought up the scrapping of Jammu and Kashmir's special status and said it was a first step in what he claimed were Indian efforts to suppress Muslims. India dismissed Islamabad's narrative "with disdain." Syed Akbaruddin, India's Permanent Representative to the UN, responded strongly and said, "My simple response to Pakistan is even though it is late, heal thyself of your malaise. There are no takers here for your malware."
The U.S. State Department approved a possible sale of up to 12 F-35B fighter jets to Singapore for an estimated $2.75 billion. The Defense Security Cooperation Agency (DSCA) said in a statement released on Thursday that it delivered the required certification notifying Congress of the potential sale. Singapore made the request last year to purchase F-35 jets as it looks to augment its operational aircraft inventory, replacing its aging F-16 fleet.
The major Asian stock markets had a mixed day today:
Shanghai decreased 2.59points or -0.08% to 3,092.29
Kospi increased 19.94 points or 0.91% to 2,206.39
ASX 200 increased 54.80 points or 0.80% to 6,929.00
NIKKEI 225 increased 110.70 points or 0.47% to 23,850.57
Hang Seng increased 77.20 points or 0.27% to 28,638.20
SENSEX increased 147.37 points or 0.36% to 41,599.72
The major Asian currency markets had a mixed day today:
AUDUSD increased 0.0043 or 0.63% to 0.6899
NZDUSD increased 0.0025 or 0.38% to 0.6635
USDJPY decreased 0.0380 or 0.03% to 109.4780
USDCNY decreased 0.0110 or 0.16% to 6.9135
Precious Metals:
Gold increased 8.05 USD/t oz. or 0.52% to 1,561.32
Silver increased 0.203 USD/t. oz or 1.13%% to 18.1375
Some economic news from last night:
China:
China Thomson Reuters IPSOS PCSI (Jan) increased from 68.99 to 70.22
Australia:
AIG Services Index (Dec) decreased from 53.7 to 48.7
Retail Sales (MoM) (Nov) increased from 0.1% to 0.9%
Japan:
Thomson Reuters IPSOS PCSI (Jan) increased from 40.15 to 41.02
Household Spending (YoY) (Nov) increased from -5.1% to -2.0%
Household Spending (MoM) (Nov) increased from -11.5% to 2.6%
Foreign Reserves (USD) (Dec) increased from 1,317.3B to 1,323.8B
Indonesia:
Retail Sales (YoY) (Nov) decreased from 3.6% to 1.3%
Some economic news from today:
Japan:
Coincident Indicator (MoM) (Nov) increased from -5.1% to -0.2%
Leading Index (MoM) (Nov) decreased from -0.3% to -0.7%
Leading Index decreased from 91.6 to 90.9
Singapore:
Retail Sales (MoM) (Nov) increased from -2.4% to 0.2%
Retail Sales (YoY) (Nov) increased from -4.4% to -4.0%
India:
FX Reserves, USD increased from 457.47B to 461.16B
Cumulative Industrial Production (Nov) increased from 0.50% to 0.60%
Industrial Production (YoY) (Nov) increased from -4.0% to 1.8%
Manufacturing Output (MoM) (Nov) increased from -2.3% to 2.7%
EUROPE/EMEA:
The EU has decided to hold an emergency meeting over the topic of Iran and the US, as well as trying to save the nuclear deal. In addition, they will talk about the issues of Syria with Turkey recently sending troops in the region. Yesterday a report emerged that US intelligence suggested that the crashed Ukraine airplane in Tehran which killed 179 people was the result of the Iranian Army firing a Russian missile. However many world leaders are questioning the intelligence. Iran was relatively open with Ukraine to conduct their own intelligence.
Meanwhile, the US imposed more sanctions on Iran. With US Secretary of State Mike Pompeo indicating eight officials will be sanctioned as well as the Iranian metal exports, which futher hurt the already crippled country.
The UK has passed legislation that will allow them to leave the EU on Jan 31st with a withdrawal deal. France has today rejected the 11-month provisional period where the UK and EU can come to an agreement with finer points. Meanwhile, France is facing their own problems domestically with the strikes still in full effect over the pension reforms with disruptions to travel across the country.
The major Europe stock markets had a negative day today:
CAC 40 decreased 5.44 points or -0.09% to 6,037.11
FTSE 100 decreased 10.27 points, or -0.14% to 7,587.85
DAX 30 decreased 11.75 points or -0.09% to 13,483.31
The major Europe currency markets had a mixed day today:
EURUSD increased 0.0016 or 0.15% to 1.1123
GBPUSD decreased 0.0007 or 0.06% to 1.3063
USDCHF decreased 0.0007 or 0.06% to 1.3063
Some economic news from Europe today:
Swiss:
Unemployment Rate n.s.a. (Dec) increased from 2.3% to 2.5%
Unemployment Rate s.a. (Dec) remain the same at 2.3%
Norway:
Core CPI YTD (Dec) decreased from 2.0% to 1.8%
Core Inflation (MoM) (Dec) decreased from 0.1% to -0.2%
CPI (MoM) (Dec) decreased from 0.3% to -0.3%
CPI (YoY) (Dec) decreased from 1.6% to 1.4%
PPI (YoY) (Dec) increased from -9.5% to -2.2%
France:
French Industrial Production (MoM) (Nov) decreased from 0.5% to 0.3%
Spain:
Spanish Industrial Production (YoY) (Nov) increased from -1.3% to 2.1%
Italy:
Italian Industrial Production (YoY) (Nov) increased from -2.4% to -0.6%
Italian Industrial Production (MoM) (Nov) increased from -0.3% to 0.1%
US/AMERICAS:
Jobs increased at a slower than anticipated pace in December, according to data released by the US Labor Department this Friday. According to the jobs report, December saw a gain of 145,000 positions compared to analysts' expectations of 160,000. Unemployment in the US remains at a 50-year historic low of 3.5%. Wage gains slowed in December as well after hourly earnings increased by 2.9%, marking the first time wages failed to rise above 3% on a monthly basis in 2019.
The Dow surpassed the 29,000 level for the first time today during intraday trading before declining throughout the day's session and closing in the red. Boeing shares plunged 1.9%, aiding the Dow's daily decline, after internal emails leaked to the press containing harsh employee criticism over the MAX 737 jet design. The emails, which have been turned over to Congress, note one employee stating he would not let his family fly on the aircraft. "This airplane is designed by clowns, who in turn are supervised by monkeys," stated an email from 2017. Perhaps most damaging was an email sent in May 2018 that states, "I still haven't been forgiven by god for the covering up I did last year."
The White House placed additional sanctions on Iran today for their role in the ballistic missile attack in Iraq. Eight senior Iranian officials were specifically named for their role in the attack. "We're striking at the heart of the Islamic Republic's inner security apparatus. These sanctions targets include the secretary of the Supreme National Council and the commander of the Basij forces," announced Secretary of State Mike Pompeo. Treasury Secretary Steven Mnuchin said that the US will continue to place sanctions on Iran until the nation "stops its terrorist activities and commits that it will never have nuclear weapons."
Brazil will not allow the US to influence its decision on building their 5G network with Huawei, according to Marcos Pontes, the minister for science, technology, innovation and communications. "Brazil makes no claim over what business the U.S. does with China and whether this affects or not our agribusiness," Pontes stated. The 5G project was originally delayed until the second half of the year, but may be pushed back to 2021 due to concerns over the network interfering with existing satellites.
US Market Closings:
Dow declined 133.13 points or -0.46% to 28,823.77
S&P 500 declined 9.35 points or -0.29% to 3,265.55
Nasdaq declined 24.57 points or -0.27% to 9,178.86
Russell 2000 declined 7.34 points or -0.44% to 1,657.64
Canada Market Closings:
TSX Composite declined 1.08 points or -0.01% to 17,234.49
TSX 60 declined 1.06 points or -0.10% to 1,025.66
Brazil Market Closing:
Bovespa declined 443.69 points or -0.38% to 115,503.42
ENERGY:
Crude oil fell again today capping the worst weekly performance since July.
The oil markets had a mixed day today:
Crude Oil decreased 0.52 USD/BBL or -0.87% to 59.0905
Brent decreased 0.2177 USD/BBL or -0.33% to 65.2453
Natural gas increased 0.0223 USD/MMBtu or 1.04% to 2.1601
Gasoline increased 0.0086USD/GAL or 0.52% to 1.6776
Heating oil decreased 0.014 USD/GAL or -0.72% to 1.9371
Top commodity gainers: Steel(3.05%),Ethanol(2.83%),Sugar(2.48%), and Oat(1.72%)
Top commodity losers: Crude Oil(-0.87%), Heating Oil(-0.72%), Rice (-0.62%), and Brent(-0.33%)
The above data was collected around 12.23 pm EST on Friday.
BONDS:
Japan -0.02%(-1bp), US 2's 1.58% (-0bps), US 10's 1.82%(-3bps); US 30's 2.31%(-2bps), Bunds -0.22% (+4bp), France 0.05% (-1bp), Italy 1.34% (-5bp), Turkey 11.34% (-21bp), Greece 1.42% (-51bp), Portugal 0.40% (-1bp), Spain 0.45% (-1bp) and UK Gilts 0.78% (-4bp).
Italian 12-Month BOT Auction decreased from -0.191% to -0.242%