Blog/Market Talk
Posted Jan 10, 2019 by Martin Armstrong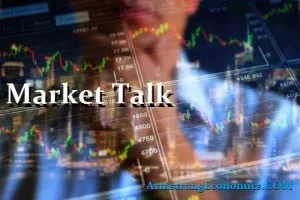 Today was one of those days that had the potential to see lots, yet decided to leave it for another day. In China we saw a lower than expected print for the inflation data (1.9% against expectations of 2.1%), resulting in a nonchalant equity performance. The Shanghai closed at the days lows, but still just off -0.36%. However, the Hang Seng was led by yesterdays NASDAQ lead and managed a small +0.22% higher close. Producer Prices were a miss too. All the market is hearing is that the trade talks went well and we will hear details once both sides have reported back. Both will address the markets soon and so there should be no concerns for March tariffs. Both SENSEX and ASX had similar slow trading days. The only difference between the two was SENSEX managed a +0.3% decline, whilst the ASX returned a +0.3% day. Yen spent much of the day around the 108 figure, but is drifting lower in late US trading. It is more the USD is bouncing from yesterdays whack that is helping the DXY than anything substantial. We did see a steady Yuan performance today as Mark Carney announced it could become a global reserve currency.
By just reading the closing prices for Europe you would be forgiven for thinking it was an extremely tedious day, but if you had looked at the opening bell you would probably asked, "Why so weak"? Across the board indices were off, but spent the rest of the day making back ground. French industrial production was lower than expected and in the UK, they saw the slowest retail Christmas since the financial crisis of 2008. This news and concerns over the technical recession for Germany is spooking investors still. The UK FTSE closed up +0.5%, but GBP was off -0.4% an almost zero sum game for international investors. However, given that the UK government now has just three days to present a plan B, if next weeks vote fails, it appears many investors are sitting on their hands awaiting the outcome. The Euro rejected the 1.1550 level today and traded back into the 1.14's. The auto sector was a major drag on many indices after news of jobs losses and possible plant closures. Ford, Honda and Jaguar were all in the news with comments for both the UK and continental Europe. European peripheral spreads did well today as talk that the ECB will be forced to keep options open are encouraging tighter spreads.
A quieter day for US markets even as the FED Chairman spoke at the Economics Club. Poor opening retail earnings from some reputable stores (Macy's included) is again highlighting the shift in shopping styles and raises fear of a slowing global economy. US weekly jobless claims however, has displayed yet another beat supporting last weeks firming labour market. Calming comments from Jerome Powell has had yet more impetus to the recovering indices. Since 2018's Q4 correction, sentiment has been supported by data and is now highlighting some pretty reasonable valuations. We eventually saw markets close at their days highs with all core managing around a +0.4% across the board.
Japan 0.02%, US 2's closed 2.56% (-1bp), US 10's closed 2.73% (u/c), US 30's 3.05% (+2bp), Bunds 0.21% (-1bp), France 0.67% (-4bp), Italy 2.88% (+1bp), Turkey 16.22% (-13bp), Greece 4.28% (+1bp), Portugal 1.71% (-6bp), Spain 1.45% (-4bp) and Gilts 1.27% (+1bp).
US 30yr auction average released at 3.035%, 1bp higher than where the WI was ahead of the bid time. Not a great result and so we saw a little position release steepening the 10/30 spread.