Blog/Market Talk
Posted Jan 10, 2018 by Martin Armstrong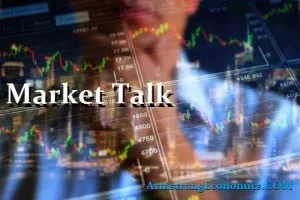 A mixed trend within Asian trading as the Nikkei, ASX and SENSEX whilst gains were registered in the Hang Seng and Shanghai. That said, volumes were light but the negative trend was supported by the positive move in the Japanese Yen. The currency traded back to the low 111's as speculation that the BOJ removing the punch bowl would result in rising rates supporting the currency. This news weighed on the Nikkei which closed down -0.3%, commodities hurt the ASX with a close at the days lows. China saw the release of positive economic data (PPI and CPI) helping the Hang Seng close with yet another positive day.
Europe followed much of Asia's trend opening weaker across the board. The CAC struggled at the opening playing between positive and negative moves but eventually joined the DAX and others closing lower on the day. Late morning the hot rumour was that China was to halt purchases of US treasuries hit the markets. This rumour took bonds lower (price/higher yield), hit high dividend stocks and was responsible for the DOW opening with a triple digit loss. Ten year treasuries have lost around 15bp over the past few days and in a year where we are expecting greater supply, the auctions this week will be very closely watched. DAX did bounce off of its lows but still settled -0.8% lower. Although bank stocks saw a healthy day it was the retailers and construction that felt the pressure. UK GBP suffered small losses also today despite the best Manufacturing data in 10yrs.
US stocks recovered from a triple digit opening loss but only until late afternoon when stocks drifted lower again. Talk that the Canadian government was considering an American withdrawal from NAFTA hurt stocks as well as the CAD. This was the first decline for US stocks seen this year. The VIX returned some of yesterdays 6% rally, with a 2% decline today bring it back below 10 giving it a 9 handle for the close. Saw a small bounce in gold but its worth keeping an eye on this in 2018 as looks to be more currency sensitive this year than normal.
Japan 10yr 0.086% (+2bp), US 2's closed 1.97% (+1bp), 10's 2.56% (+1bp), 30's 2.91% (+3bp), Bunds 0.48% (+2bp), France 0.82% (u+1bp), Italy 2.03% (+1bp), Greece 3.64% (+2bp), Turkey 11.45% (+10bp), Portugal 1.81% (-1bp), Spain 1.53% +3bp) and Gilts 1.29% (+1bp).
European bond were not hit as much as US bonds as they only have one buyer anyway. The story will probably start to play out through auctions. You do not need for people to start shorting bonds just buyers not showing up for auctions/new issue's. The concern will grow ever more obvious as geographies are still offering a large quantity to the market. Just increases their eventual cost of capital.