Blog/Market Talk
Posted Jan 10, 2017 by Martin Armstrong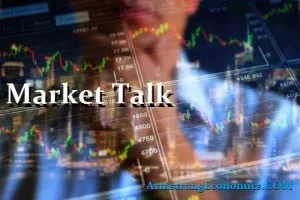 After the holiday in Japan yesterday the JPY resumed its strong recovery and with it saw a decline in the Nikkei. The yen traded close to the 115 handle whilst the Nikkei lost 0.8% on the day. Concerns are still that the DOW continues to reject the 20k level and is having a psychological effect on markets that have recently experienced strong returns. Despite the lower than forecast China CPI (2.1 v's 2.3%) the PPI beat the expected 4.5 to release at 5.5%. Shanghai traded lower (down -0.3%) but the Hang Seng faired better closing up +0.8%. Energy had a dampening effect on most markets with prices down near 4% at one stage. The Yuan weakness returned after a brief respite closing over the 6.900 level again.
The Euro was weaker initially following GBP, down nearly -0.5% at one stage, but recovered as the day wore on. As you would expect the UK's FTSE performed best but only balancing the currency decline. DAX and CAC were barely positive, closing a touch firmer, whilst the IBEX suffered as banking stocks weighed heavily on the periphery, Portugal PSI index fell 1.3%.
We saw another record set for the NASDAQ as yet again the DOW fails to breach the 20k level. Investors are clearly unhappy taking the broader market too high ahead of Trump speech (scheduled for tomorrow morning). Nervous trade continues with patchy orders driving volume. We have seen recent buyers returning to the long end of the treasury curve looking for yield, whilst the short-end and belly underperforms. Still early in the year with many hoping we see a retracement as it remains the most unloved rally in modern thinking.
US 2yr notes closed unchanged at 1.19% whilst 10's and 30's both gained 1bp (price/loss of yield) to close 2.375% and 2.955%. German bunds closed 0.285% (closing the US/German 10yr spread at +209bp. Italy closed 1.91%, Greece 6.72%, Turkey 11.19%, Portugal 4.01% and Gilts 1.36%.