Blog/Market Talk
Posted Feb 23, 2016 by Martin Armstrong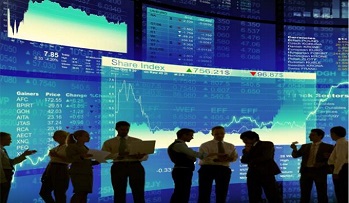 Asian stocks returned some of yesterdays gains as nerves and another turn in the oil price weighs on sentiment. Renimbi was fixed at its lowest level since early January in covered by a hefty cash injection. Stan Charter shares were down 3% after releasing weak earnings. All core markets drifted to close around the 1% mark but it was not until we saw the German confidence number (IFO) did the equity selling really take effect. By lunchtime in London the DAX, CAC and FTSE were trading around 1% lower with oil then lower by 3%.
We are hearing more details on how oil and other commodities are starting to bite on more than just mining and energy companies directly. The market heard from big banks today (JPM Investor Day) and that they are increasing their  loss provision and/or concerns that are directly related to the price of oil. Bank shares are obviously (JPM (-3.5%), BoAM (-3%) lower and selling-off on the uncertainty and especially as TWI closes around the $31 mark given the Saudi oil minister declaring parties will NOT cut production. We did see a break recently in the correlation between stocks and oil. The question we hear from dealers now is, "Is that trade relationship back-on?" The DOW, S+P and NASDAQ all close down 1%. It now looks like the markets are finally waking-up to the idea that we are in fresh ground. Old relationships are starting to be questioned and market players are questioning who is at risk if oil remains around the $30 mark for longer than previously thought!
Again, with the uncertainty back in markets the flight to quality returned to the precious metals and Fixed-Income markets. We saw a strong $15 (1.2%) rally in the price of gold taking us back up to $1224 level.
In the US Treasury market the flight to quality has seen a rally across the curve with 10's now trading around the 1.73% level having been above 1.805% earlier in the day. Traders were telling us this is a Double Bottom and are comparing the relationship with the S+P but you know our call for these markets! 10yr German bunds closed 0.18% taking our TY/RX spread to +155bp. Peripherals closed as follows: Italy 10's 1.53% (+1bp), Greece 10's 10.26% (-2bp), Turkey 10.50% (-2bp) and finally UK 10yr Gilt closed 1.43% (+4bp).
Interesting we saw FTSE -1.25% and Gilts also gaining 4bp (lower price)!
GBP was again the talk of the city as it gave-up yet another 1% (against the USD) in todays trading. Initially, it was holding Mondays close (1.415) but BREXIT concerns continue to dominate the UK news and that is weighing on prices taking us back to the psychological 1.40 handle. The Euro is holding the 1.10 level despite a brief intraday break but this is building more sentiment hype than technical analysis.